What are protective styles
When the hair tips are tucked inside your hair then you can call it protective style. The reason why it's important is that the hair tips are usually the most vulnerable place of hair.
You need manipulate your natural hair in daily washing, conditioning, styling, and detangling and with constant tugging they become more fragile. Hair shedding during the process is quite normal consequently.
As its name suggests, protective hairstyles are styling methods that protect your natural hair. Wearing protective hairstyle are beneficial to natural hair health and hair growth in all ways no matter you are concerning about natural hair damage or hair loss.
The exciting low maintenance style is a great style improving happiness especially for natural texture like curly, kinky and coily hair. Protective hairstyles provides wonderful styling ideas making all the difference.
Protective hairstyles for black women include natural twist hairstyles, natural updo hairstyles, braided hairstyle and so on. They are perfect style which promoting new growth while allowing bountiful looks to switch flexibly with adding hair extensions in different color, thickness, length, and texture.
How protective hairstyles protect natural hair
Protective hairstyles minimize unnecessary manipulation on your natural hair and exposure to environmental damage caused by the sun, the heat and cold. Natural hair is prone to breakage, especially 4 type curls. That's why so many black women wear protective hairstyles in daily life to keep hair healthy by retaining hair moisture while hair grows.
It's better to mind scalp tension which may cause traction alopecia, headaches, hair loss and scalp soreness when you make your look and that's exact opposite to original purpose for styling protective hairstyles. Therefore, it's important to make a good trim before your hair can withstand tension.
What is the longest lasting protective style for natural
As we have mentioned, a protective hairstyle protect your natural hair in a way that shields your hair from environmental factors that may damage your hair.
There are a lot of popular braids, twists, updos or other wonderful versatile hairstyles when you searching for what is the longest lasting protective style for natural and you will get difference response each time considering the maintaining and caring methods.
There is no answer to what is the longest lasting protective style for natural because some styles can last weeks but you still should detangle them to take a breathe.
What's the best way to maintain protective styles
The best way to maintain protective styles is here. Among these tips, the most important things is to put on silk bonnet or scarf when sleeping. Silk pillow helps to retain moisture and reduce frizz so that your protective styles can last longer. Apply some oil to edges and scalp to avoid hair dry and have a three-minute scalp massage each time.
How long you should keep protective styles
There isn't a certain regulation on how long protective hairstyles should keep. Braiding hairstyles like box braids usually last up six to eight weeks while cornrows last two to 8 weeks.
Do protective hairstyles promote hair growth
Protective styles tuck the ends of hair and reduce tugging, pulling, and manipulation. They do promote hair growth and save time in styling. Temporary and long-lasting protective style are both popular for black women in natural hair community. You will feel fabulous with protective hairstyles.
Natural braided hairstyle
Braided hairstyle is the most common protective styles. Braids are a complex hairstyle formed by interlacing three or more strands of hair. Braiding has been used to ornament human hair for thousands of years in various cultures around the world.
Braids can be single one with whole-head hair which can fall down free or sections of small braids gathering along the scalp. They can effectively hide your hair from more harm of styling, manipulation, and the environment.
Small braids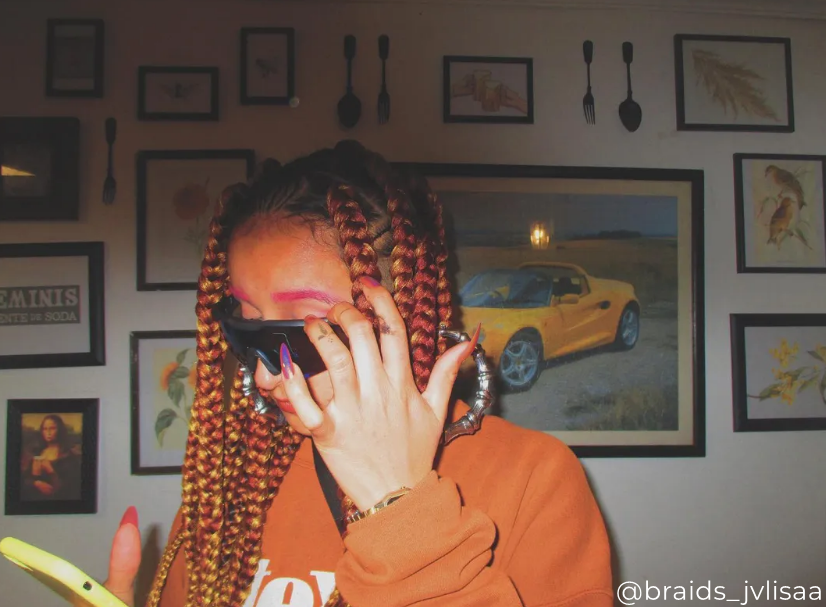 Spray on your hair and blow dry wet hair. Section natural hair into small strands and braid your hair like braiding a cornrow. Braid your hair into many small loose braids at the root but not too loose. Try to keep no longer than four weeks with your braids and remove hair sheds. 
Traditional box braids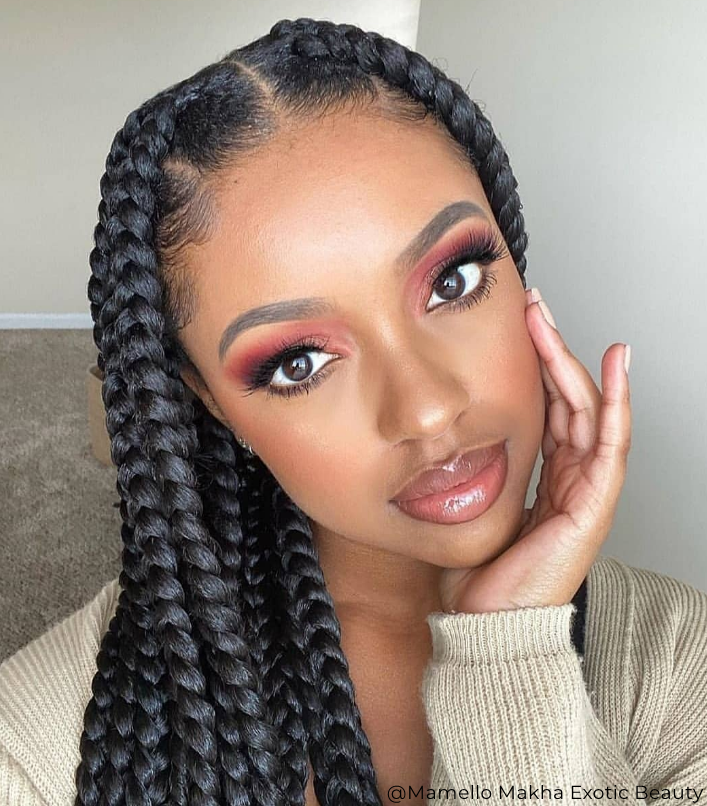 Box braids is a "boxy" style which can be worn in any length of hair for a long period of time to let natural hair grow and protect the ends of the hair. Box braids are not attached to the scalp like cornrows. Box braids are usually installed with hair extensions which add thickness.
Natural locks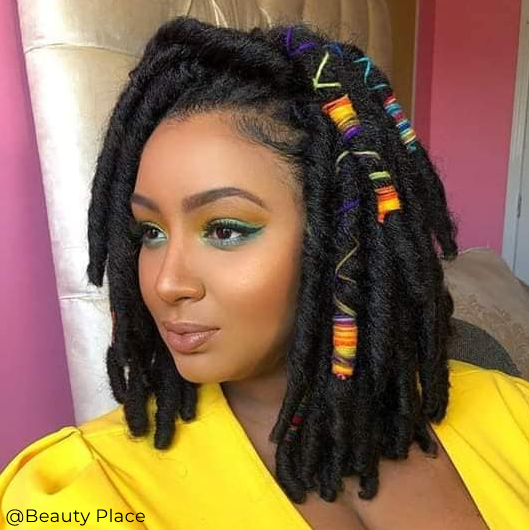 As its name suggest, locs is a braiding method that "lock" your hair together. Braiding, twisting, rolling, and interlocking create multifarious beautiful Locs. With a long history since ancient Greece, locs are worn by different groups in various religions and cultures. Locs is flexible in creative styles like adding hair cuffs and beads. However, the unlocking process may take time.
Braided faux hawk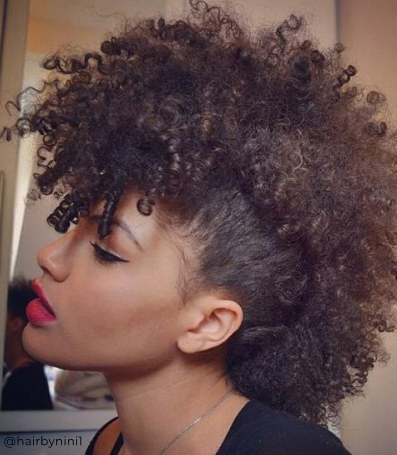 Braided faux hawk has different styling way in short and long hair. They are easy to acquire in short hair as well. Section your hair into small strands and braid them one by one. Tuck them in and braiding everything together. Add small strands of short hair extensions of same texture as your natural hair with crochet needle and make them puffy.
Faux locs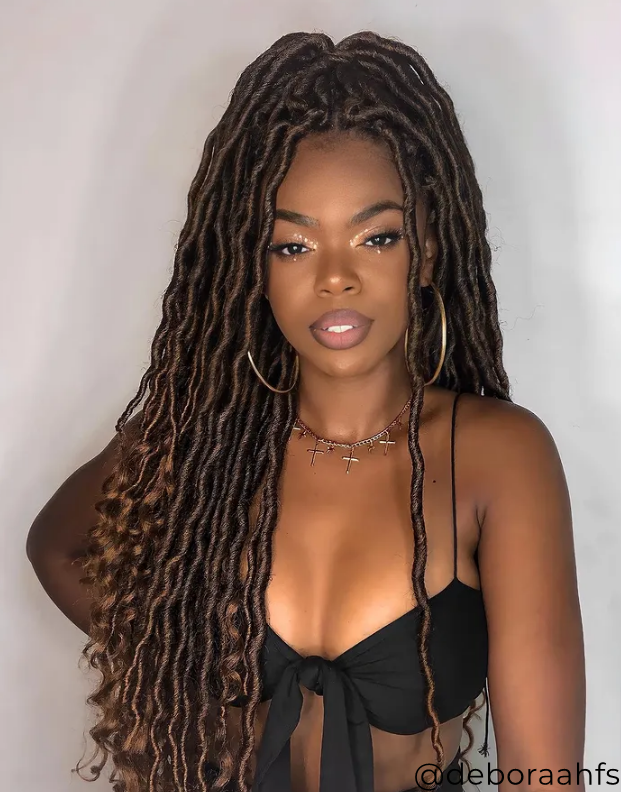 Faux locs hairstyle is created by using human hair. Faux locs are no more damaging than any other hairstyle that adds hair to your own hair with too much tension on your scalp. You cannot neglect protecting your own hair with curl enhancing product and assume that no further maintenance is necessary. Your own hair must still be cleansed, moisturized, and conditioned. Styled Faux locs can be styled to last for four to six weeks.
French braids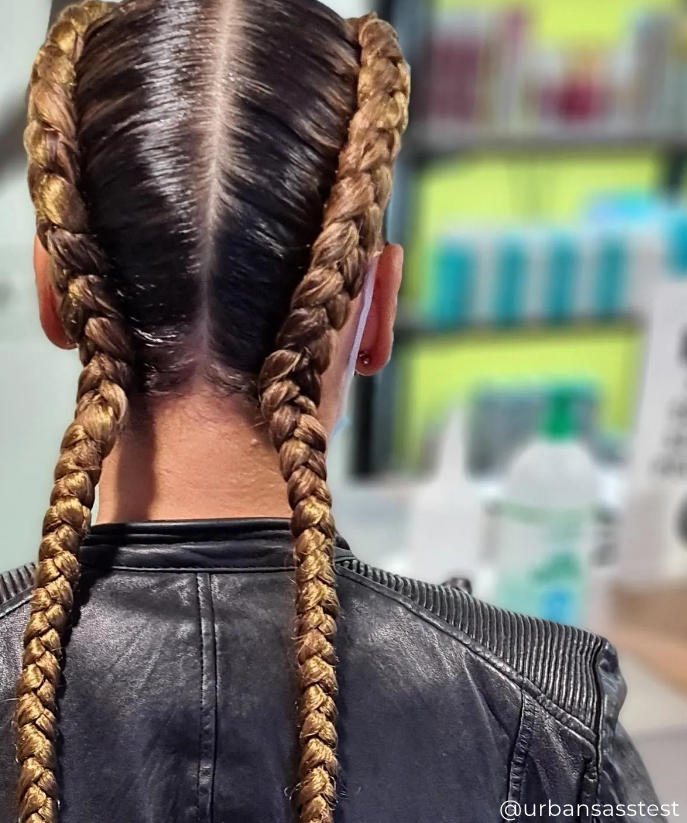 You may find that French braid is also known as French plait. French braids is a popular protective hairstyles as well. They appear three-strand gathered plaits that include three sections of hair which are braided together from the crown of the head to the nape of the neck. More hair can be added to each section when it crosses in from the side into the center of the braid subject. The final result incorporates all of the hair into a smoothly woven pattern over the scalp.
Fulani braids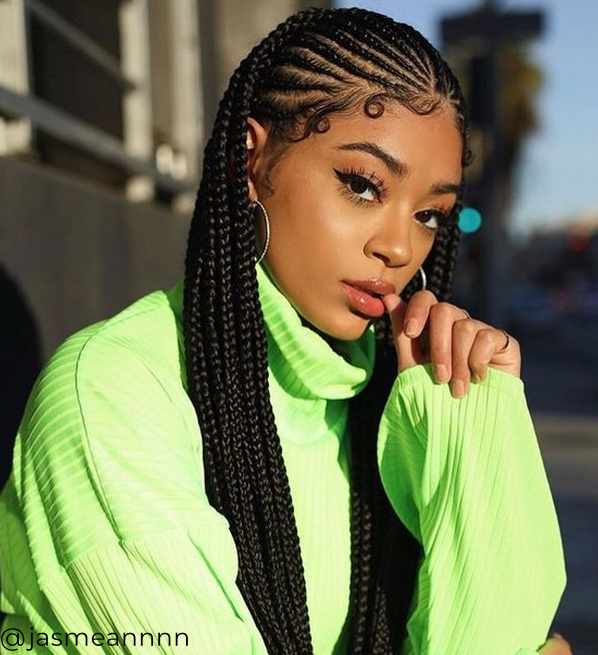 Fulani braids is a mixture of cornrows and box braids. Fulani braids originate from the Fulani people of West Africa. This hairstyle from nomadic tribal is popular for length and patterns with braids staying or looping on both sides. The center part is braided into cornrows down the head and several strands are braided in side parts. You may have seen some people braid their hair with cornrows in the front and box braids in the back. In addition, Fulani braids are often decorated with beads or other accessories.Fulani braids can last five weeks with maintenance.
Feed in braids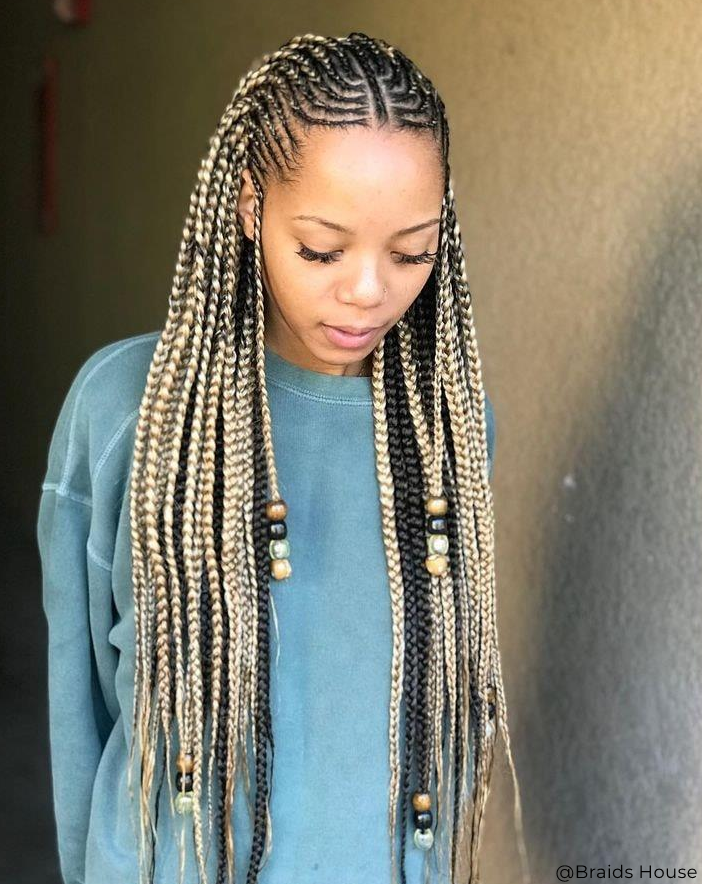 Feed in braids is a cornrows braid hairstyles. This braiding hairstyle extend the size of your natural hair by adding hair pieces to the main braid while remain the natural look at the hairline. By adding hair to your braids, your hair become fuller, longer and frizz less. Feed-in braids start an inch or so backward rather than the perimeter of the hair which place less strain on the edges. Feed-in braids are not so long-lasting for only 2 weeks.
Twist braids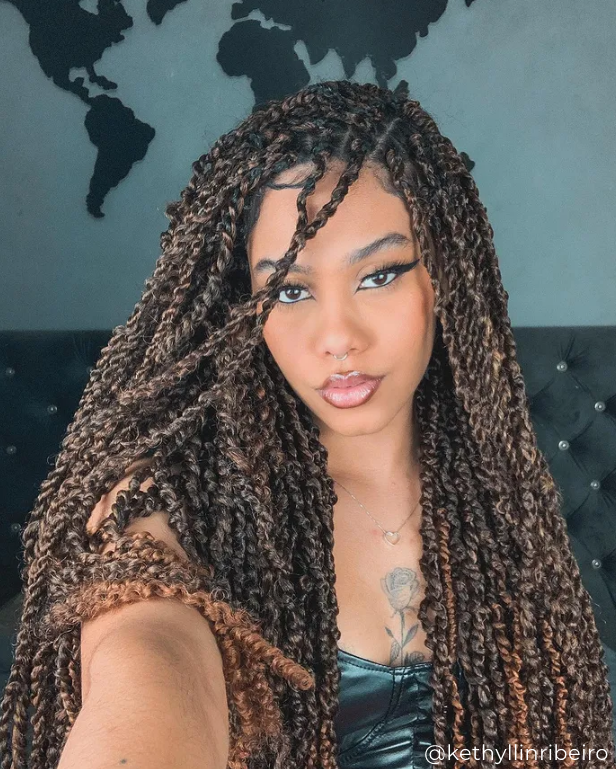 Twist braids is a simple coiled look which is perfect in any length of hair. Just separate out small sections of hair and twist them from the root down to the ends of your hair. Braid the hair in the direction your hair naturally curls would be better and you can moisture your hair with leave in conditioner when washing.
Goddess locs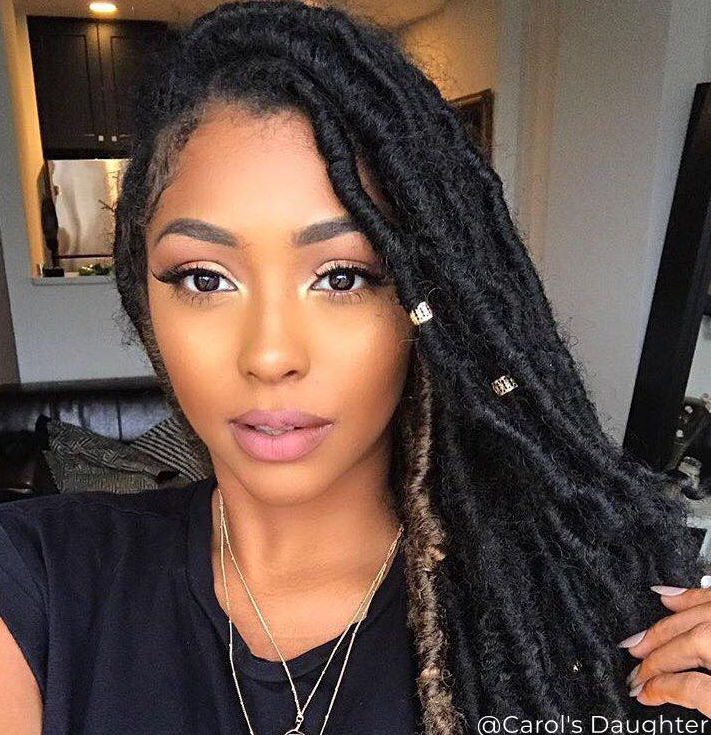 Goddess locs are different from other traditional locs in flexible protective look and curly ends. Goddess locs takes longer than box braids and costs hours to wrap hair around braids and add curls to the locs. Goddess locs provide more bohemian vibe and can last months with proper install and hair extensions of high quality human hair.
Crochet braids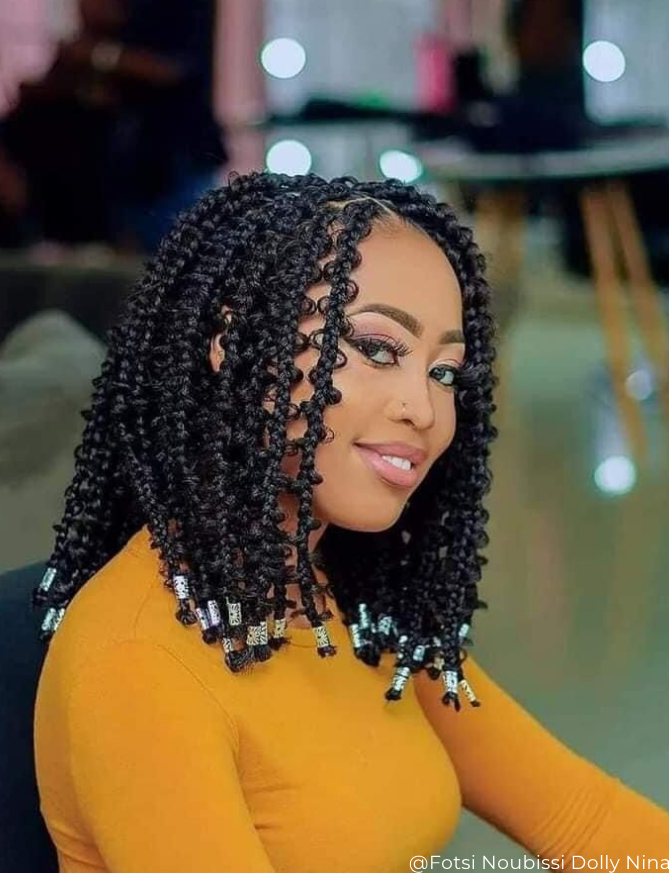 Crochet braids is an effective crochet method to provide extra length or volume and it's easy to maintain while protecting your hair from damage. The extensions are crocheted into cornrows to protect your natural hair. Your scalp is breathable and you can make it at home by yourself. Crochet braids are available for all textures and length no matter what stage your hair is in. Crochet braids can last at least four weeks.
Jumbo cornrows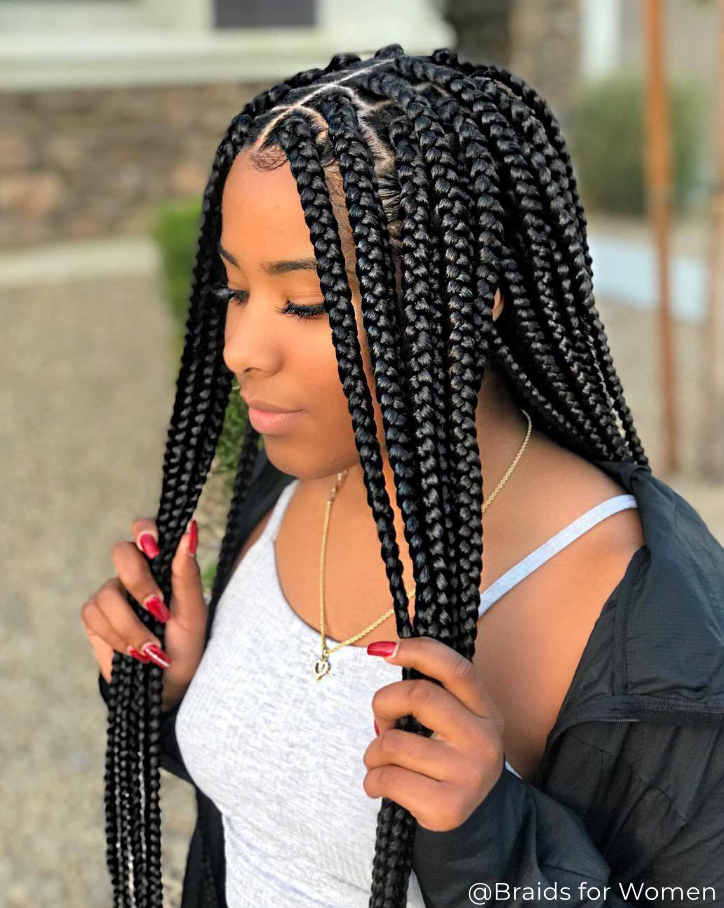 Jumbo cornrows are breathtaking hairstyles. They are versatile and you can keep this hairstyle for two to eight weeks
Knotless braids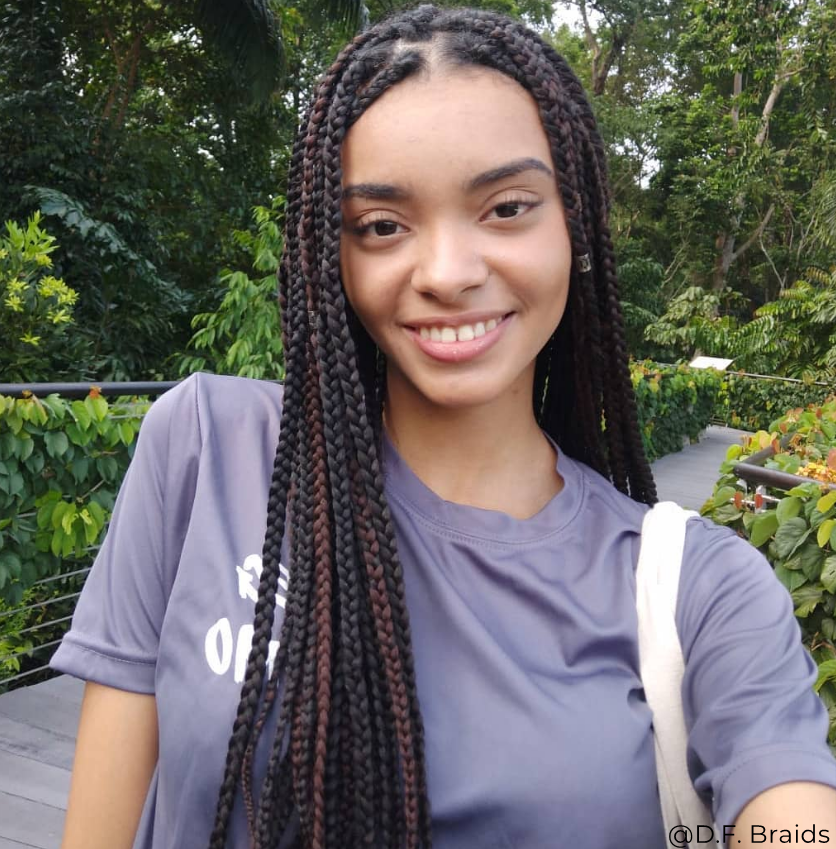 Knotless braids are variation of box braids without knot at the root. Hair extensions are divided into smaller pieces and woven into the braids from the shaft to add length and volume. They are more versatile and last four to six weeks. Coily textures with tighter curls last longer and large braids last shorter than small ones.
Natural twist hairstyles are popular with natural hair around the world, and sometimes with other hair textures. The style is achieved by dividing the hairs into several sections, twisting strands of hair, then twisting two twisted strands around one another. Twists are more graceful than braids because the roots blend well with hair extensions.
Chunky twists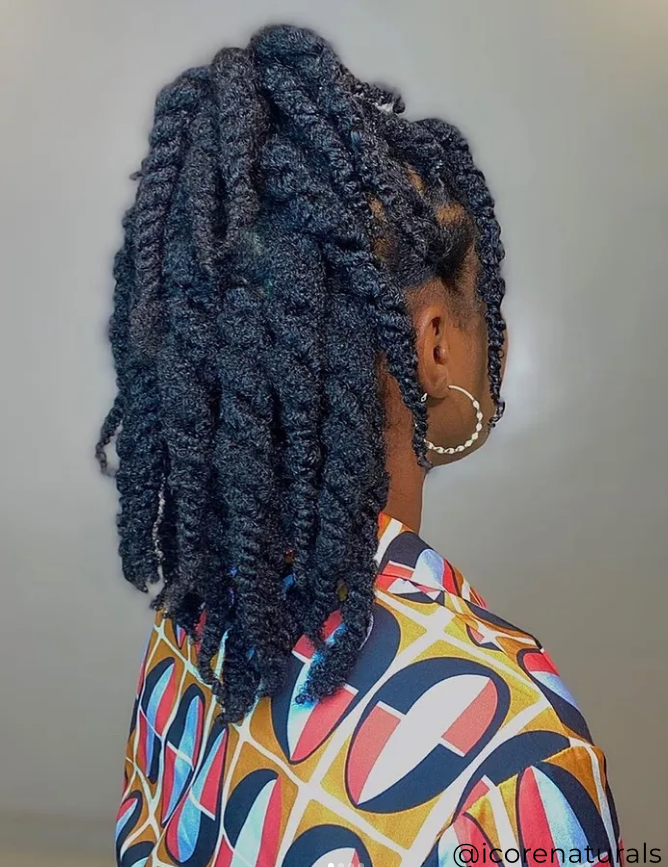 Twist out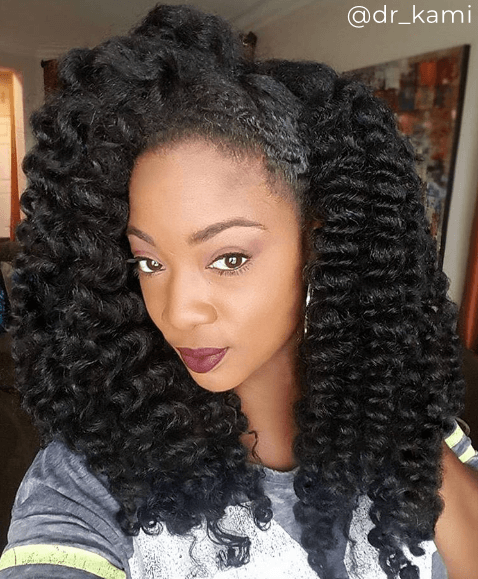 A twist out is a great great protective style that can achieve with a variety of techniques. Tight curls, large curls, or even chaotic waves are available. To style your hair with freshly washed hair and apply oil or product to the twists.
Two strand twists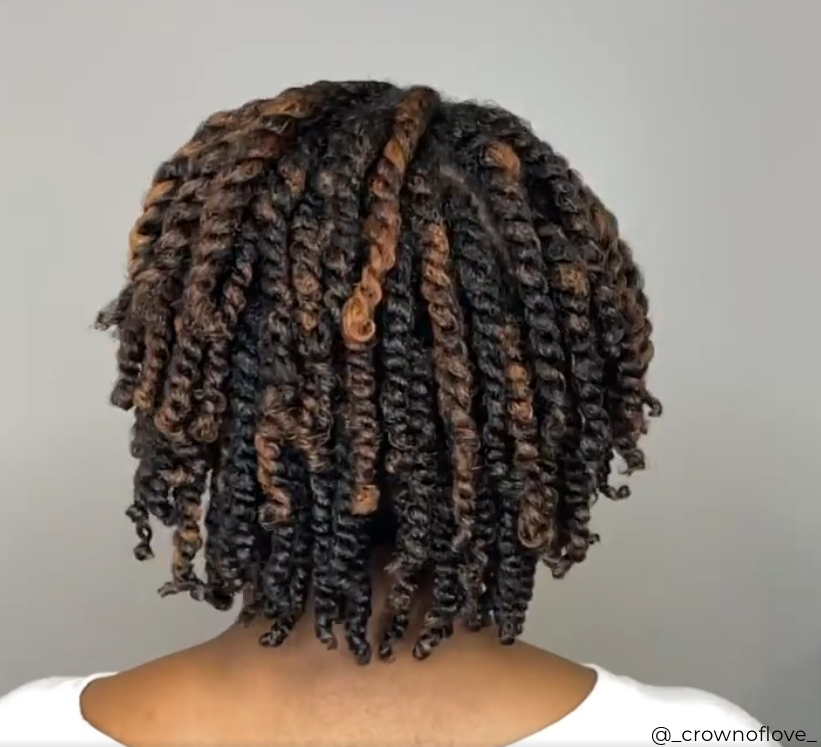 Two strand twists are lightweight with few tension and no heat on the hair. They are low maintenance hairstyles with less manipulation and keep moisture longer. They also bring less hair breakage. You can keep for days or weeks and they also work well with other natural styles.
Flat twists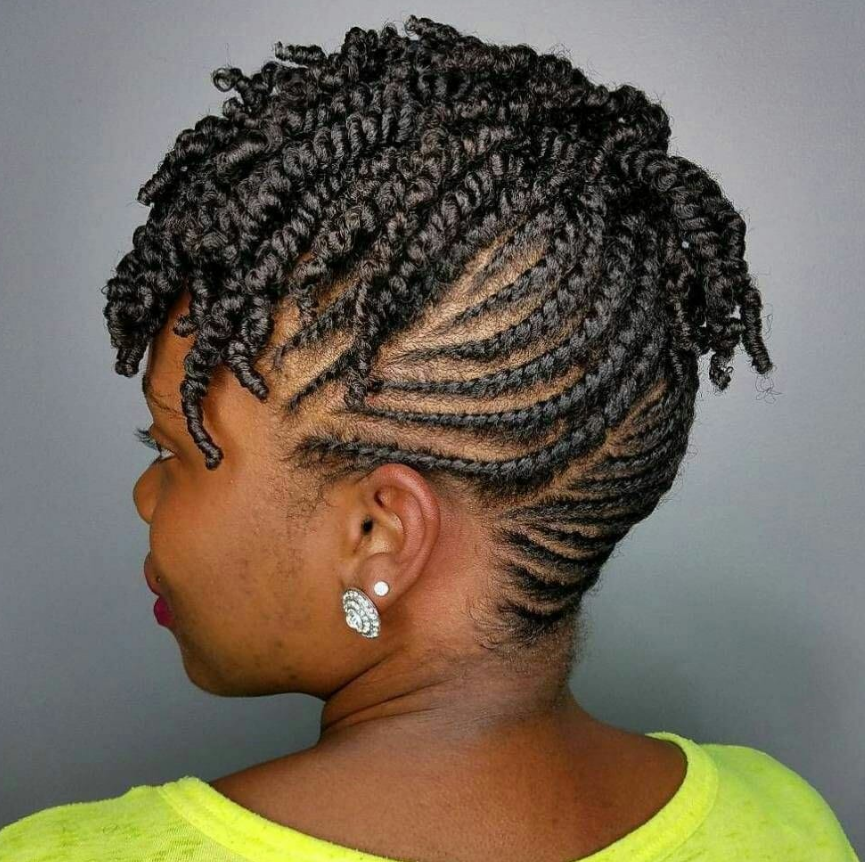 Flat twists are twists done on the scalp. Flat twists are resemble cornrows in some ways. But they're easier to achieve. To do simple flat twists, you just wash and comb your hair, then separate them into sections. Twist each part to the ends and make sure they are secured around itself. Flat twist can last one week with care.
Havana twists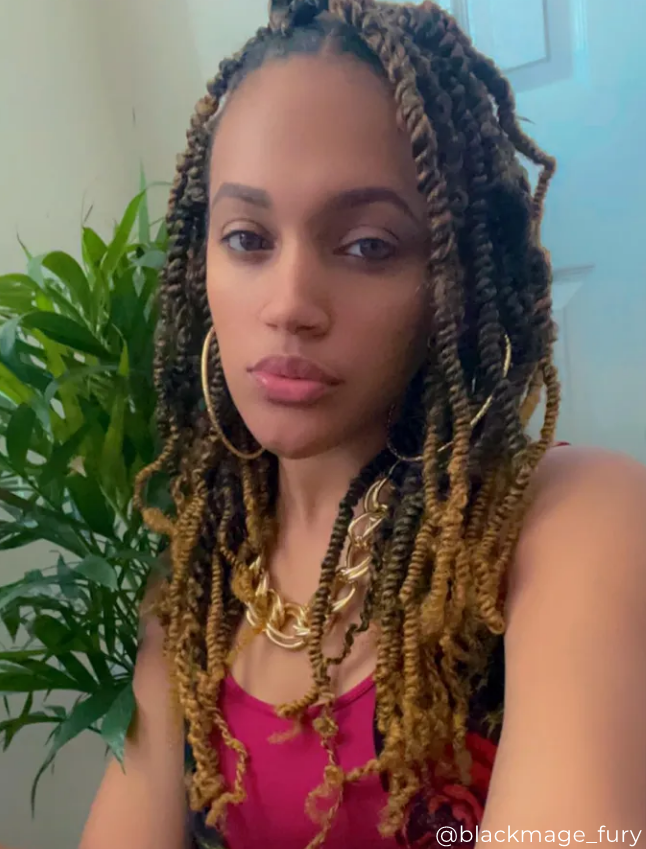 Havana twists has appeared on several celebrities like Solange, Beyonce, Keyshia Cole. It is a wonderful solution to thick dense hair including chunky twists made by natural hair and extensions. Havana twists are larger in size than box braids or marley twists as a protective natural hair style. Havana twists hairstyles last up to six weeks and it is recommended to undo the twists every two weeks to prevent scalp illness, hair breakage and frizz.
Marley twists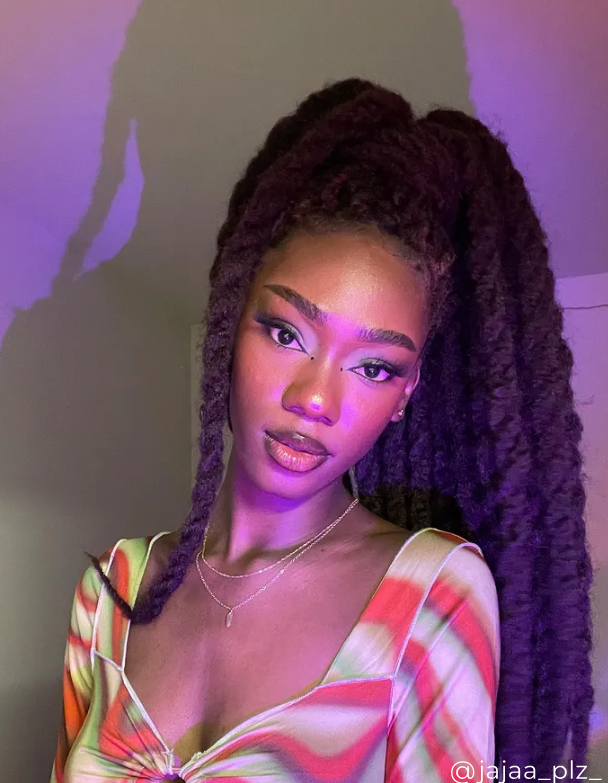 Marley hair twists are named after reggae legend Bob Marley who was well known for freeform locs as well. Marley twists give a fluffy and gorgeous look with required hair extensions while keeping natural strands tucked away. Marley twists are versatile and low-maintenance style.
Senegalese twists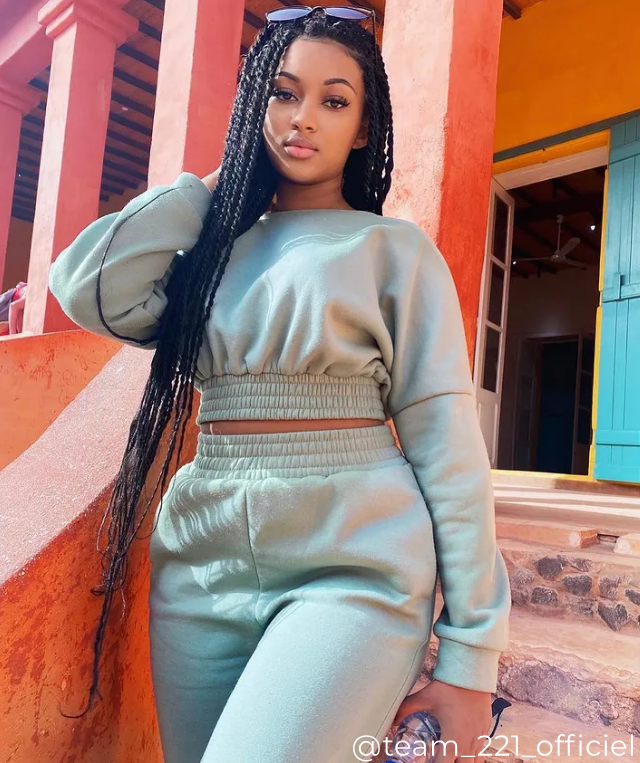 Senegalese twists are one of best protective styles for 4c textured hair in the natural hair community. Each section is created by two strands of hair wrapped around each other which is very similar to a strand of rope and that's why you may also heard of it as rope twists. The natural hair is tucked away so as to get rid of hair damages caused from exposing, styling and manipulation. This protective hairstyle can keep 4c curly hair healthy and grow your natural hair. To make the protective hairstyle as much as possible, you can some add hair extensions to get better effect.
Natural updo hairstyles tuck away your curly loose natural hair and expose your whole face. The are relatively easy protective hairstyles and suit for not only formal events but also the holidays.
Pineapple updo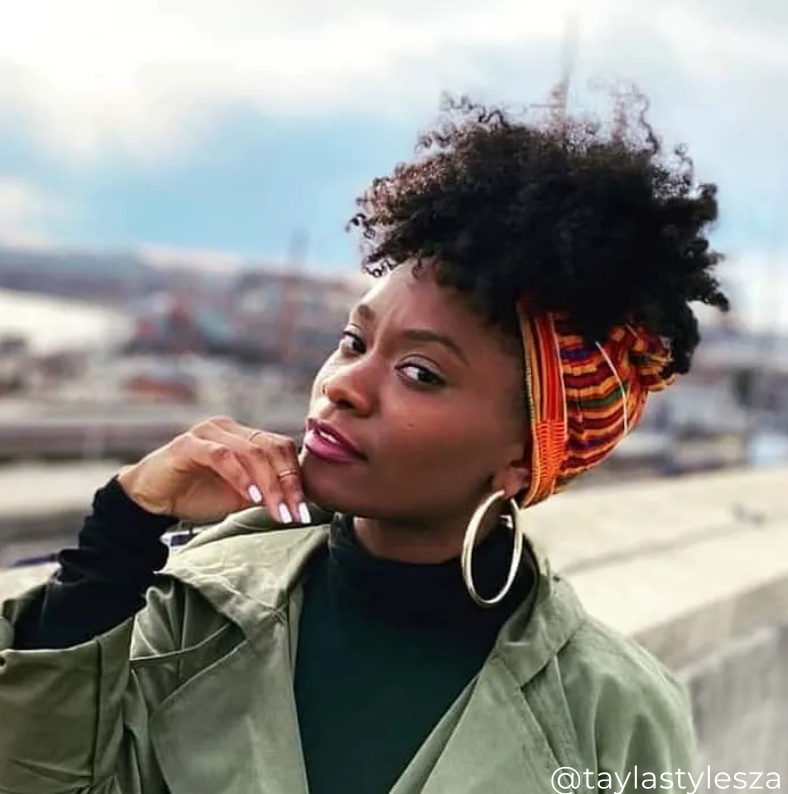 Pineapple updo is a stylish hairstyle as a maintenance technique to keep curls away from your face in summer. Pineapple updo make bangs in some extent and your hair needn't be long for this look. It's versatile and easy to create as well.
Bantu knots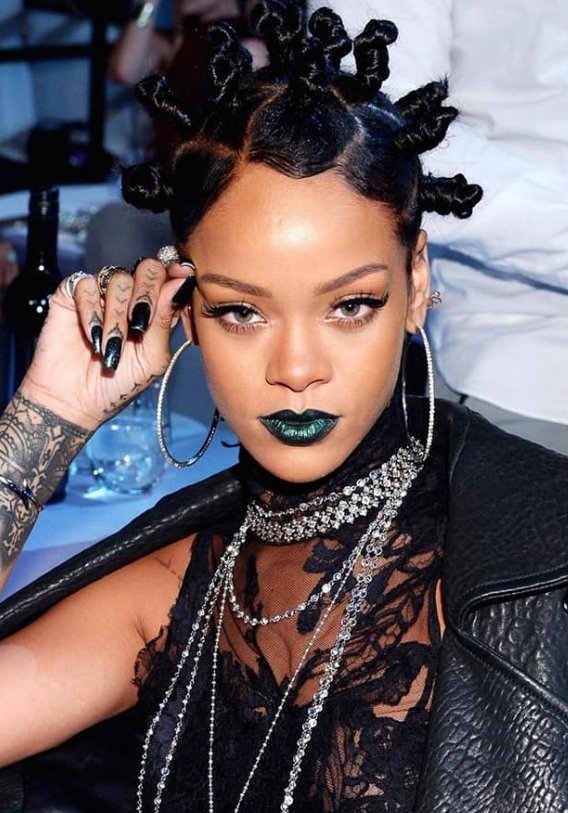 Bantu knots are regarded as a protective style for the reason that your natural hair is twisted inside the knots which prevents the hair tip from breakage and keep the moisture in. The earliest group wearing Bantu knots can be dated back to Zulu people in south Africa. Bantu knots are attributed to the mainstream of hairstyles and has been pursuit by many natural hair people. Bantu knots are created by sectioning your hair into several parts and twisting them into small knots on your head. This protective hairstyle can last 2 weeks.
Braided updo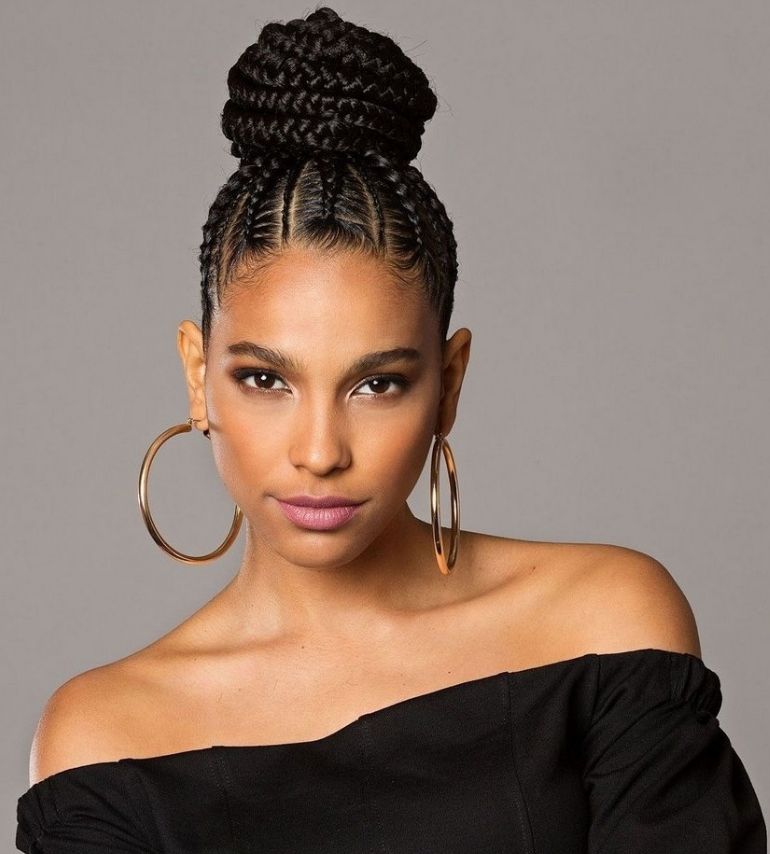 High bun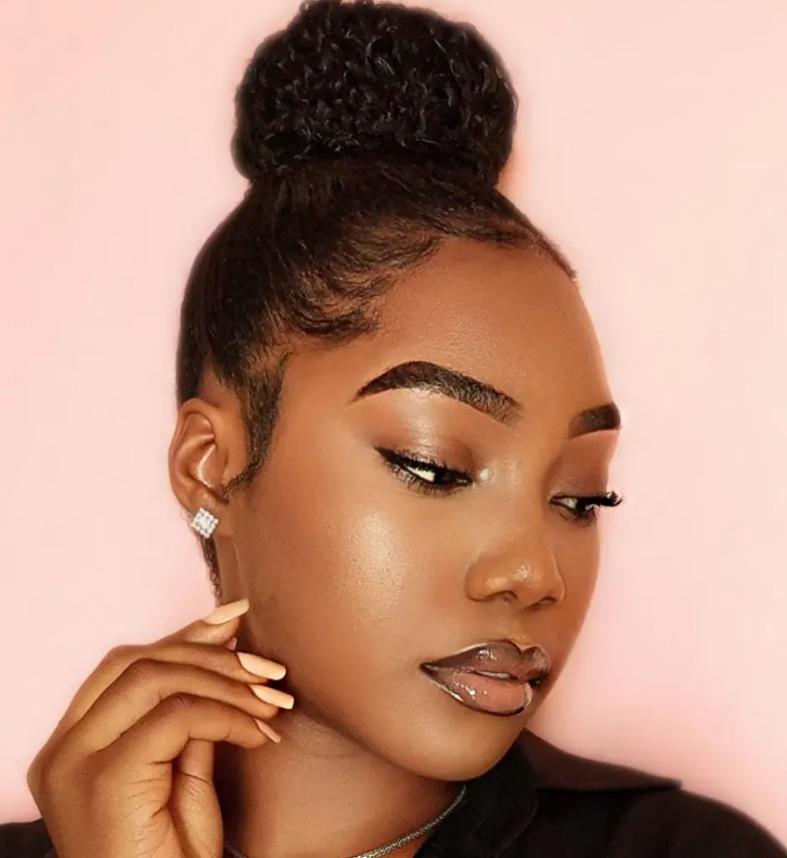 High ponytail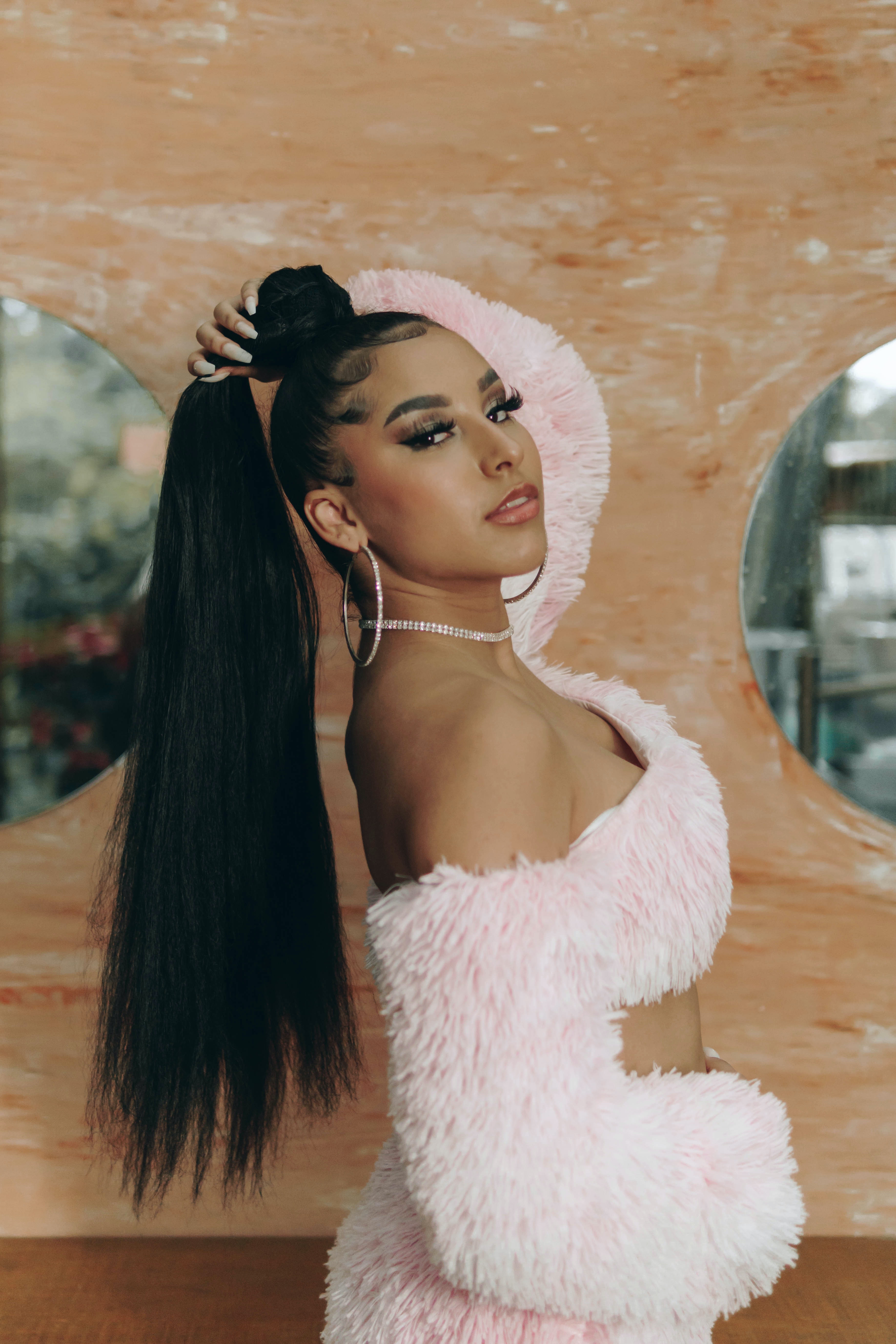 Top knot