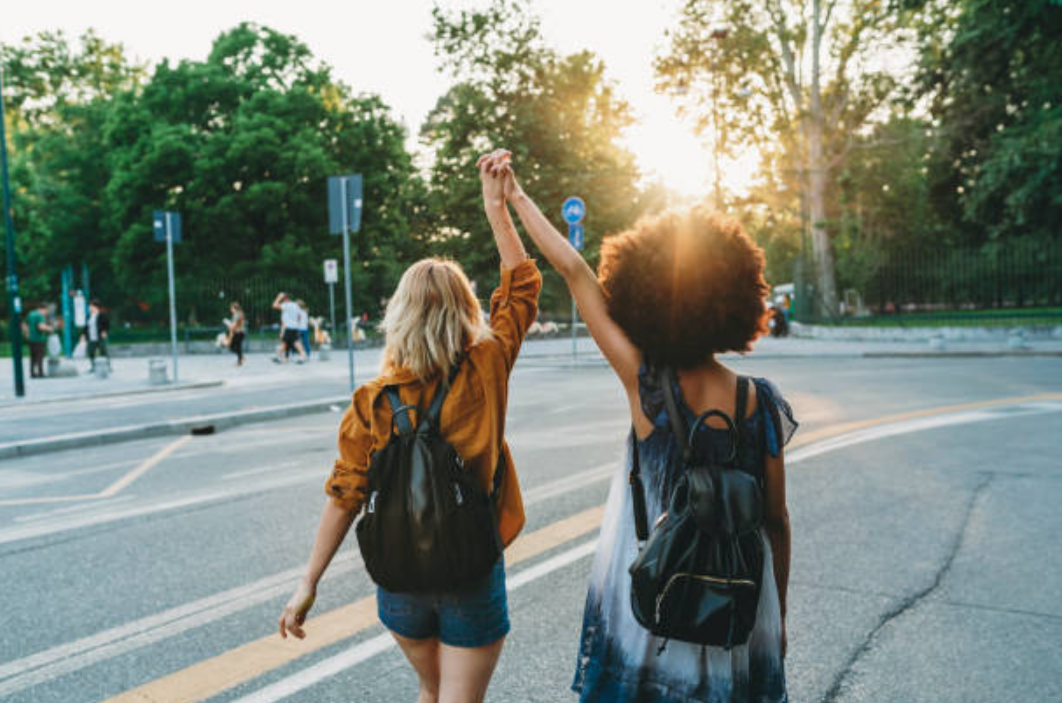 Tape in hair extension is one of the most popular semi-permanent extensions in market which is perfect for adding hair thickness and length for a relatively long period with the least damage. Here are not only straight or light yaki tape in extensions but also curly textured tape in extensions specially designed for natural curly hair group. The best hair extensions you should try this year is exactly curly tape in hair extensions!
What are curly tape in hair extensions
Curly tape in hair extensions are textured tape-in extensions, designed to add length and volume to curly natural hair for girls, which can be applied in less than an hour, so you can greatly save time that it takes to establish perfect hair.
Curly tape in extensions of high quality provide natural appearance while adding volume or length for natural curly hair. There is no need to prepare any special tools, chemicals, or heat when you decide install it, which bring less damage to the hair than other types of extensions and minimizing the damage of semi-permanent hair extension.
What are the best curly tape in extensions
The best curly tape in hair extensions are made of human virgin hair from one person which is unprocessed and untreated chemically while keeping intact cuticles. Brazilian Vrigin Hair from one donor has the minimum risk of side effect and last longer than any other type of hair extensions. Best textured tape in extensions has lower risk of scalp discomfort and least damage. They are low-maintenance, invisible and flexible during using process. Here are more texture options about CURLSQUEEN curly tape ins which are all made from 100% human hair and you can style the curly tape ins as you want since they can be washed, conditioned, dyed, bleached and straightened as natural hair.
How much are curly tape in hair extensions
The cost on curly tape in extensions varies according to hair material, hair volume and length. As you can find on the internet, synthetic hair extensions are always cheaper than human hair or remy hair, however, there is no doubt that value always decides price and the quality of synthetic hair is far worse than that of human hair.
As for volume and length, the more volume you want, the more hair extensions you need and the higher price it will be. For example, CURLSQUEEN curly tape ins provide One Bundle Set, Natural Full Set, Natural Glam Set, Ultra Full Set and the price ranges from less than 200$ to higher than 600$.
How many curly tape extensions do I need for a full head
One Bundle Set weighing 100 Grams has 40 pcs tape in hair extensions; Natural Full Set for a natural look has 60 pcs and weighs 150 grams; Natural Glam Set for a fuller luxurious glam look has 80 pcs weighing 200 grams; Ultra Full Set has 120 pcs weighing 300 grams. When it comes to how many curly tape in extensions you need, it depends on your head size and natural hair density.
Thin hair: One bundle set is enough. Our tape in extensions are lightweight but you'd better not add that much extensions for health if you have thin hair. One bundle set can create 20 sandwiches and that will be enough for thin and fine hair.

Medium hair: Natural full set will be wonderful for a natural look. If you have medium volume hair, this set is enough to build full head with 30 sandwiches.

Thick hair: Your hair will be strong enough to hold natural glam set for overall volume with 40 sandwiches.
Each Curly Tape In Hair Extension Set comes with one free DIY tool Kit which includes :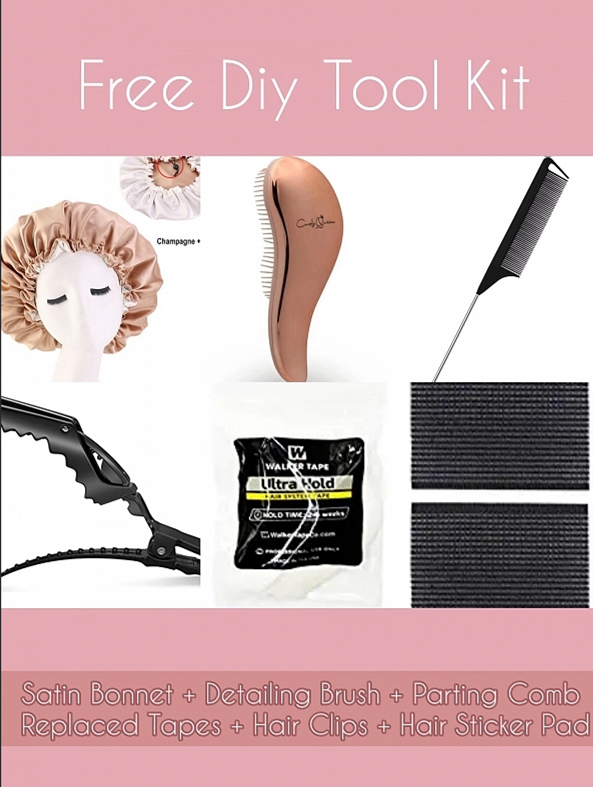 1 Satin Bonnet

1 Detanging Brush

1 Parting Comb

1 Pack of Replaced Tapes

3 Hair Clips
How long curly tape in hair extensions last
Curly tape in hair extensions imitate natural hair textures and human hair extensions are more like your natural hair. How long curly tape in hair extensions last depends on if you use them properly every time and how well you take care of them. With proper application and maintenance, curly tape-in hair extensions can last six weeks to eight weeks as well as straight textured hair for each use and the whole service life of human hair curly tape in extensions will be 6 months to a year.
Can I reuse tape in hair extensions
Definitely yes. Human hair curly tape ins are reusable for up to a year, and they are as good as new one for 3-4 applications with proper maintenance. You can remove the tape ins, clean the extensions, replace for new tapes and apply the tape in extensions again. Being able to be reused is such a benefit for hair extensions since you cost a sum of money and select certain hair textures and length you like, you might want to fulfill their value as well. 
In addition, the removing process won't cost more than 15 minutes. What you need to remove curly tape in extensions is just alcohol-based removers. Apply the remover to the adhesive strip and wait for some time to make the liquid seep and dissolve the tapes. Peel apart the sandwiches gentle and take them away. Then you can clean your natural hair and the tape in extensions directly.
Do curly tape in extensions damage natural hair
Permanent hair extensions will inevitably cause some damage to natural hair. Proper application can greatly reduce the damage caused by semi-permanent tape in hair extensions. One piece of the curly tape in hair extensions is just an inch wide and it's pretty lightweight and comfortable when applied on your head.
A few tape ins can make a great difference on natural look in adding hair volume but your natural hair might be damaged if used incorrectly. When removing the curly tape ins, the alcohol contained in remover might also negatively impact the scalp and cuticles of your natural hair. Good maintenance and hair masks will help prevent damage in using and removing.
What are the different types of curly tape in hair extensions
Deep Wave Tape In Extensions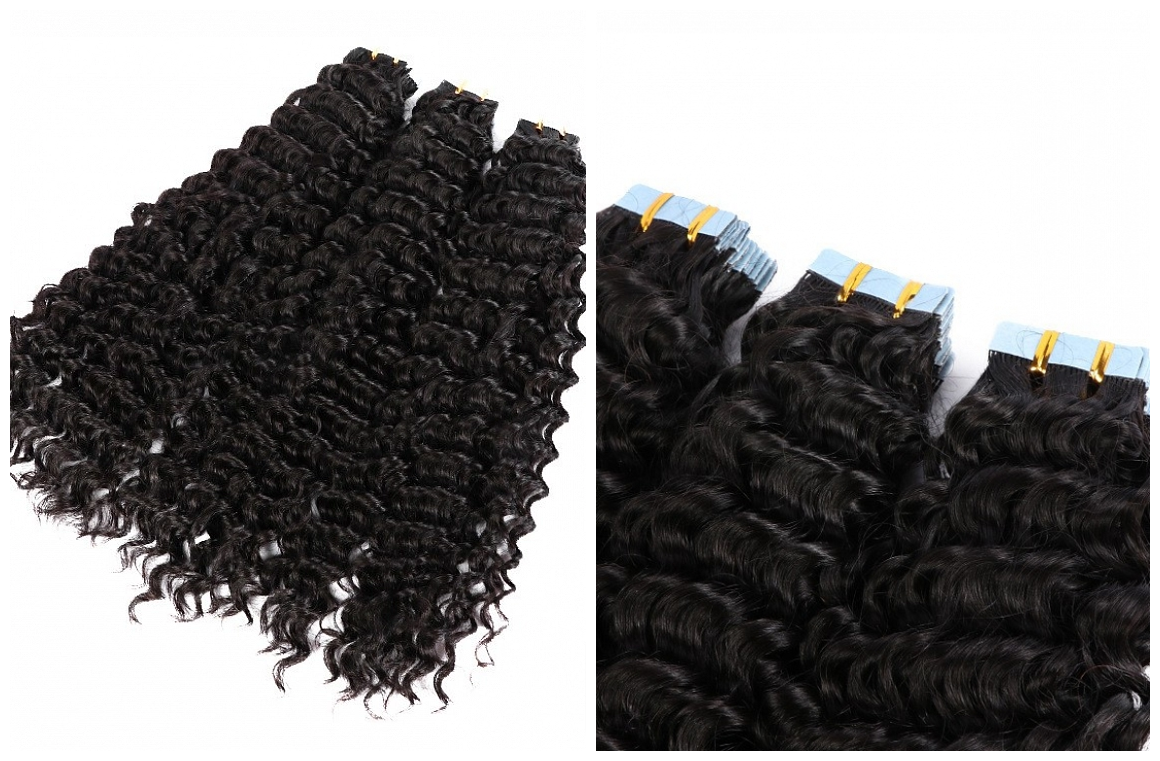 Water Curly 3A/3B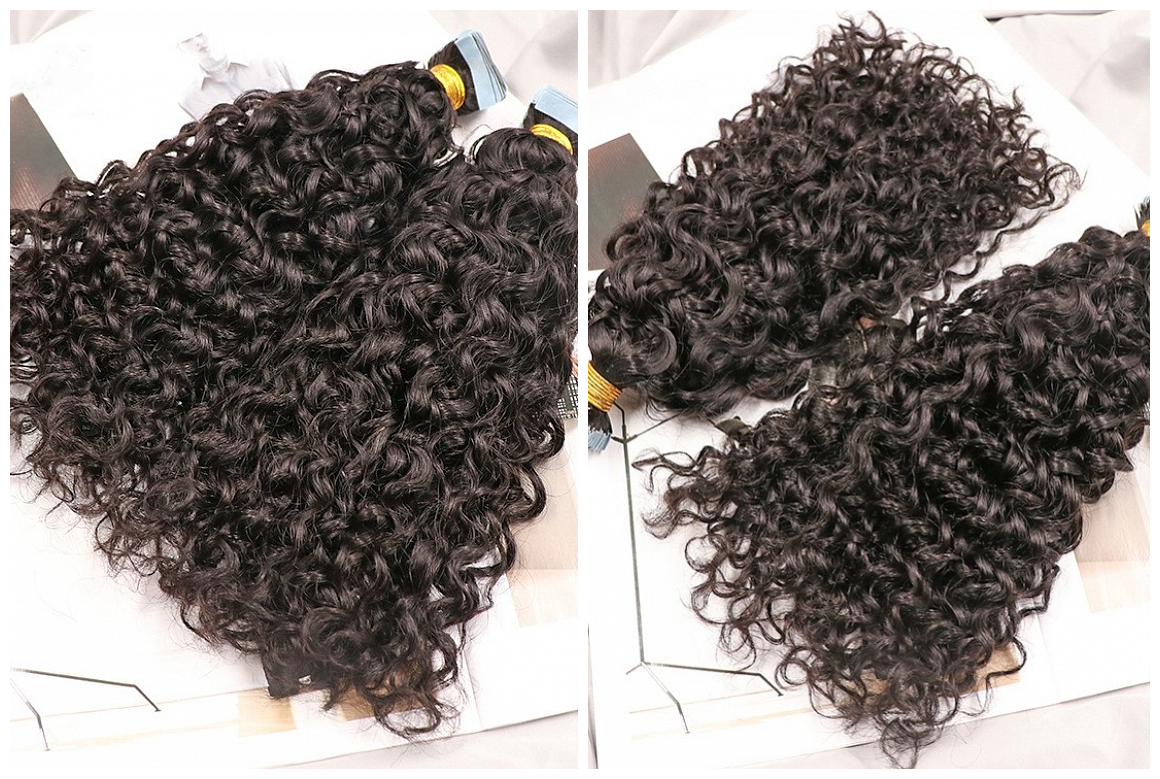 Deep Curly 3B/3C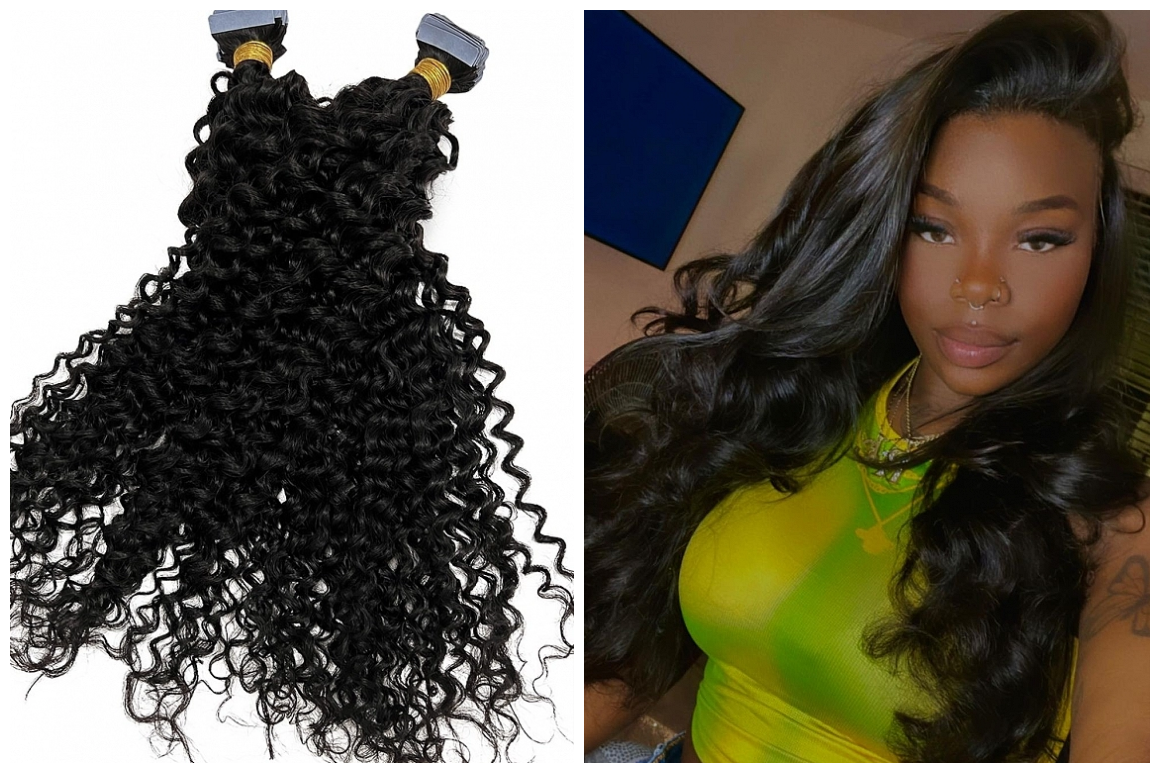 Kinky Curly 3B/3C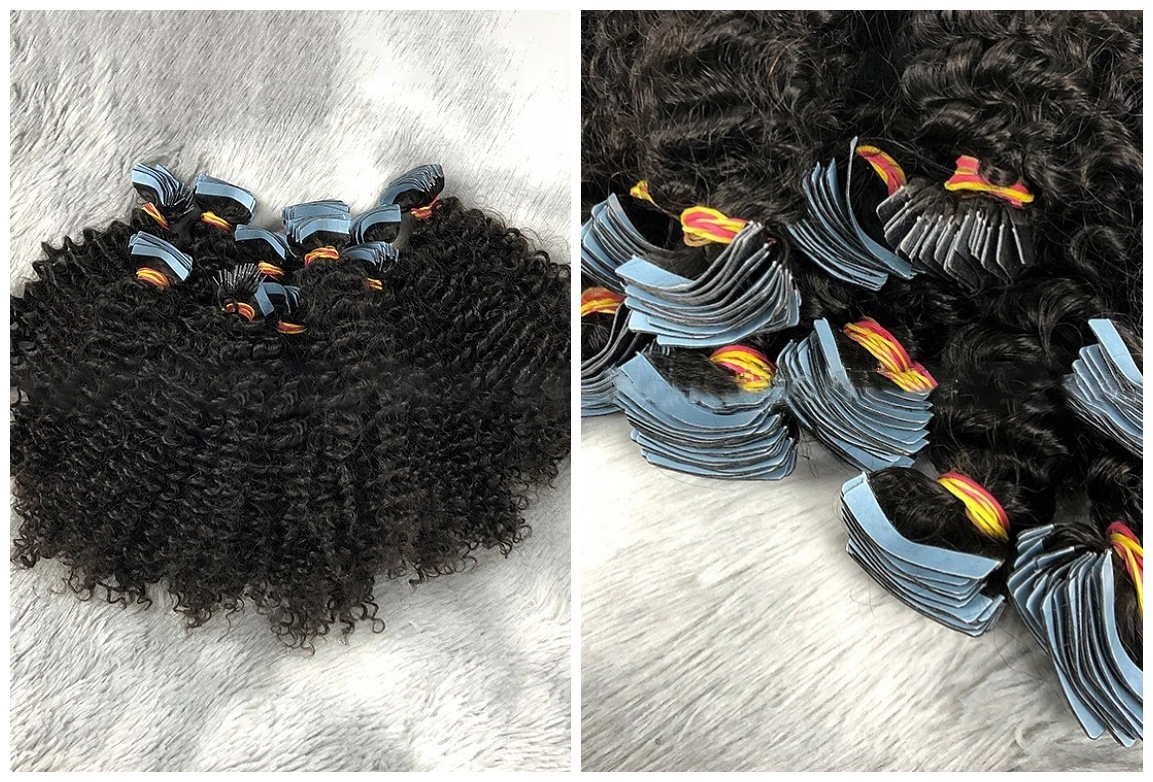 Jerry Curly 3C/4A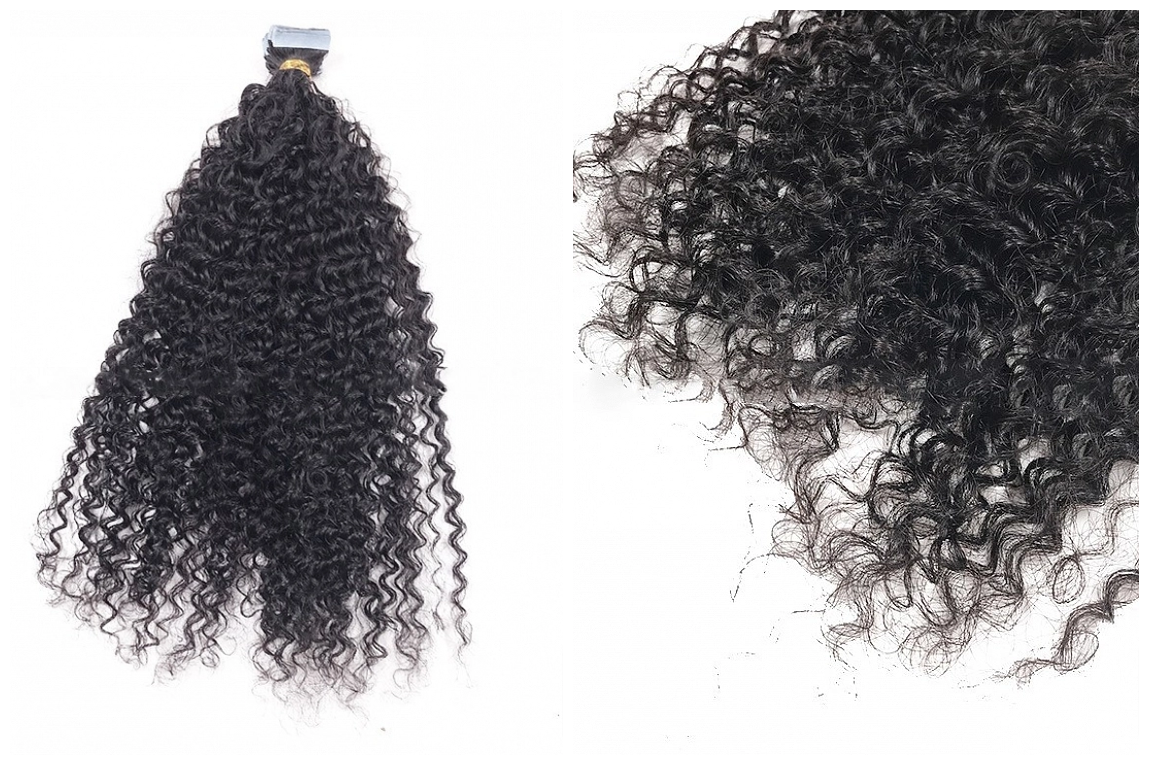 Water Jerry Curly 3C/4A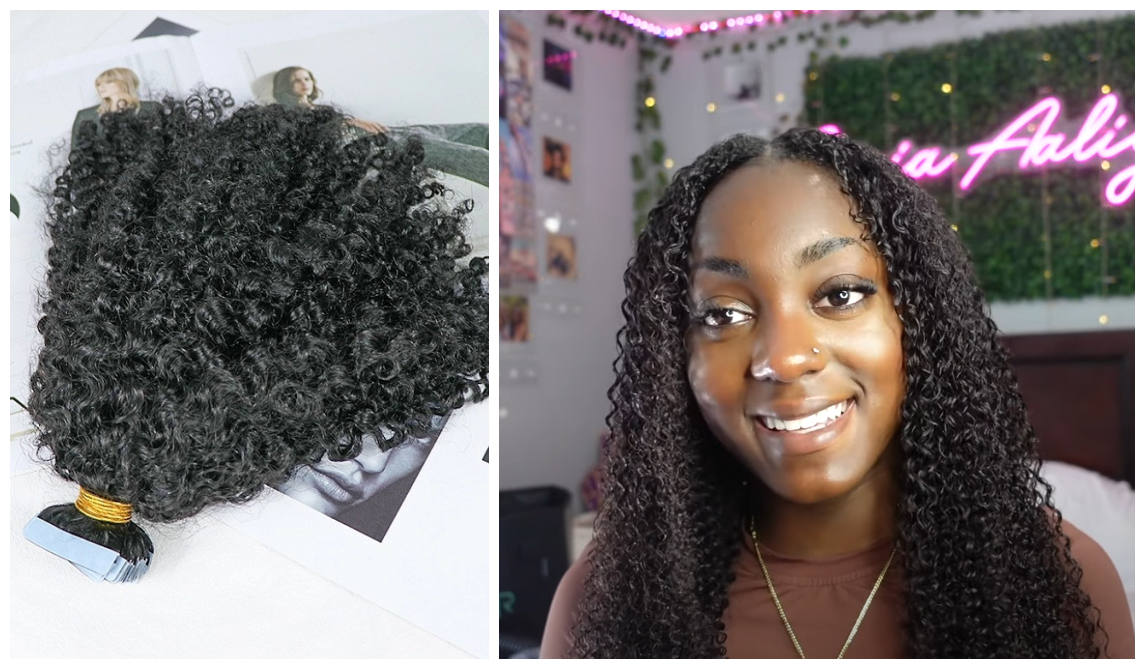 Afro Kinky Curly Type 4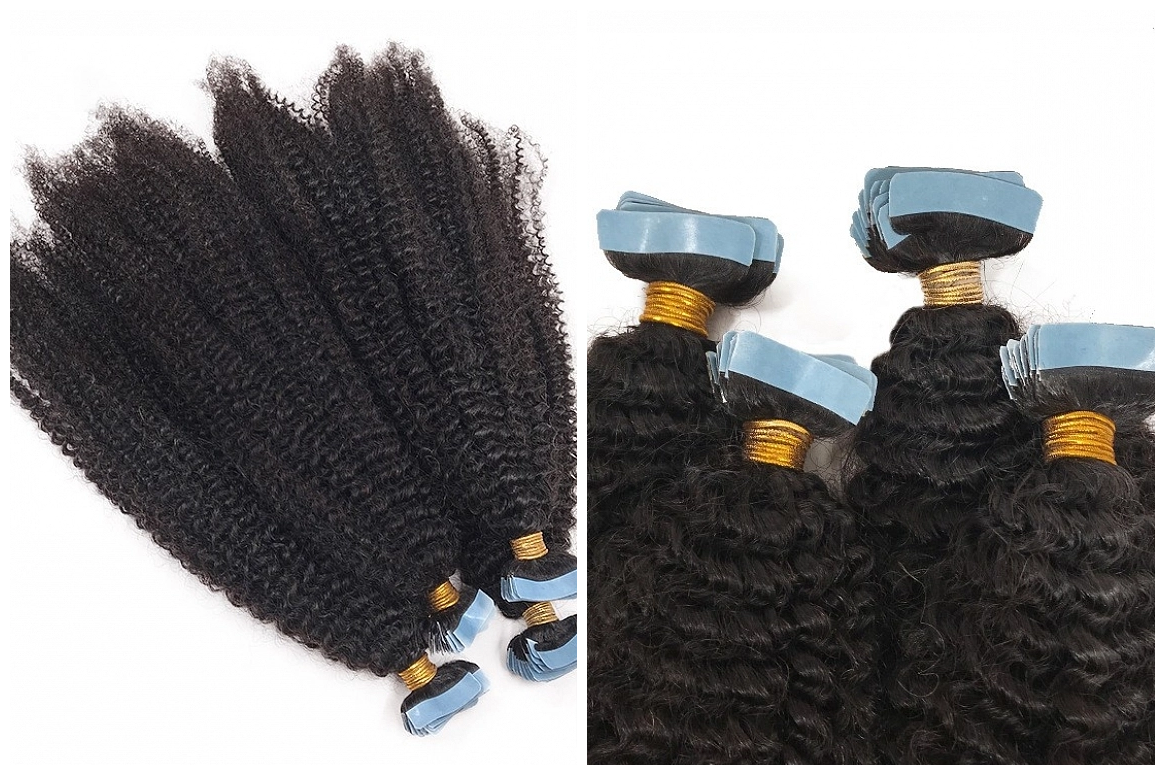 How to choose curly tape in extensions
Hair textures
If you know your curl pattern, just Choose the curl pattern that is supposed to match your hair perfectly; if you are not sure which texture will suit your natural hair best, it's recommended to turn to customer service.
Hair volume
One Bundle Set-40 Tape In Hair Extension Pcs-100 Grams

Natural Full Set-60 Tape In Hair Extension Pcs-150 Grams

Natural Glam Set-80 Tape In Hair Extension Pcs-200 Grams

Ultra Full Set-120 Tape In Hair Extension Pcs-300 Grams
Hair length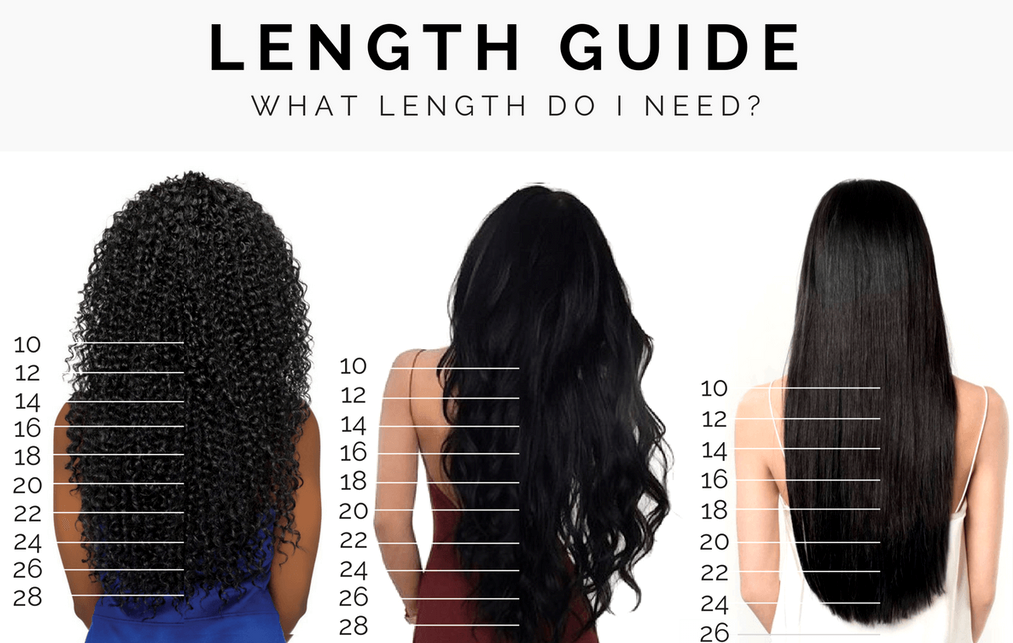 Our wavy and curly hair is measured when pulled straight.
The length of curly tape in hair extensions depends on the texture you choose. Straight hair naturally falls longer because it lies completely flat when it's measured but the curly hair extensions has more volume and short length for the same weight. We measure the length of our curly hair when it is in a straight position and the length of wavy hair texture lies in-between that of the straight and curly.
How to install curly tape in extensions
Just wash and condition your curly hair and allow your hair air dry without heat. You can braid natural hair into 2 or more braids to make it dry overnight.
Section your hair from ear to ear in half up half down way and work on the front section at first.
Do a middle part and 2 side parts and leave out your perimeter.
Part out a row of hair between your half up and half down and leave them for covering the tapes later. Make sure you leave out enough hair so that they will cover tapes seamlessly and they won't be exposed when you taking activities.
Use your finger or a comb to make a horizontal part about an inch away from the nape of your neck. The curly tape in extensions will be applied along the boundary and upper hair will hide the tracks.
You can use a hair tie or hair clips to clip the left curly hair out of the way or just braid them layer by layer, securing all the hair above the dividing line. Make sure it's completely cleared in case of any hair falling down sticking to the tapes while you're installing curly extensions.
Take two wefts curly tape ins and prepare to attach them. Basically there comes each weft with a blue tape. Peel off the little blue sticker and sandwich your natural hair between two wefts of tape in extensions. Mind to apply the curly tape ins evenly aligned with your roots but avoid hairline.
Put one weft above your curly hair and the other underneath the hair. But don't apply it too close to your scalp otherwise your hair will be stiff and you can not make much hairstyles any more.
Make sure that when you stick two pieces together it can freely flip upwards and downwards without tension on any of your hair. Literally press them together.
It's alternative for you to use a flat iron on the tapes in medium heat and clamp the 2 stickers for 1-2 seconds after installing the tape in extensions which is conducive to attaching the extensions stronger and more flexible.
When you finish applying that first layer of tape extensions, hold the hair up and then clip them up out of the way. Sandwich the wefts layer by layer and turn to to the side parts to continue.
Release the leave out and blend your curly hair with the tape ins.
Spray some water and apply some curl cream to define your curls.
If you've never applied hair extensions before, it's also a good idea to go to a salon with your tape in hair extensions exactly. It's incredibly quick, easy and pain-free.
How to style curly tape in hair extensions
How to take care of curly tape ins
WASH CURLY HAIR EXTENSIONS
Washing your hair too often or too less both damage your hair and it is recommended to wash your hair no more than six times in a month depending on the usage of the extensions. If you often exercise, you can wash more frequent in case of that the salty in your sweat damage the tape ins.
Curly tape in hair extensions can't get natural oil and dry faster than your natural hair so that they need moisture, conditioning, keep away from chemicals and heat as well but washing too often will strip your hair of moisture and color and dry them out faster. Cleaning your hair extensions and scalp regularly will protect your tape in extensions from slippage and rubbing damage.
When washing your curly hair with tape in extensions in, soak your hair into water completely and apply sulfate-free shampoo from one side to the other side to make sure that your scalp is totally clean so that your head won't become itchy for dandruff. Rinse out your hair side by side and take on moisture mask.
Apply the deep conditioner throughout your hair and detangle gently. Leave the deep condition fro some time before rinsing them out. Continue with leave-in conditioner when your hair is fully saturated.
BRUSH CURLY TAPE IN EXTENSIONS
The curly tape in extensions need be brushed every day to minimize tangles because the curls are easy to become matted like your natural curls. The less you brush it, the worse it be. It is always a good way to brush through your curly or kinky textures with a spray bottle. Spritzing the hair with water and separating curls by hand to maintain the form. 
When washing your hair extensions, gently brush your hair to the ends with a good hairbrush and avoid the roots where you stick the tapes. Your hair will be fragile when getting wet, therefore you should keep your curly tape in hair extensions as smooth as possible.
DRYING CURLY HAIR EXTENSIONS
Dry your hair extensions on a low heat setting after parting your hair in horizontal or vertical direction and dry out the roots at first. Manipulate your hair extensions with fingers and work from top to the bottom.
Can curly tape in hair extensions be dyed
Human hair curly tape in hair extensions can be dyed as natural hair. They are from human rather than plastic. If the curly tape ins has been dyed into one color, then you need bleach them if you want to change a color. You can dye darker or the same color.
However, they have been dyed using permanent dyes, and the bleaching will damage the extensions, lower the quality of your hair extensions and shorten their lifespan. But if the hair texture you chose is in natural color, then it has been dyed before and it is quite okay dye or bleach them as your natural hair to achieve hair color you want.
How to sleep with curly tape in extensions
Curly tape in extensions are semi-permanent ways to add hair length and volume and they will accompany with you everyday. Sleep with curly tape in hair extensions in correct way will reduce hair damage and ensure good sleep as well in that you decide to live with curly tape ins.
Dry your hair extensions before go to sleep.

Brush the tangles and knots.

Make your hair into braids or ponytail.
Wet hair and loose hair both will become tangled and matted in the next morning if you do nothing with them. Braid your hair separately, make a loose ponytail or tie them into a bun on the top at night if you don't want it become tangled overnight. Curly and kinky textures should be braided into two or four strands before taking protective covering.
Keep your hair wrapped with a satin scarf or bonnet and sleep on a silk pillowcase to avoid potentially excessive tangling and pulling. Sleeping with your hair unprotected will cause damage to hair quality, make your hair tangled and lead to headache as well.
Can I swim/ play sports with curly tape in hair extensions
Yes. Take some precaution and you can swim or exercise with curly tape in hair extensions at your ease.
When swimming with tape in extensions, wear a swimming cap to keep the chlorine from ruining the tapes and depriving natural oils of your natural hair in that hair extensions are prone to get damaged than natural hair and require extra nourishment and care.
When taking exercise, tie your hair back and wear a sweatband to keep your hair away from forehead and neck because your sweat will accumulate at there.
Where can I buy curly textured tape in extensions
Here are a range of human hair tape in extensions in different curly textures in our webiste from wavy to coarse and curl patterns from 3A to 4C which mimics Black Natural Hair to match your texture. No matter where you are on the texture spectrum, we've got you covered.