How To Choose Length
How to Choose Length
HAIR EXTENSIONS LENGTH CHART
Would you like to get the best hair extensions for your hair and achieve the perfect length and volume you've always wanted?
This hair extensions length chart will help - use it to choose the right length of hair: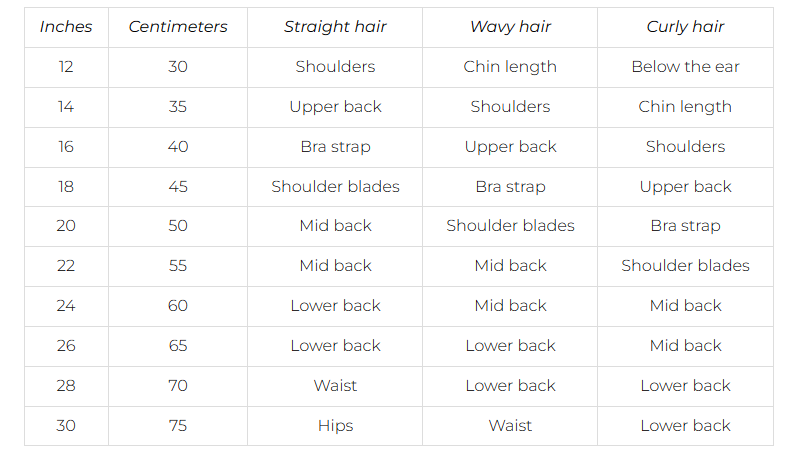 In the following pic, the model is around 5'2 tall.(THIS IS ONLY FOR LIGHT YAKI AND COARSE YAKI TEXTURE.)
· 14 inches clip ins: It usually falls mid-breast and about the bra-strap area in the back.
· 16 inches clip ins: It usually falls around your lower breast.
· 18 inches clip ins: It usually falls around your lower breast to upper stomach and your lower-back area.
· 20 inches clip ins: It usually falls near your waistline.
CURLY HAIR LENGTHS
Considering that curly hair is the hardest to determine the length, in this section, we're giving you the most constructive guide to measure your curly hair length. Typically, curly hair is 2-3 inches shorter than that of straight hair. Depending on the style you've got, we divide hair lengths into 5 categories – from short to medium to long.
#1 Short
Short hair is meant to be hairs that are at Chin-lengths and the ones longer than the ear. Some of the most common are the bob cuts - generally, with bangs or cringes and waves, bedded cuts, and asymmetrical cuts.
#2 Medium
Shoulder length to Upper-shoulder hairdos are the most iconic representative for this group of hair length chart. Medium-length hair is the most versatile hair length which allows us to experiment with any hairstyles to our fancy – from tousled waves, choppy ringlets to a bold lob or stylish ombrés.
#3 Long
Long hairs are most time, Mid Back length or longer. No matter what hairdo you're going for, the long hairstyle will forever remain trendy. Quite hard to manage as it may be, the long hair length offers plenty of cuts that a girl wants to have. Thus, if you're a true beauty lover, long hair is definitely the one for you.