Box braids never go out of style. Jumbo Box braids is a three-strand braiding hairstyle evolved from box braids. It is a thicker and bigger variant of braiding protective hairstyles which divide your natural hair into boxy shapes. There is a visible knot at the root of your braids. Jumbo Box braids bring much less pressure to your scalp and they are easy to make by oneself. Here are some reasons about why Jumbo Box braids are popular in natural community and they surpass other braiding protective hairstyles.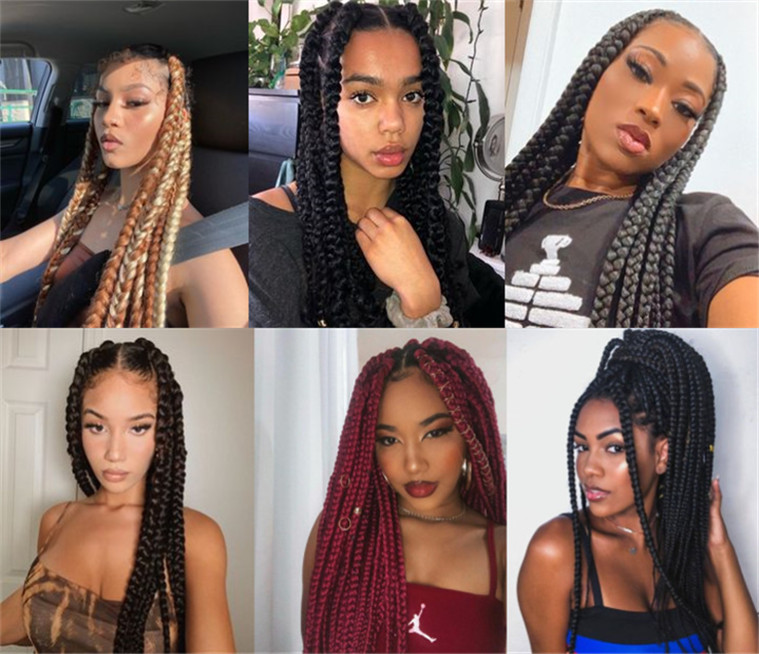 They are painless and pressure-less. Jumbo Box braids provide chunky look and extra length with natural hair and hair extensions. Such long braids put little pressure on your scalp and they don't need thermal heat to install. While you are keeping Jumbo Box braid, your natural hair can grow as usual.
One thing that's great about Jumbo Box braids is that they use more hair in braid section but allow for shorter braiding process. Unlike traditional box braids, they have bigger volume and require less repeated braiding steps which is convenient for you to shift your hairstyles.
Jumbo Box braids are also low-maintenance. They will not expand when they are getting wet and there are fewer braids for you to take care and style. As fewer braids are there, your time and money will be saved as well.
Jumbo Box braids are not only trendy but also go well with everything. Jumbo knotless box braids are braiding your hair without any knot left. Try the awesome Jumbo Box braids as your alternatives!
How many packs of hair do you need for Jumbo Box braids?
In general, five to seven packs are enough for Jumbo Box braids. You are supposed to take your natural hair length and volume as well when you are planning on the hair packs. It is also inconvenient to clean your scalp when you are wearing braids.
How long do Jumbo Box braids take?
The braiding process takes 45 min to 3 hours. The larger braids takes less time than smaller ones but the smaller braids are easier to clean because they expose more areas of your scalp.
How long do Jumbo Box braids last?
The Jumbo Box braids can last six to eight weeks according to how you take care of them. The larger sizes are your braids, the shorter is the cleaning cycle.
How to do Jumbo Box braids?
Jumbo Box braids on short hair (Crochet Method)
Clean your natural hair and blow dry them
Apply heat protector cream all over your head and brush through your hair
Section your natural hair off with rubber bands and apply eco styler gel throughout your hair puffs to make them hold.
Take a bundle of hair extensions that one Jumbo Box braid need and separate them into two parts. Twist the middle of the hair strands and hook the braiding hair to the needle.
Pull the first half of the hair through one puff of your natural hair from the middle area between the root and the rubber band.
Take the second half of the hair strand and twist the middle again as the first one. Pull the second half of the hair strand through your natural hair puff.
Braid the hair extensions strands with the little puff. If the little puff sticks out and the root of the braid, twist the puff again and pull it through the braid with the crochet needle.
Now the first braid is finished and what you need to do is following the previous steps to braid hair extensions into every little puff and hide the puffs after braiding.
Cut way extra flyaways to make every braid clean. If the hair extensions are in curly texture and you want straight ends, you can dip them into hot water.
Jumbo knotless box braids  
Part your hair to make sections for braids.
Release the first section and take some coconut oil to grease and nourish your scalp.
Brush your hair from the root and smooth your natural hair.
Gather your hair together and tie this section with elastic band.
Section and moisturize left hair as the previous steps. Tie all your real hair up section by section with elastic bands.
Take out the pack of hair extensions and divide it into small pieces in the same amount as your natural hair sections. Divide the hair pieces in advance so that the braids will get similar sizes.
Take out a strand of hair extensions and hold them from the middle with one hand. The hair piece will naturally be divided into two parts. Section the half part into two strands again with another hand and pull one strand straight in the horizontal direction.
Twist the other strand around the former and pull the former straight again, then you can get three strands of hair pieces.
Braid the three hair pieces with your natural hair strands together.
Move on to the next section and separate the hair piece as before.
When all the braids are finished, snip away the flyaway with scissors and spray some water.
Jumbo knotless box braids on fine hair (Crochet Method)
Clean your natural hair and brush through to make them detangled.
Section the natural curls into several parts and braid each section down to the end one by one.
Take out a strand of pre-stretched hair extensions and separate half out.
Twist the middle area of it and crochet it into the root of one braid from the middle in the horizontal direction.
Twist the second half one and crochet it into your root in the vertical direction. The second strand can be a little bit thinner than the first strand.
Braid the hair extension strands together and tuck the natural hair braid into the hair extensions when you are braiding. Work your way down to the end.
Work on the other braids left and keep your natural braids tucked all the time.
Stream the braids if they are stiff and dip the ends of the long braids into hot water.
Jumbo knotless box braids on fine hair (No Crochet Method)
Part off all your sections first. It will be easier for braiding if you section over your hair and then braid the sections at once.
Section your hair packs at once as well to make sure that each section for every braid is the same amount so that the braids are close to each other in the same size.
Unravel the first section of your natural hair strands and section it off into three thin strands.
Grab one strand of hair weaves in the middle and place it underneath the first thin strand of your real hair. Separate the folded hair extensions into two sections and hold each section with the left thin strands of your real hair one by one.
Braid the three strands together and hide the weave underneath your real hair in the root area.
Repeat the braiding process until you finish the whole head.
Jumbo knotless box braids on fine hair (No Feed In Method)
Section your natural hair into two big parts in the front and back side, and divide each part into smaller sections as you need.
Make sure the place of the first braid and divide the hair section into three small strands.
Take a piece of hair and fold it in half. Feed the piece in from the left side of your hair strand and braid the other two small strands together with the bened two strands of hair extension piece.
If you are braiding overhanded, place the feed in strand on the top of the braid to make it flow with the direction that you are braiding.
When the single small strand of your natural hair is going to be used up, take another piece of hair extensions and fold it again.
Make half of the piece overlapped with the left side strand and the other half overlapped with the single strand.
Continue to feed in more pieces when the strand is almost over until you get satisfied braid volume.
After finishing the first strand, repeat the steps to other sections and if you want curly ends finally, you can rot the ends of your braids and dip them in hot water as well.
How to wash Jumbo Box braids
Grab your favorite shampoo and apply it directly to your scalp with your pads of fingers. Gently rub along your scalp to remove any buildup.
Repeat applying shampoo and rub around all over your whole head until your whole scalp is covered with shampoo.
To make shampoo container with applicator cap, you can put your shampoo in a spray bottle with a little of water. Spritz the shampoo on your scalp and rub gently not only on the front but also on the back of your head and hairline.
Message your scalp to get the blood flowing and remove all the buildup.
Put your hair in a high loose bun in the front of your head and grad your hair in your head. Secure your braids with a hair tie.
Rinse your hair out in the shower from the back. You can also use a handheld shower head to spray the water directly on your scalp and let the water run through your braids.
Message your scalp slowly with your fingers to remove the shampoo. Move your braids as less as possible could reduce the frizz.
Squeeze some conditioner out and place them on your roots. Put the hair conditioner throughout your braids all the way to the ends.
Let the conditioner sit for 15 to 20 minutes then rinse it out by letting the water run through your hair.
Wring out your hair, pull your braids up in a bun and then wrap them with a towel.
Allow your braids air dry and add some hair growth oil on your scalp to add shine lock in moisture row by row. If you want to dry faster, you can blow out your braids in cool setting.
Add a few drops to your hands, message your scalp and then apply the reminder of the oil to your long braids.
How to sleep with Jumbo Box braids?
When it comes to sleeping with permanent or semi-permanent hair extensions, it is always recommended to sleep with satin bonnet or pillowcase. So does Jumbo Box braids. To protect your box braids when you are sleeping, the first idea is to put the silky satin around your hair.
To wrap your Jumbo Box braids, you can just lay it sown from the top of your head and tie it up under the bundle of your braids. Silky satin can reduce the friction between the pillow and your hair.
Then you can just wrap it around to the front and secure it on the top. It depends on you whether tuck the ends or lay it here.
Next you can wrap your braids into a low bun and wear the satin bonnet directly.
Putting all the hair in the back of your head might be inconvenient for some prole to sleep. Therefore, the second idea to sleep with your braids is laying flat your braids with bonnet.
Separate your hair sown the middle in the back and you will get two sections of braids.
Take the right section in hand and wrap it from back towards the front in the counter-clockwise direction along your head.
Hold the section with one hand and wrap the left section of your hair in a clockwise direction in the base of the first section.
Hold your hair with one hand and put on the satin bonnet with another hand.
Wrap the scarf around the perimeter of your head to protect your hair.
The last idea on sleeping with thick Jumbo Box braids is make your braids fixed upwards.
Bow your head and make all your braids upside down.
Wrap your head from the back and cover the perimeter of your head.
Tie the scarf in the end to secure your braids from the roots.
Hold all your braids up on your head and loosely twist as if you are making a high bun.
Put the bonnet on the loose braids then you can sleep with your Jumbo Box braids comfortably.
How to reduce frizz on your Jumbo Box braids?
Apply dry shampoo too cleanse your scalp and braids.
Apply some clarifying scalp treatment to your scalp and rub it in.
Moisturize your scalp with hair oil.
Use hair mousse to lay down hair frizz and apply some braid gel from the roots to your braids.
Wrap your head with a scarf for about 15 to 30 minutes.
How to bring old frizzy Jumbo knotless braids back to life?
The first thing to refresh your Jumbo Box braids is to spray some water on your head.
Apply a little bit edge control on the root of your braids and brush all the flyaways together with edge brush. Secure them with black rubber bands.
Put a scarf on your head and wrap it around your head to make your edges marinated.
Put some hair oil or grease on your scalp after wetting your hair and apply hair mousse after. Lay them down on your head.
Tie your head and wrap your scalp with hair scarf and let it sit for some time.
Dip the ends of your braids in hot water again.