The autumn is falling and have you prepared for switching everything up! It's time to reserve some gorgeous braided ponytail styles for protecting your 4B/4C natural hair from cold and dry air. There are unlimited styling possibility with braided pony no matter which braid patterns and thicknesses you have.
To inspire your beauty, we collect top 10 best braided ponytail hairstyles ideas in the trend of protective hairstyles which are versatile, elegant, functional, chic and rocking. You can choose your favorite ones for formal event or parties to rock the natural world!
Ⅰ. Butterfly Braided High Sleek Ponytail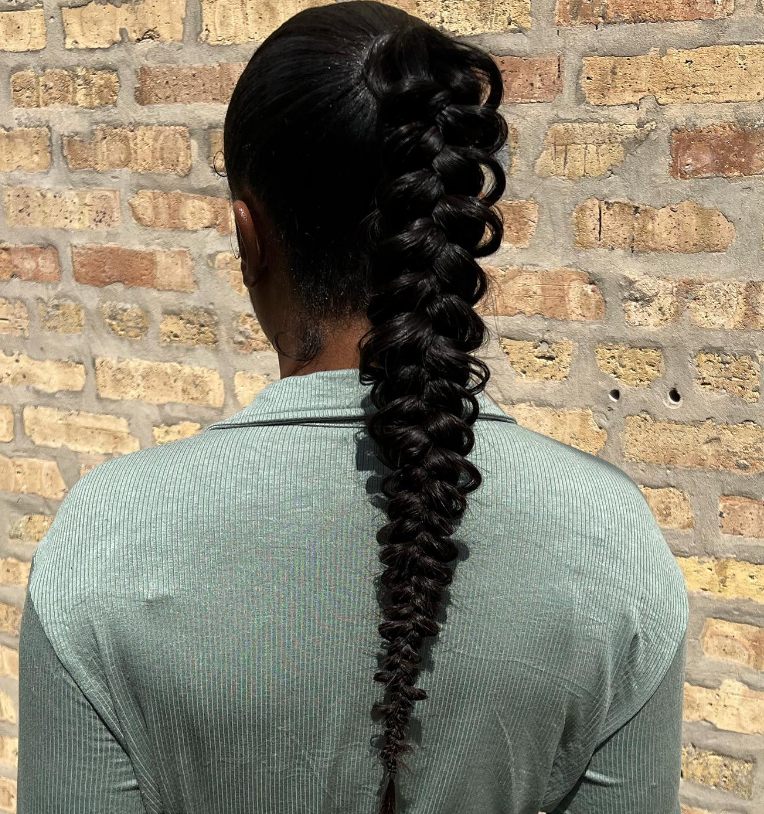 This is one of the most popular braided high ponytail new hairstyles which are supported by black girls. Butterfly braided high slicked ponytail hairstyles are not only for long hair group, but also short hair people with the help of hair extensions and drawstring ponytails.
This gorgeous high braided ponytail style worthy try for every girl to stand out. Extra-long braided sleek butterfly ponytail achieved by 100% human hair extensions shape the most textured protective braids.
Put your natural hair in a ponytail
If your hair is long enough to be made into a ponytail or bun directly, just comb your hair up and hold them with your hand.
Tie all your hair up with a rubber band. The flyaways that are too short to be held can be fixed with some black Bobby pins in small size.
Spread the gel all over the hair
Alcohol-free ECO styling gel made with pure olive oil helps add moisture to the scalp and hair while adding shine and taming split ends. Apply the gel on your hair and spread to whole head with rat tail comb or edge brush. Do not forget to take care of your baby hairs as well.
By the way, gel doesn't go with every hair texture so that if your natural hair has not been straightened before, you can try got2b styling gel or holding spray to make it slicked.
When you finish applying the gel everywhere around your head, untie the ponytail and comb it through again to smooth it and secure your ponytail in place.
Attach your hair extensions/ Add your braiding hair
Wrap your forehead around with strip. The reason why tying it sown is making sure that your hair lay flat do not curl up. Secure the combs on the top and the back of the ponytail. Pull the drawstring to tighten the ponytail extensions and wrap it around the ponytail. Take a section of the hair extension and wrap it around the root as well.
If you are going to make it with braiding hair, section your braiding hair piece from the middle and attach the braiding hair to natural ponytail from there with rubber band. Put all extension in the back and secure it with a piece of hair extension. Wrap your root with hair pieces.
Two braiding methods to Butterfly Ponytail
Braid your black hair in regular three-strand method and continue to feed hair pieces in during the process. After all the extensions finished, spread the braids to the sides with hand and mind not pull your strands too hard to break your braids.
1. Braid your hair extensions in pull-through method.
2. Slice your ponytail into two sections —half up and half down.
3. Section the upper half into two sections again—half right and half left.
4. Take the lower slice and pull it through the upper slice from the middle space. The lower slice become the upper one.
5. Section the upper strand into two parts again.
6. Pull the left and right sections through the middle space. They gather together again in the process of pulling from the lower to the upper side.
7. Repeat the braiding steps down to the end and fix it with rubber band in the end.
8. Pull the braiding strands to the sides like butterfly wings along the braids and style your ends as you like.
Ⅱ. Sleek Bohemian Braided Ponytail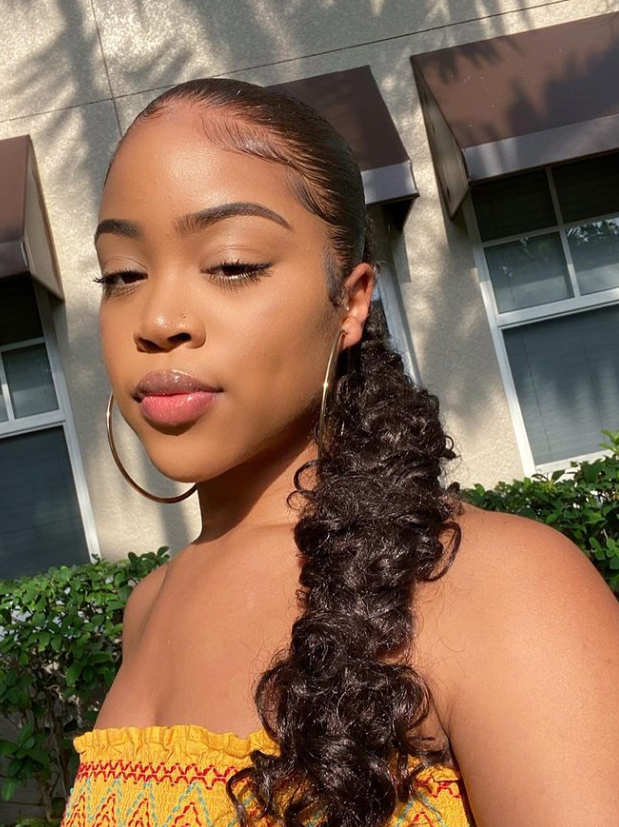 Why not try something interesting? If have learned about or have tried Bohemian hairstyle, the Bohemian braided pony is what you need! The loose braids high ponytail hairstyles feature  disheveled, soft and relaxing which create asymmetrical but acceptable look for black women. Bohemian braided pony keep the curly ends which provide a voluminous look.
Only the first couple of inches are braided while the rest is remained curly. Bohemian Braided Pony can keep for a long time with little touch-up and can be harmonious with most clothing styles as well. This protective pony style is fantastic for anyone who favors lengthy braids.
Moisturize your natural hair
Apply some chemical-free hair lotion and slap it in your hair. Brush your hair product to the back and make it fully spread to your whole head. Make sure that your natural hair is nor tangled or dry
Gather your hair with hair ties
Brush your hair thoroughly to make it slicker and slicker. Gather your natural hair together and hold them with your hand. Spray some water on your hair and secure your hair with hair tie. Make your hair into a small bun.
Tie your hair down with scarf
Natural hair would not stay in place as you want when you are styling your ponytail and there might appear unexpected flyaways and frizz. It is a good way to tie your hair with a scarf and leave it for a while when you are making braided ponytail.
Wavy and curly textured hair extensions are both fine for making Bohemian Braided Ponytail since this style is laid-back and causal. Brush out your hair extension after attachment and cover your bun with extensions.
Braid your hair extensions
Regular braiding method is OK for making Bohemian Braided Ponytail. Just leave the curly ends when you finish most of the braids. You don't have to braid your hair tightly and neatly. Spread the braid to make your braids high ponytail a little bit messy.
Ⅲ. Pedal Braids Ponytail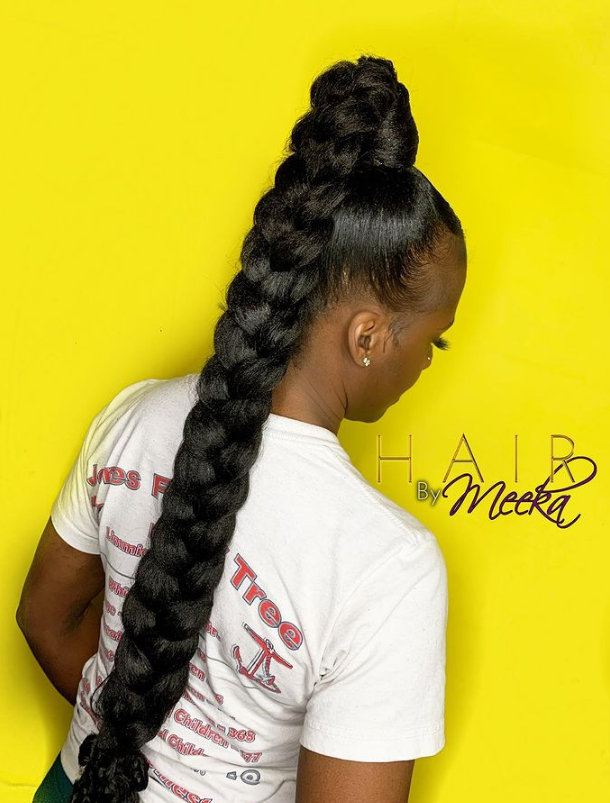 Petal style with fun colors adapt to most hair type which make your haircuts chic and elegant. Petal hairdo looks loose and messy while adding your hair volume and length. Petal braids ponytail hairstyles work well with most of face types as well.
Tie up your natural hair from the very beginning
Spray some water to your baby hair and lay down your edges. Natural 4C hair might be stubborn when you are making hairstyles and it is important to learn how to soften the curls. Brush through your hair and make your natural hair into a ponytail on the top of your head.
Add hair extensions to your ponytail
Tie your perimeter down with satin piece when you are preparing for the braid. Divide your small ponytail into three sections and apply the braiding hair on your hair by braiding the root of your ponytail. It might be difficult to realize by beginner himself so you can wear a drawstring ponytail directly and braid it.
Braid your hair loosely 
After fixing the hair pieces, you can start braiding right now. Since the braids will be pull out a little bit in the end, make sure that you do not braid it too tight. Flip kinks to make your braids looked as neat as possible. Tie a rubber band at the end of your braids.
Pull the petals
Pull your hair loosely from the bottom. You can take an extra piece of hair and wrap it around the root of your braid ponytail. What's more, you can also braid the piece at first before adding to your roots.
Ⅳ. High Jumbo Braids Ponytail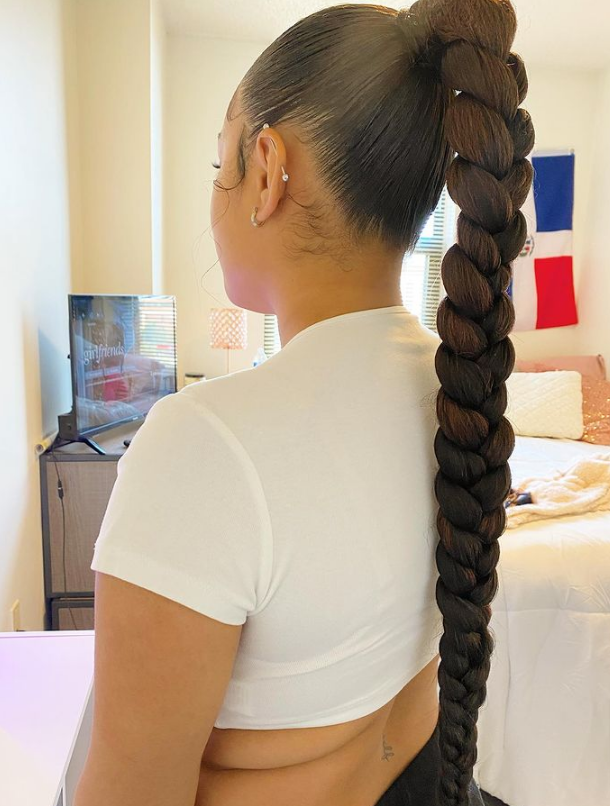 Jumbo braids ponytail hairstyles a chic ponytail look providing extra volume . They are bigger in size comparing to normal braids. You can braid more fun colors to this thick weave ponytail or add hair jewelry to enhance your beauty. Jumbo braids ponytail can last up to two weeks.
Make your curls into ponytail
Apply some ECO styler on your natural hair and brush your curl to get them as slick as possible. Secure your natural hair with hair ties before making weave ponytail.
Sleek your natural hair
Wrap your ponytail into a small bun. Brush your hair again to make a sleek ponytail. Blow dry your hair on cool setting with blow dryer and wrap your scalp with strips.
Apply drawstring ponytail and braiding hair to your hair
Take out a piece of your ponytail to tight and cover the roots. Split your ponytail to three sections and blend them with your natural pony. Braid your ponytail from top to the bottom. Apply gel on the flyaways and brush them gently. You can add more hair pieces if you want extra length.
Trim the ends of your braids
When the whole ponytail is braided, tie the ends with rubber bands and cut the excess hair.
Ⅴ. Box Braids Ponytail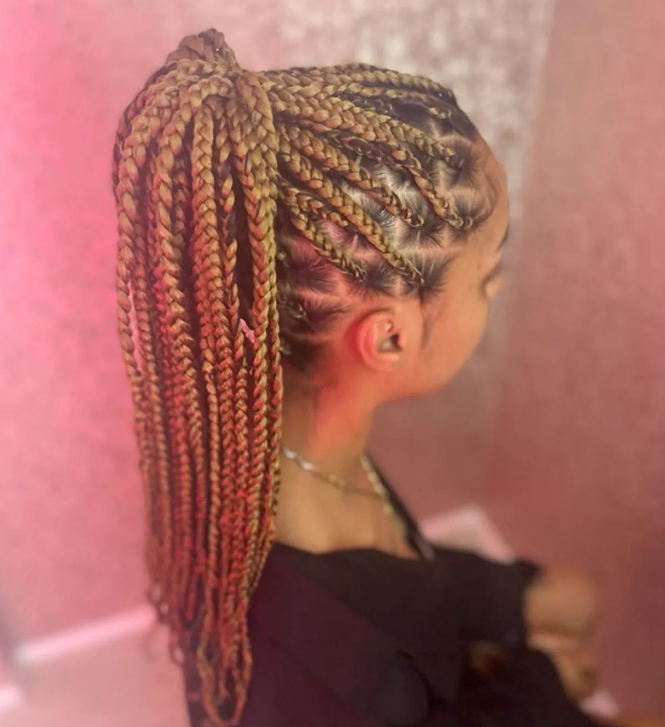 Box braids high ponytail protect your natural hair and scalp while showcasing your face. Box braids style can be dated back to thousands of years in Africa. Box braids high ponytail style suit for straight, wavy, curly and kinky hair textures and they can last weeks with maintenance.
Make your natural hair braided
Section your hair into "box" shaped sections from the middle part and braid each section with extended hair pieces. Apply some gel on your natural hair if your hair is dry and tangled. Brush and sleek your hair.
Make the box braids into a ponytail
Tie your box braids up, gather them together to make a high ponytail and wrap the roots with a piece of braids. You can braid the hair pieces and add the braids to your ponytail as well.
Ⅵ. Cornrows Braids High Ponytail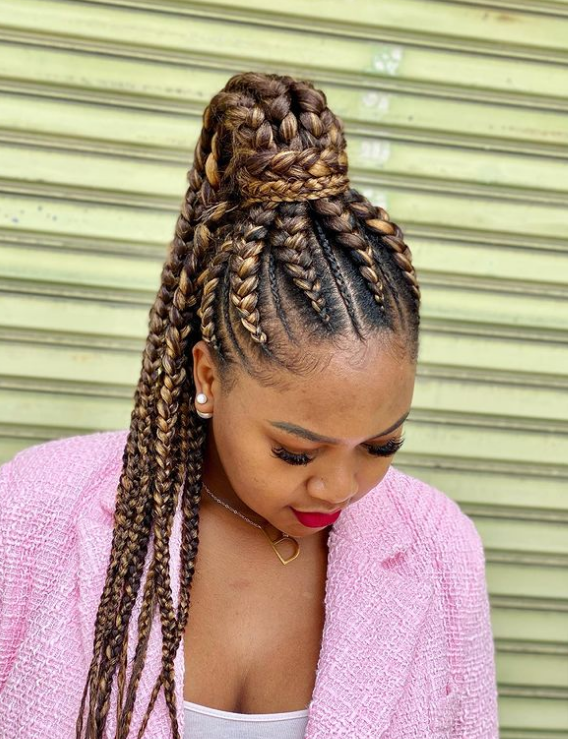 Cornrows braids is a little bit intricate and need elevated braiding skill but the result is amazing and obsessing like masterpiece. Beginners can take some practices and be patient with it.
With added extensions, Cornrows braids can be styled to small cornrows into a high ponytail, high side cornrows with weave, ombre blonde cornrow braids ponytail and cornrow feed in braids ponytail. You can turn to hair stylist in salon as well.
Simple guide to Cornrows Braids High Ponytail
Part your natural hair into 4 equal sections and leave out a round part in the middle of the 4 parts. Tie the 4 equal parts and start work from the middle part.

Take a piece of hair extensions and add the braiding hair to make braids in the middle hair.

Release the left front section and part a vertical row of natural hair from the edge. Fix the left hair and braid from the front to back with braiding hair extension pieces.

Section a thinner row continually and add thinner hair pieces to braid.

Braid the front hair into thick and thin rows in turn until all hair is braided.

Release the back sections and braid your hair row by row from the bottom to the middle of your head as well with hair pieces.

Apply the mousse to your braids and dip the ends in hot water.

Blow dry your hair in cool setting.

Tie your braids up and make them into a high ponytail.
Ⅶ. Low Braided Side Swoop Ponytail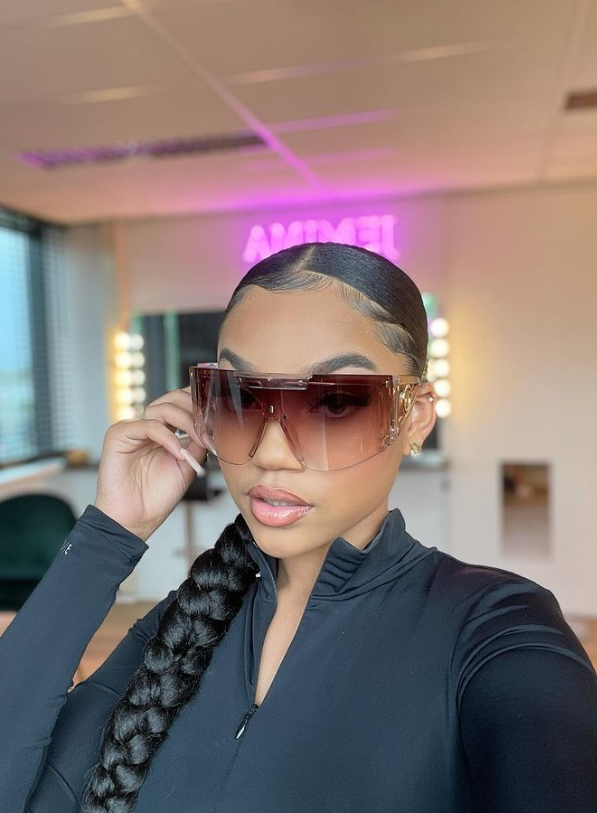 Side swoop ponytail is also one of the timeless ponytail hairstyles in the history. Swoop ponytail is also called barbie ponytail which features dramatic slick side fringes and the rest of your hair is made into a nice ponytail. Low braided side swoop ponytail is a wonderful idea in chic ponytail.
Simple guide to low side swoop braided ponytail
Spray heat protectant on your natural hair and straighten the hair.

Spray got2b glue on your hair and sleek your hair.

Blow dry your hair on low setting.

Make side swoop part on one side and apply the hair extensions or light yaki drawstring ponytail on your hair.

Braid your ponytail and secure the roots with a strand of hair extensions.
Ⅷ. Fishtail Braid Ponytail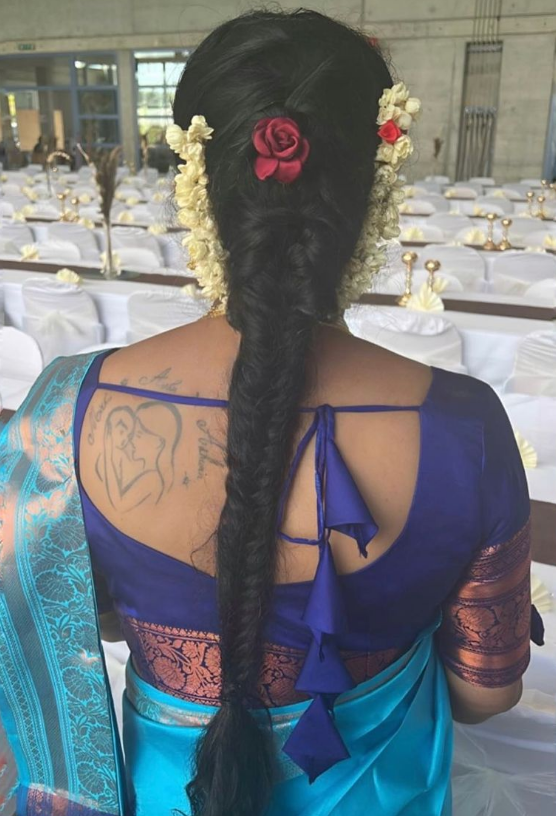 Fishtail braid ponytail is an elaborate ponytail hairstyles which add the elegance and romance vibe for your look as a amazing woven method. You can wear it flexibly if you have long hair. Fishtail ponytail hairstyles also work well and creative perfect look when they are a little bit messy.
Easy guide for making fishtail braid ponytail
Brush your natural curl into a high ponytail and tie it up with elastic band.
Section your pony into three sections and add braiding hair to the sections.
Hold the left section with your hand and cross it over to the closing right side.
Hold the rightmost section and cross it over to the closing left side.
Repeat the braiding steps down to the end. Do not braid your hair too tight.
When you finishing braiding, pull the edges to make the braid a little bit messy and wide.
Ⅸ. Slick Braids Ponytail with Bangs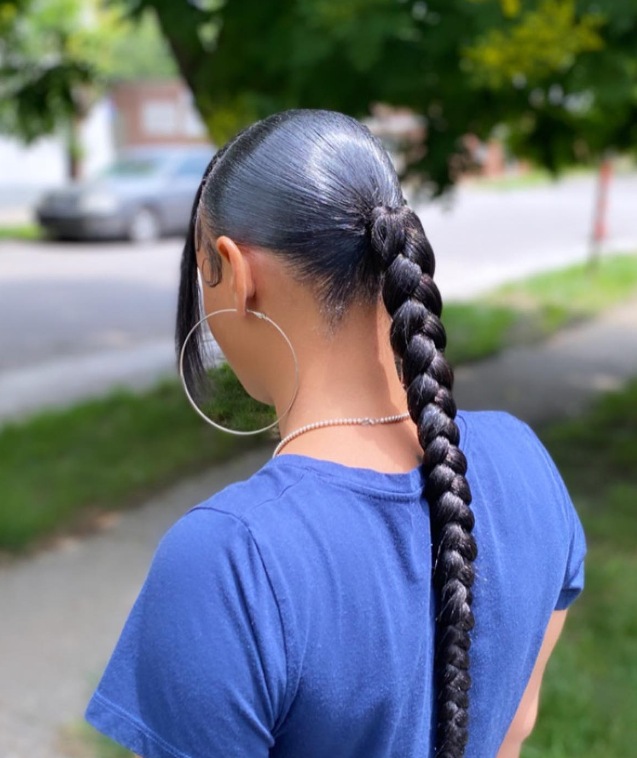 Ponytail and bangs are perfect partner especially with braided bubble effect. No matter side bangs, blunt fringe or choppy fringe, braided pony can hold them at ease.
Easy guide for making braided ponytail with bangs
Straighten the hair to prepare for sleek ponytail.

Section off two pieces of bangs in the front and tie your hair into a ponytail.

Sleek the hair and twist the two front pieces to make them out of the way.

Put a headscarf on your head and apply the hair extensions.

Braid and blend the hair extension with natural ponytail.

Wrap a strand of hair piece around the base of the ponytail.

Add two small track pieces on both side to give a full look.
Ⅹ. High Sleek Goddess Braided Ponytail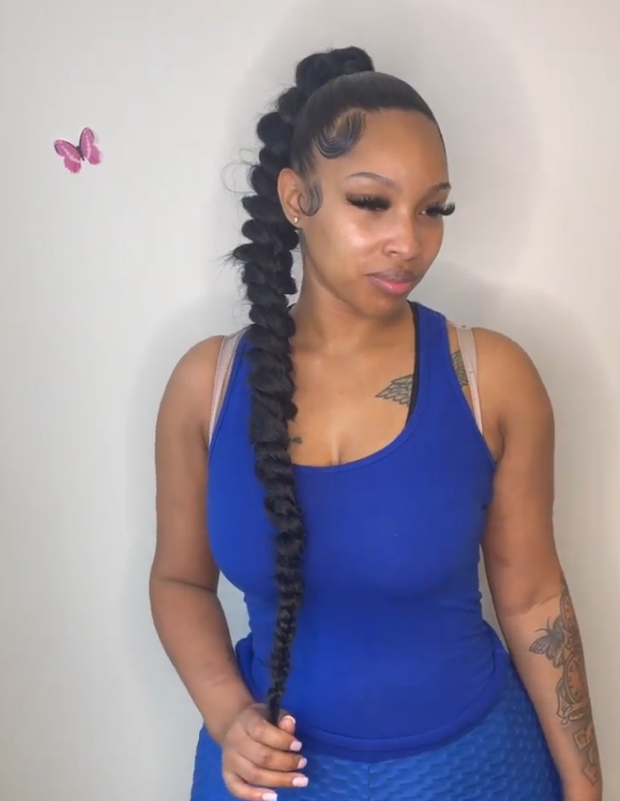 High seek goddess braid features a mixture of curls and braids which is an ideal protective style for keeping natural hair healthy. This style can be designed into more elaborate crown braids or add hair accessories to this braided hairstyle.
Simple guide to high sleek goddess braided ponytail
Sleek your natural hair and make your hair into a ponytail.

Wrap your head with satin scarf and attach the braiding hair on your ponytail.

Braid your hair down and add the curly hair pieces in while leaving a half of the curly hair outside.

Add the curly hair pieces every two knots apart and add the curly hair at the ends.

Braid the curly ends and add more hair into the rubber band.