Drawstring ponytail is always the best way for black women to get gorgeous and stunning styles statement, add length and volume to short to medium length curls, kinks, and coils in the most easy method, and keep natural curls in the most comfortable place. It is not a dream any more to get flaunting beautiful hairstyles and long dense wavy tresses with the help of drawstring ponytails of different textures.
Not everyone have the opportunity to hold gorgeous styles with blessed natural hair. Drawstring ponytail is the turning point in the journey of changing thin outlook. It is a boon for natural group for instant and quick-to-wear attachment with seamless hairstyle.
How to style your natural curls to kinds of beautiful hairstyles in the quickest way in the lazy autumn? We think no one will refuse a drawstring ponytail that changes your look dramatically with strong impression and uniqueness.
With so much hair extensions methods to choose, drawstring ponytail seems to always be the easiest one for every wig wearer. The drawstring ponytail has limitless possibility in various practical and creative hairstyles and it is friendly to beginners which enable you achieve any wanted hairstyles in short time.
Why people choose drawstring ponytail
Easy and quick installment
The first benefit coming to mind about why people choose drawstring ponytail is the easy installment. If you take the applying difficult and efficiency into first consideration, then the drawstring ponytail will be the most suitable hair extensions for you. You can get your hair done in just minutes. How quick is it, right? Just tie your natural curls into a small bun then wrap the drawstring ponytail around the bun and clip the small combs, just pull the drawstring tightly to secure the root of your hair at last. You do not need any additional styling tools or spare too much time styling your curls. Drawstring ponytails are the best solution to work and out style.
Easy to take care
Drawstring ponytail is a kind of hair extensions constructed around a lace stretch cap sewed with some small combs inside that can totally wrap your bun in the shape of a ponytail. It doesn't require more handling or maintenance in that it sits on the top of your natural hair. It requires less maintenance than other hair extensions including contemporary extension method like clip hair extensions and semi-permanent extension method like tape in hair extensions or microlink hair extensions. That means you do not have to pay too much attention on how to take care of your extensions. This is also one benefit for natural hair extensions beginners.
Versatile in hairstyle options
The ponytail is just the basic use of a drawstring ponytail hair extensions. Do not step into the misconception that drawstring extension can only be styled into a simple ponytail. You can make full use of the length and volume of drawstring extensions and create a wide range of hairstyles with or without the decoration of hair accessories like kinds of headband. Since you have got long and thick hair extensions, it is a good chance to try some new hairstyles that thin hair can not achieve but thick hair can easily realize.
Protect your natural curls
Wearing drawstring ponytail is also beneficial for protecting your own hair. It can definitely promote hair growth since it causes no damage to the natural hair at first and bears the styling pressure instead of your own hair. Without the outside factors, your natural hair can grow naturally when you are enjoying various styling ideas.
Which kind of drawstring ponytail is the best
Material matters first
You might have already known that what drawstring ponytail is but be confused at what kind of hair extensions is the best. The first thing you should take into account is material. Just like clothing or makeup, when you are choosing something that will be closed to your body, you will always be concerned about what it is made from and whether it is safe enough for physical health during using process. Hair extensions come from different materials as well.
Synthetic hair extensions come from synthetic material while human hair extensions come from real human. The Brazilian Virgin human hair extensions are the best hair extensions in high quality which come from one donator and have intact cuticles in one direction.
The simialr texture to natural hair
When it comes to choosing drawstring ponytail, here is a recommended but not mandatory advice that you do not have to follow—choose the matching hair texture with your natural hair—since when your natural hair is all gathered together into a bun, the hair texture seems to be not important any more.
When you are styling your drawstring extensions into creative hairstyles, the hair extensions matching your natural curl pattern avoid the trouble of processing your own hair to blend with your extensions. The matching texture will also eliminate lines of demarcation between real hair and hair extensions.
Before applying a drawstring ponytail, prepare to wash your hair and moisturize it properly. It is conducive to keeping the strands healthy and strong while minimizing wear and tear of hair extensions.
Top 1 The Long High Sleek Ponytail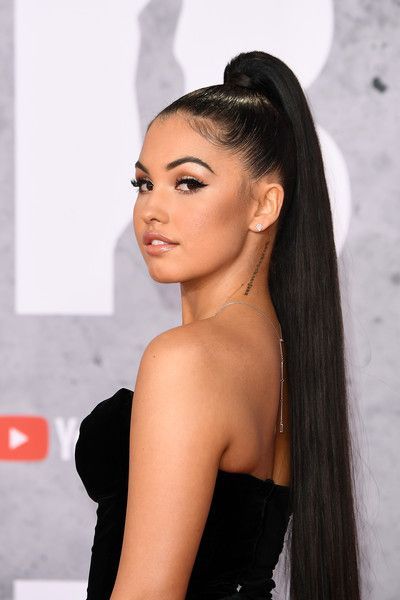 The high ponytail is always popular for its versatility and effectiveness. It is a perfect style in harmony with formal grown. They are wonderful partners especially for an event. It keeps your appearance stylish no matter in a cascading straight or messy curly state.
No matter what you like or what style you want, whether you tend to make yourself glamorous among the group or prefer to keep modest all the time, you can always get inspiration from ponytail family. With the drawstring pony hair extension, you can also start your colorful journey now. The hair extensions provide the dying chances without damaging your natural hair.
Top 2 The High Curly Ponytail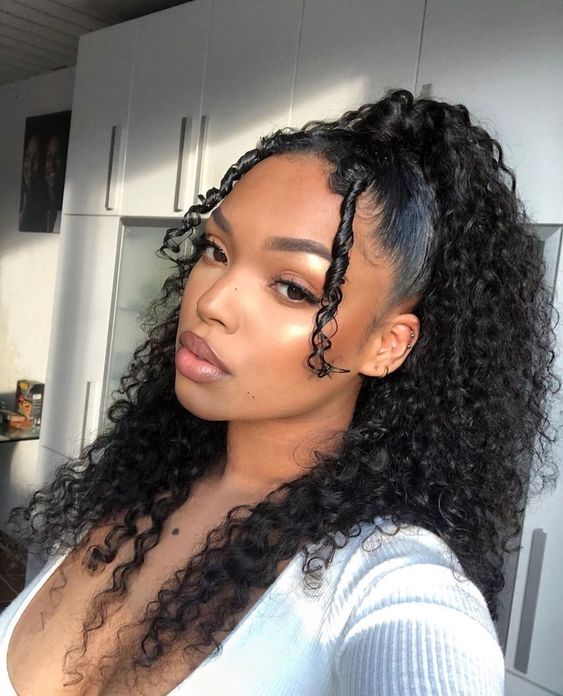 A quick way to get beautiful mane and thick curly strands is turning to drawstring ponytail for help. The hair extension is pretty easy to install and you can keep the beautiful yet so natural shoulder length curly pony from day to night! Leave two pieces of curls in the forehead as a complement on interesting details!
What a creative hairstyle it is! You can even add more ideas such as twist, braids or hair accessories on this vibrant, modern and edgy appearance. if you love the ponytail styles, just take move! The All-in one Versatile Cap Drawstring Ponytail can work not only as drawstring ponytail but also a wig!
Top 3 Afro Puff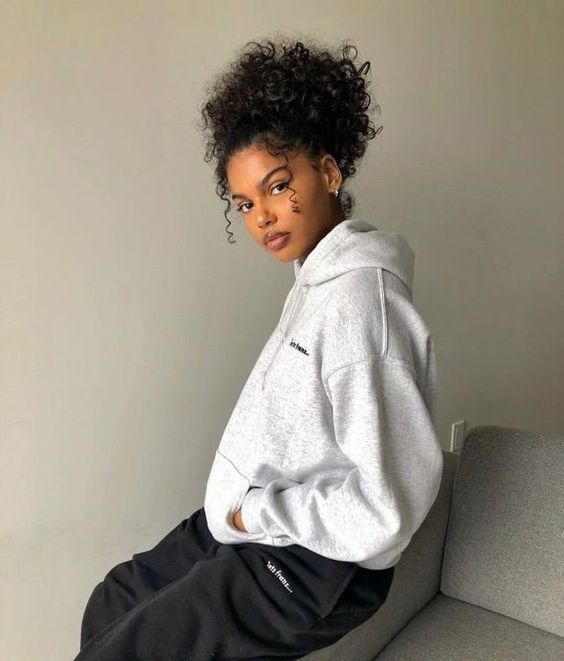 You must be familiar with this style if you have worn natural hair for a long time! Afro puff is a classic, easy, no fuss style for natural girls. If you have long thick hair, just smooth back your hair with gel to make the puff with a long hair tie. For the short hair or thin hair girl, the drawstring ponytail hair extensions boost your hair volume right now!
You can get extra volume in your Afro Puff style as well if you have medium hair. This is suitable for any type of hair type and hair textures all the time! You can also make puff variations with the headband or scarf for a different personalized look !
Top 4 The Curly Drawstring Ponytail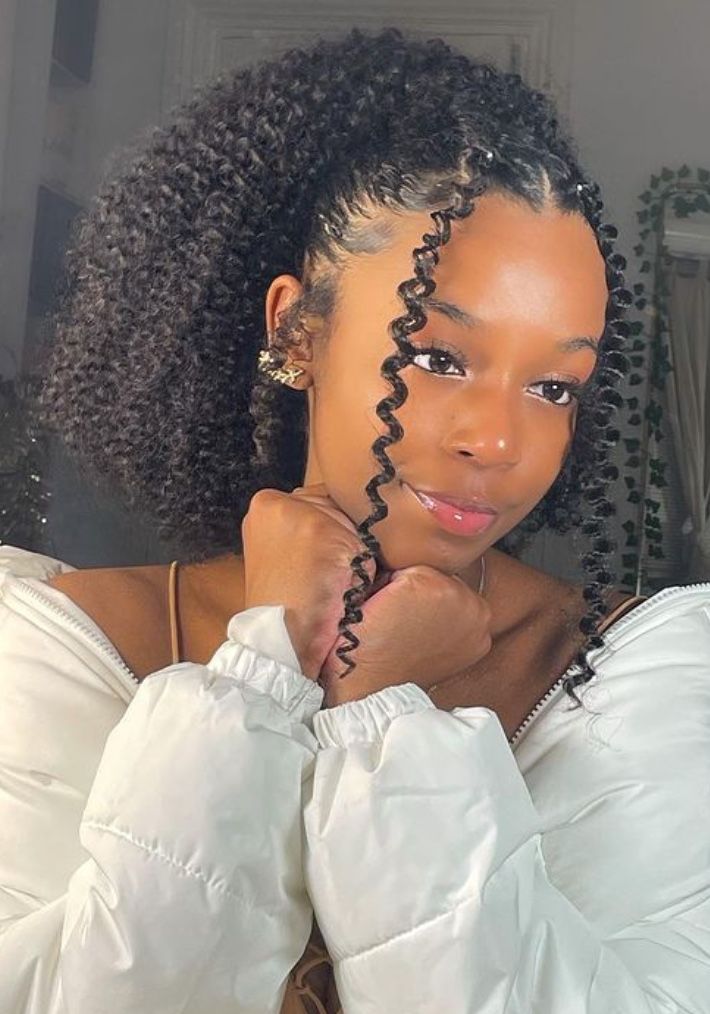 What will happen when curly ponytail come cross braids? Look at the bombshell hairstyle! A little bit twists or braids make the whole head totally different! As a protective natural hairdo, the curly drawstring ponytail enhance the gorgeous look and show off the beauty and cute of every girl foiled with small braids covering the front half of your head. The two small strands of curls modify your face shape and add the vibrant vibe further. It is absolutely worth a try!
Top 5 Bouncy Curls with Headband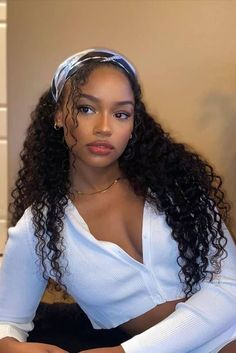 How about this unique gorgeous, stunning style with headband? The long drawstring ponytail with bouncy curly tresses gives out a fluffy thick hairstyle presentation, especially suitable for girls and women with short, thin, or brittle hair. The all in one versatile cap drawstring ponytail half wig not only protect your curls from over-manipulation but also enable you to enjoy long tresses without having to wait to grow your hair out.
The kinky curly hair texture looks really natural and realistic while adding length and volume to the tresses. It is also comfortable even if you wear it for the whole day.
Top 6 Two Big Afro Puffs Drawstring Ponytails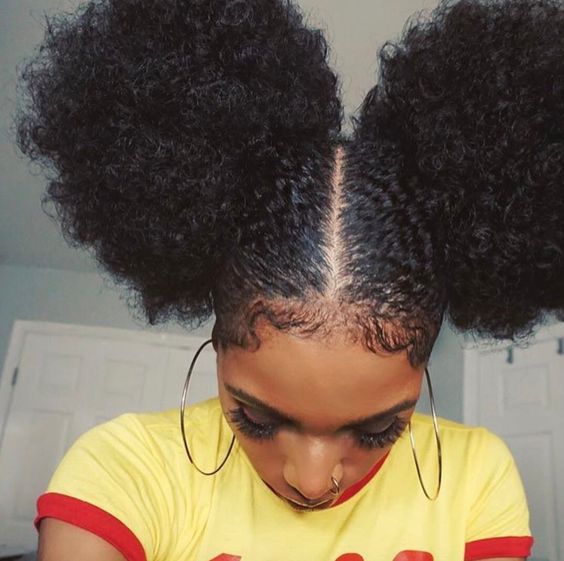 We love natural hair in every phase from TWA to long Afro curls! Wherever your hair is in the natural journey, you are free to enjoy embracing new hairstyles without any doubt! The two big Afro puff looks so amazing and cool when they appear at the same time!
Parting your natural hair into two sections reduce the requirement for hair length when you are going to tie up your natural hair so that you can attach the two bundles drawstring ponytail hair extensions separately from one side to the other side. This hairstyle also provide creating space for you on your natural hair. Have a try from the moment! We believe that it can work well on your head!
Top 7 The Curly Drawstring Mohawk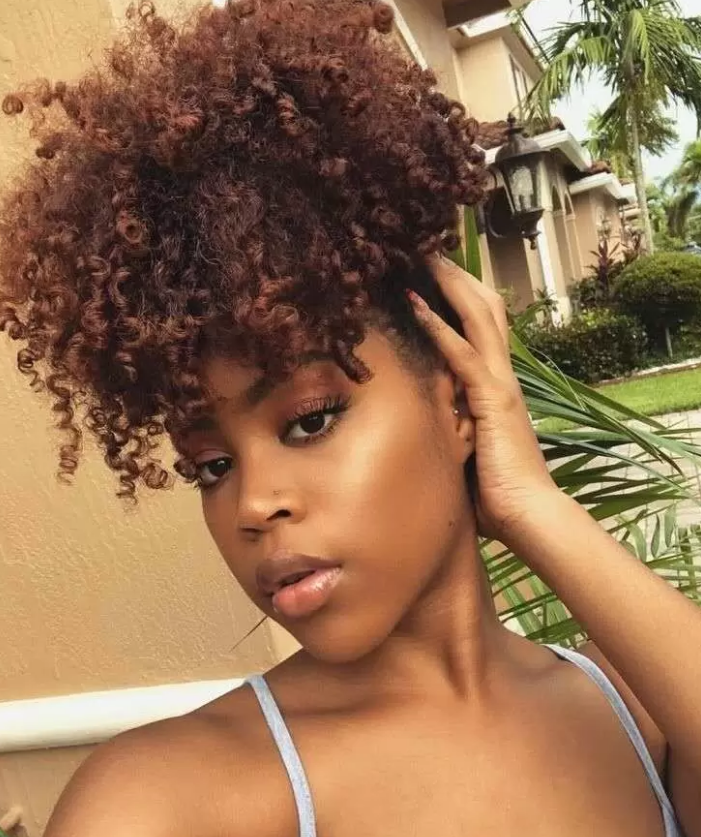 The curly Mohawk hairstyles are also known as frohawk which is also a cool and edgy style without cutting your hair. It is popular among black girls because it is easy to create and versatile. This style is low maintenance because you can wash your hair less and hold it for days. You can also wear the drawstring ponytail in pineapple updo. Cornrows and twists provide the traditional hairstyle more personality to the free flowing curls and can draw more attention in the street.
Top 8 Half Up Top Knot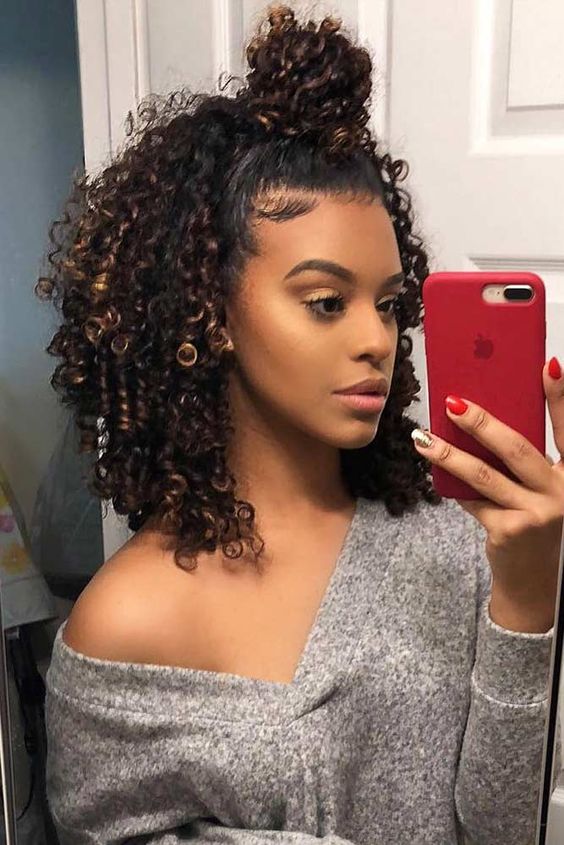 Half up top knot is so cute and versatile which spice up your look with the elastic drawstring ponytail. It can instantly create a seamless glowy and peppy style and improve the entire look no matter what kind of hair type you possess. It is easy to make as well. Section your hair into the front part and the back half, make your hair in the front into a bun and attach the all-in-one versatile cap drawstring wig in the back. Take some pieces of hair extensions from the drawstring ponytail to cover the seam and increase the bun volume in short time.
Top 9 Easy Low Curly Drawstring Ponytail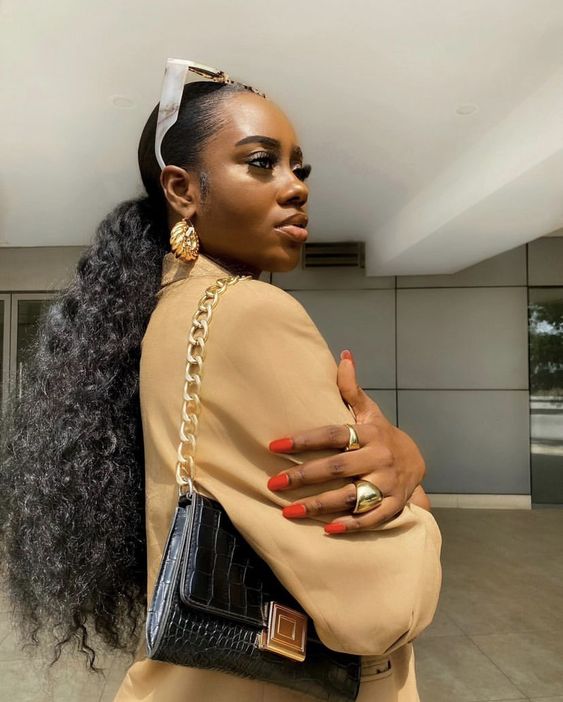 Who will not be happy for this 3-min hairstyle? This low curly ponytail is such an attractive and easy-to-do style which do not need too much effort. Whether you like headband or not, it is indeed a versatile accessories that fit for most kind of hairstyles in any length and texture. The heat-resistant ponytail extension is really a versatile way which provide flamboyant appearance with a lightweight and comfortable feeling. It is so apt for daily out&office wear as a protective and causal style.
Top 10 Pineapple Curly Updo with Bangs
We love this natural hairstyle that provide a fun, stylish look which can not only be worn when you are dating out but also in sleep-time. The headband help you shape a fringe in the front even if you don't have bangs before. Many people love this pineapple updo because it can keep your curls in place when you are sleeping. It is a safe option to such a protective hairstyle with high quality drawstring ponytail.