Clip in hair extension is always coveted by many natural hair groups as a result of its high versatility, flexibility, and free movement. Everybody could acquire additional hair length and thickness by using clip in hair extensions in different color. It's quite free for you to experiment with any type of extensions you would like to choose. Short natural hair works best with clip in hair extensions which blend with your natural hair and invisibly grow your hair. You can style them in the way you like.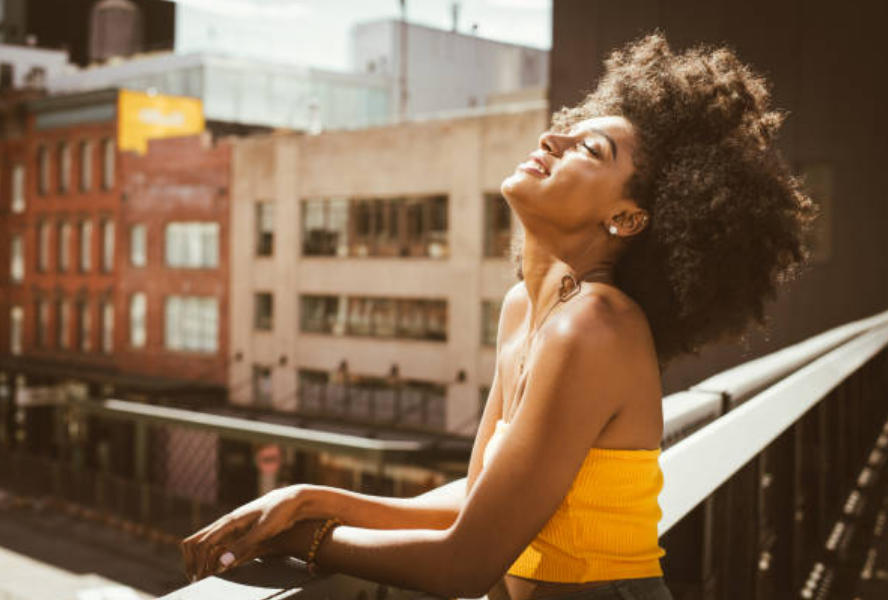 Clip in extensions do provide a lot of creative inspiration while add your hair density. However, many people are trapped at how to blend natural hair with curly clip ins. Before blending your hair with clip ins, you should make sure that they are matched with your short hair.
Find the HAIR TEXTURE fitting your hair best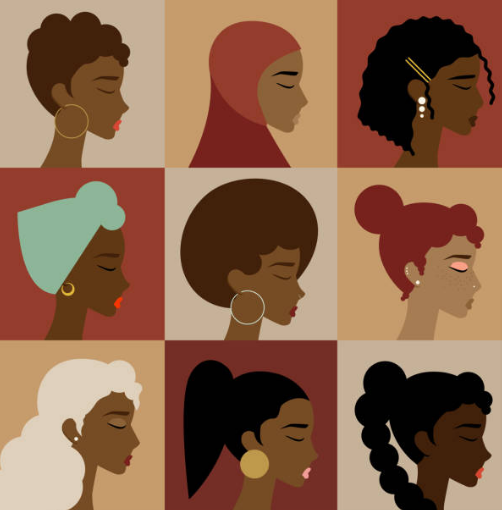 The most common hair type among Black and African American women are type 3 and type 4 in curly community which is determined by the shape of the hair follicle that grows from your scalp. The cross-section of your follicle is flatten or oval-shaped if you have curly hair and it is round if you have straight hair. The more flatten it is, the curlier your hair will be. You can also figure out your curl type by the shape of hair strands to identify which specific type you are.
Type 3 - Curly Hair
Type 3 curls resemble the letter "s"and they are typically wavy hair. Curly hair can not keep hydrated and moisturized the natural oils from your scalp are difficult to reach everywhere and the bending areas are usually the most fragile. Excessive manipulation and styling will inevitably cause unnecessary breakage.
Type 3 hair are further classified as 3A, 3B, 3C.
Type 3A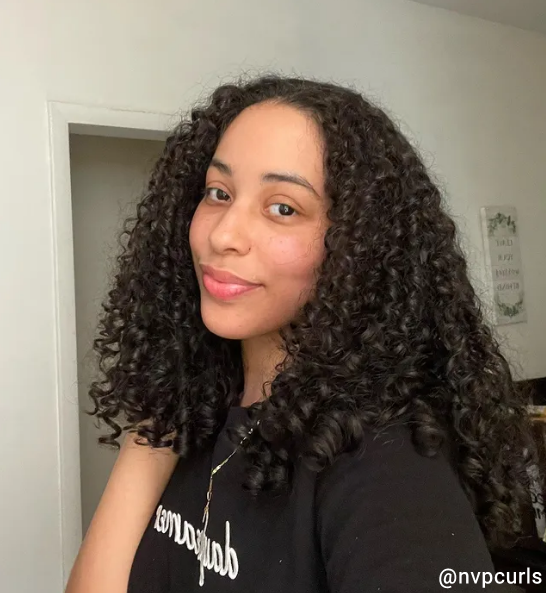 3A hair type usually have large and relaxed curls with well-defined S-shape. The strands tend to be smooth. Type 3A hair incline to be shiny. They are easily affected by the environment. They have a preference for moist and humid circumstance. Wet hair is easier to manage and grow, which reminds you of keeping hair moisture with lighter oil or water based creams without alcohol to minimize hair frizz caused by dryness.
Type 3B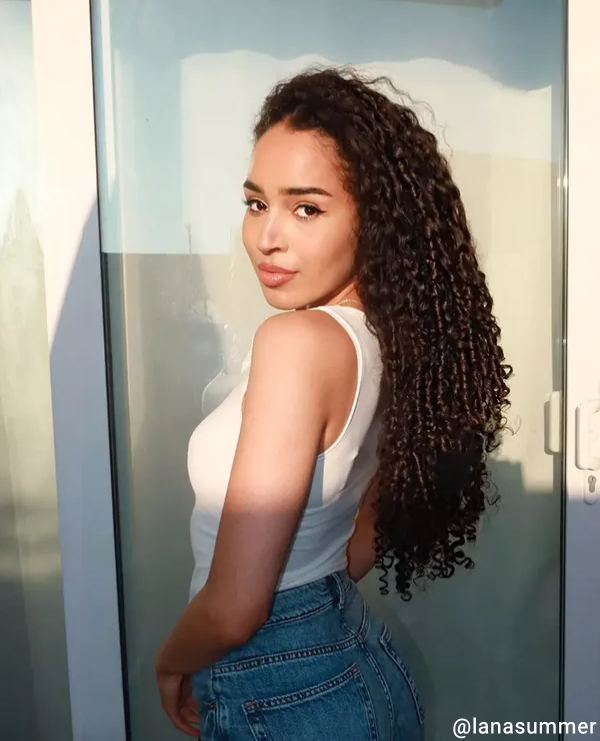 3B hair type features tighter and coarse curls as well as springy strands. The spiral curls are well defined and often get dry. To care for such a hair type, regular moisture and maintenance are necessary. Gels containing curl humectant, hair products that do not have any parabens or sulfate can be incorporated to keep your curls moisturized.
Type 3C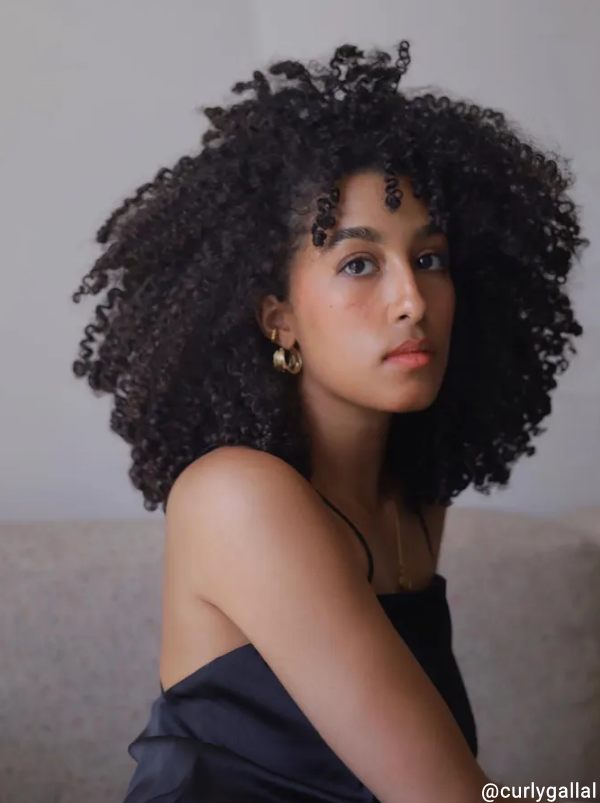 3C hair type has the most textured and intact curls with densely packed strands. They are also well-known for volume and fullness. They look like corkscrews with different circumference ranging from straw to pencil. They are likely to frizz as well which have become a characteristic nature. It is more manageable according to proper moisturizing with sulfate-free shampoo and leave-in conditioners.  
Type 4 - Coily, Kinky hair
Type 4 curls resemble the letter "z" and they are commonly referred to as Afro-textured or kinky hair which present naturally dry and spongy in texture and can be soft, fine, coarse, or strong. Type 4 hair does not feature defined curls and curl patterns. They have high density with tight, small curls of zig-zag patterns which are prone to shrinkage.
Let's take a look at specified hair type.
Type 4A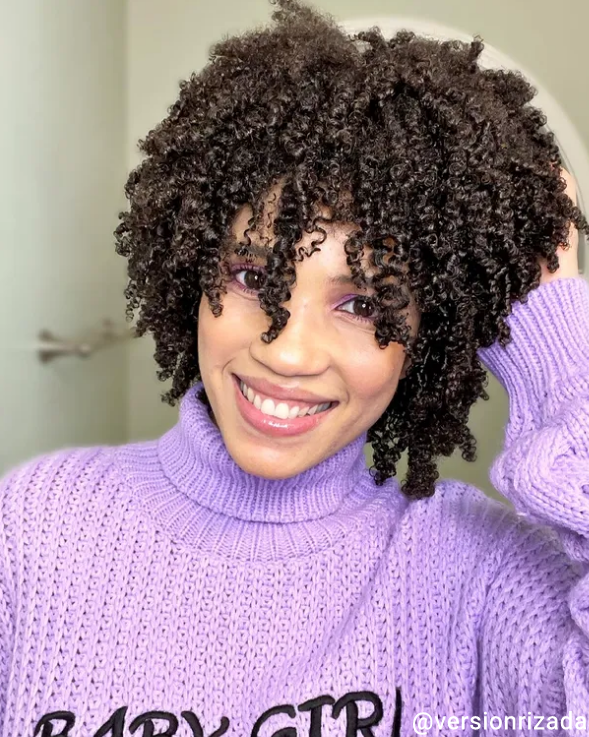 Type 4A hair has its defined S curl pattern which has a thick and springy appearance. The diameter of the curls is close to a crochet needle. 4A hair can be fine or wiry, and has fewer cuticle layers making it easily breakable. It is also quite dense and can hence appear quite dark. 4A hair also retains moisture better than 4B or 4C hair, and is better suited than the other two to wash and wear styles.
Type 4B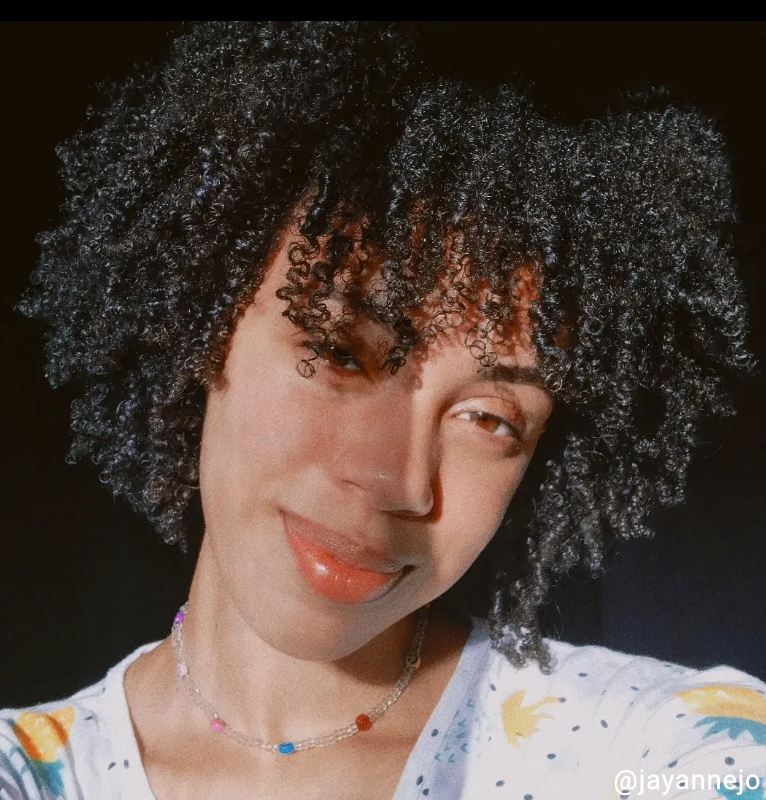 Type 4B hair has "z" shape pattern and has a more fluffy cottony appearance. Due to the bends and curves in the hair strand it is highly susceptible to dryness and breakage. This hair type shrinks up to 70% so without stretching out the hair it will appear shorter than it actually is.
Type 4C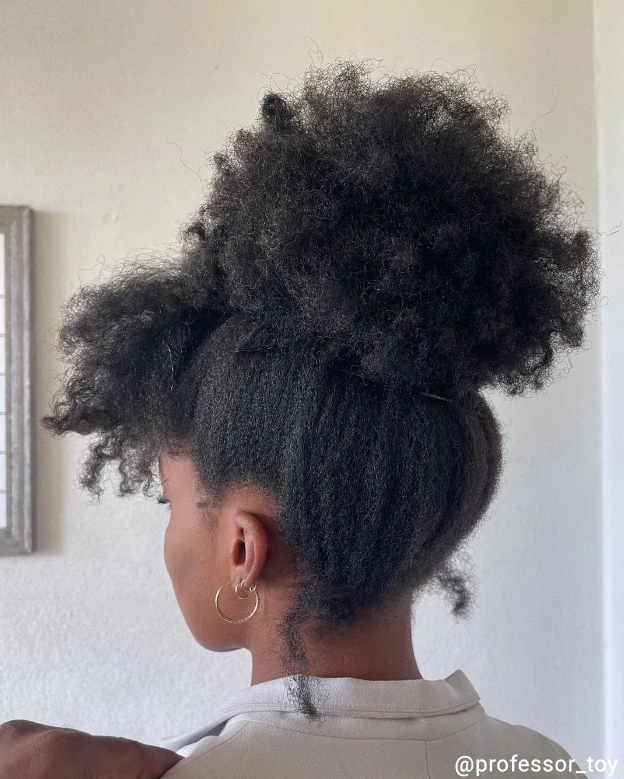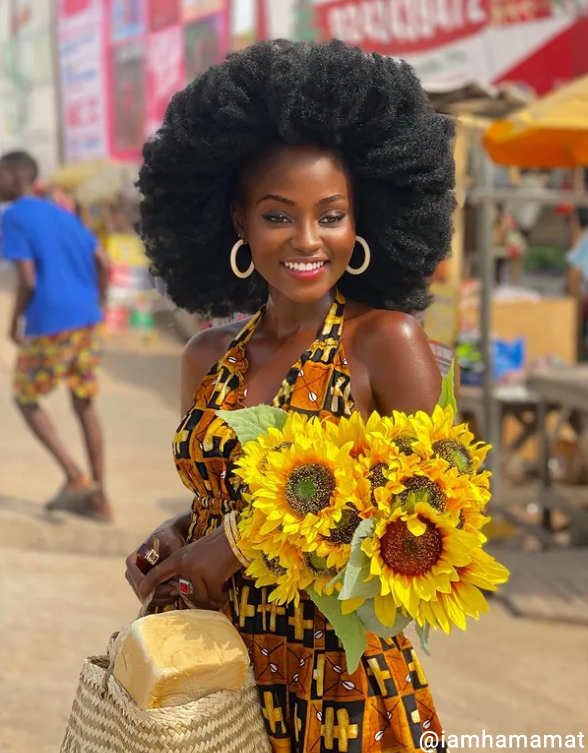 Type 4C hair looks similar to 4b hair type only it is more tightly coiled. In its raw state (no products added and freshly washed) it does not have a defined curl pattern. 4C hair is the most tightly coiled and does not have a defined curl pattern. This hair shrinks to 70 percent or more of its actual length and, although quite similar to 4B hair, is much more tightly packed. It is also the most fragile.
The ultimate goal that you take time in choosing hair extensions is to make sure that the clip in hair extensions can perfectly blend with your natural hair. The most pivotal condition that perfect match requires is hair texture.
One kind of human hair extensions usually can be applied in several hair texture.
For instance,
Natural Curly Clip In Hair Extension Sets and Water Kinky Curly Clip In Hair Extension Sets are suitable for curl patterns of 3B and 3C hair;
3C and 4A hair texture can choose Water Jerry Curly Clip In Hair Extension Sets and Kinky Curly Clip-In Extension Sets;
Coarse Kinky Clip-In Extension Sets are extraordinarily perfect with 4B and 4C hair texture.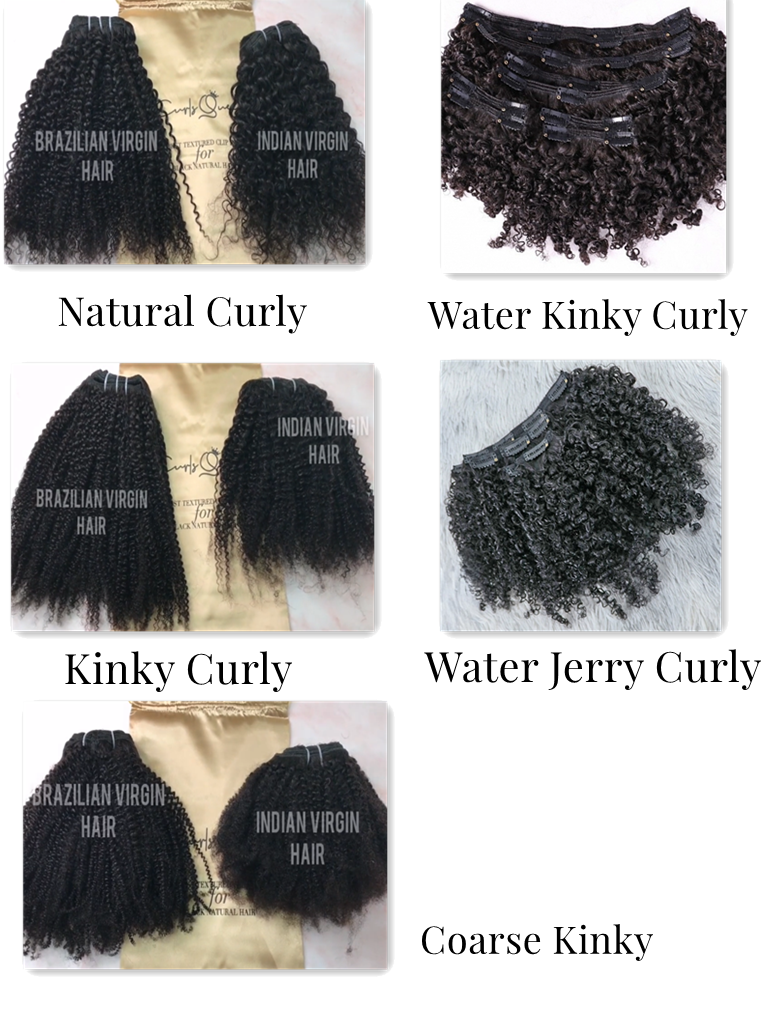 In any case, if you apply extensions that don't follow the texture of your real hair, you can still find ways to make it natural as much as possible, but finding a texture fitting your hair best can minimize unnecessary hair damage and styling cost.
The importance of HUMAN VIRGIN HAIR can not be overemphasized!
Clip in hair extensions made from human hair last far long than synthetic one and they can be heat and colored like your own natural hair while extensions made from synthetic hair can not achieve because synthetic hair is made from plastic. The cuticles of human hair strands are intact and keep in the same direction which is more healthy.
COLOR and LENGTH matter as well
When deciding on the color and length, you should refer to your natural hair. Compare the clip in hair extensions with your natural color in daytime and because the daylight will avoid color illusion that shade brings and allow you to make the right decision. If there are more than one color in your head, you can also blend the color you want to mix.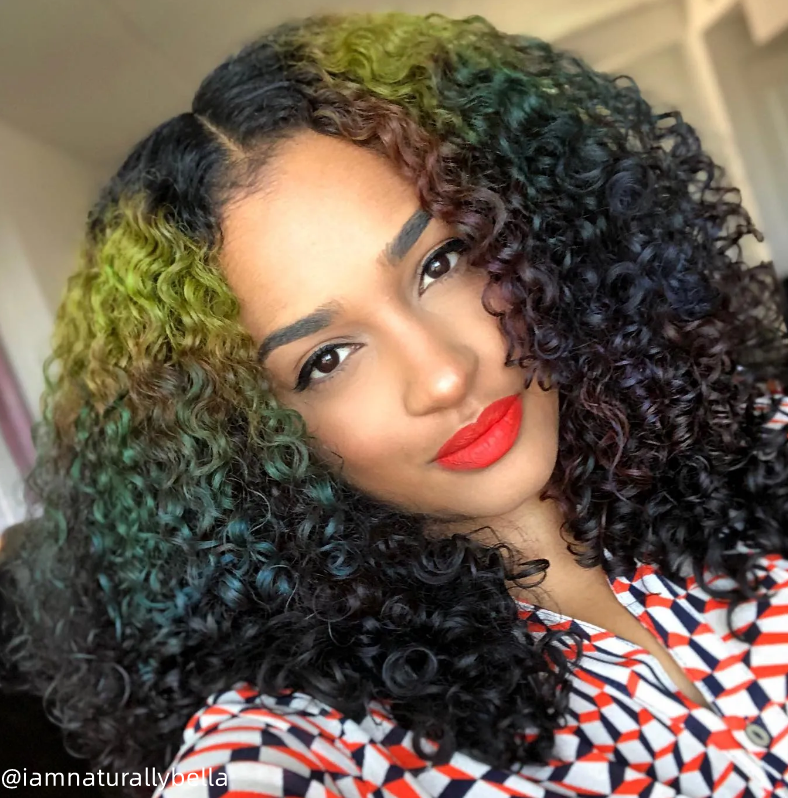 Attaching clip in hair extensions similar to your natural hair is a great way to hide them in your own hair. If there are different colors in the top and the tip of your hair, then you are supposed to choose a color matching the top hair as a priority because the clip in hair extensions will cover and blend into your natural hair in lower part.
Avoid using extensions longer than 20 inches in case that the difference of length between the short natural hair and the clip ins apparent, making it harder to blend well. The length of clip ins is taken as a reference and the length of your hair is flexible, so you just select a kind that will make you comfortable. However, you'd better not choose short hair extensions if you have long hair and vice versa.
Choose appropriate bundles for the THICKNESS you are going to realize
Different bundles achieve different effects. Avoid putting a full set of extensions if your natural hair is thin so that they will not look strange and hurt your natural hair. Clip some long wefts of hair extensions into short one will be easier to attach but don't go too far because that will make your hair lumpy and expose the seams.
One bundle of Curlsqueen clip in hair extensions is enough for whole head. The double wefted extensions are 100% Indian virgin hair attached with textured clip ins. Complimentary clips and some thread are bundled in case that some clips needed to be reinforced or reinstalled. The whole bundle of Curlsqueen is much fuller than most brands if you want a little bit of extra length in its natural state.
CLEAN your natural hair and extensions before installing
Wash your hair extensions with shampoo and conditioner before everything.
Wash and condition the hair bundle. You can use any conditioner and shampoo of your choice as long as you do. It doesn't really matter which brand you use.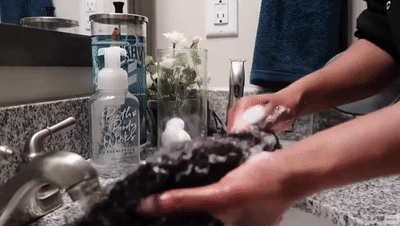 Drenching your hair wet with water and put coin-sized shampoo and lather it from the tips all the way to the roots. Start with the tips and then work to the roots. Try not to spread the shampoo where the clips are because it's kind of hard to wash out.
Comb the water through when rinsing your clip ins to make sure the shampoo out way. It is better than just wring it with your hands.
Put coin-sized hair conditioner in hair extensions and work from the tips to the roots again. Keep the clips out of reach from conditioner and leave the hair extensions aside for a few minutes.
Rinse the hair extensions out again. It is necessary to make sure that you rinse the hair out well without any residue from the shampoo or the conditioner when you're styling the hair.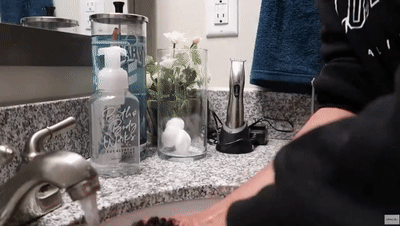 After cleaning your clip in hair extensions, please hang them on the towel and let them air dry overnight. Air drying is better than blow drying.
The curls of Curlsqueen clip ins will not lose any curl definition and also had minimum shedding.
When the hair extensions is completely dry, you can start to install them.
INSTALL the clip in hair extensions
At first, comb out your short natural hair and section a leave out to make some of your natural hair out. When you are doing leave out, please make sure that there are enough hair to cover the wefts since the tracks will come out without enough hair covered.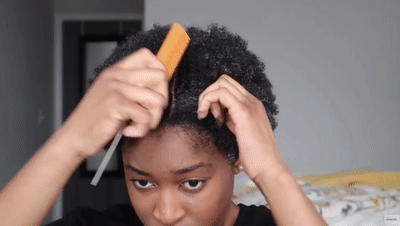 Braid your short natural hair down. The side parts are very important when you are doing cornrows. Going from the middle to the side might bring a lot of tension.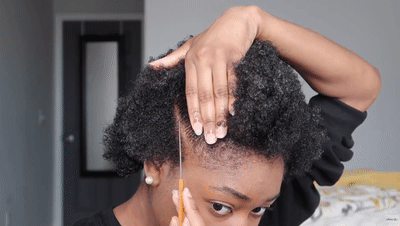 Connect the front braid to the later one so that there will leave one braid at the end that you need tuck up.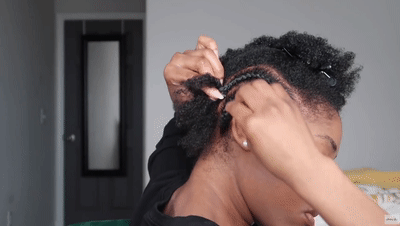 When you finish these braids on one side, continue to braid the other side.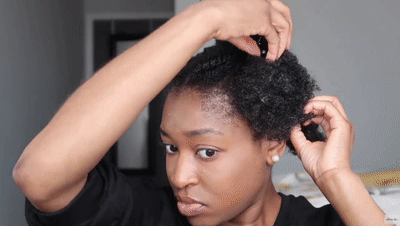 You can connect the braids in the middle at the end so that they will not look bulky.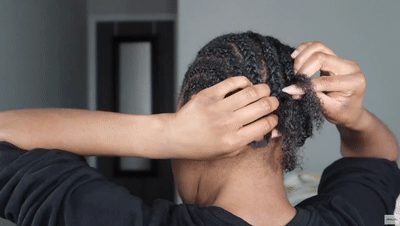 Tuck the end of braid with a crochet needle.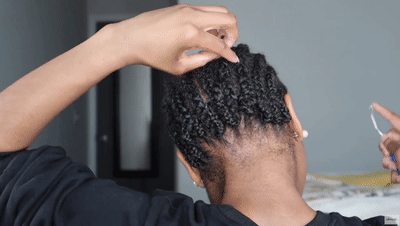 Install the clip ins above the braids and connect them from the back.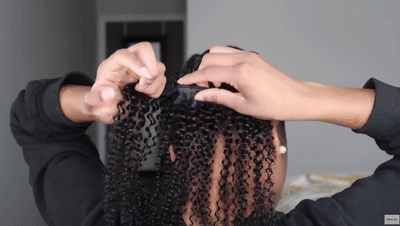 Make sure that you leave out sufficient space because your hair will get bigger and bigger as installing.
You can cut the long wefts into short ones because different heads are in different shapes and sizes and different people will place their clip ins in different position. Measure the wefts on your head carefully and figure out the best place for yourself.
Lay the clip in wefts with some angles in both sides to make sure that the end of the wefts will not sit on your edges. Make your hair into jumbo twists after detangling the hair and moisturizing it as you natural hair.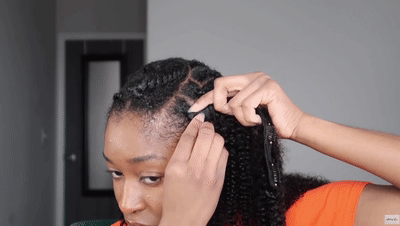 You can give the ends a little bit of a trim to make them look even and uniform.
It's time to turn to the top part. Release leave out and sleek them with your favorite gel jam or edge control. Moisturize your hair amply and apply the products to the ends. Detangle your hair with the extension to make it as smooth as possible and then putting them into a twist.
Tie your hair down and wrap them with scarf and take it down when your hair dry.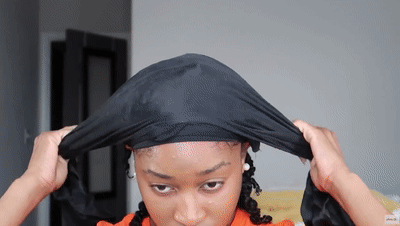 Taking the twists apart gently and separate the curls. You can take a little bit of a trim to cut uneven hair the scissors vertically to the ends of the hair extension while cutting.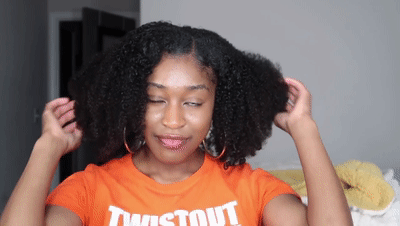 Tips: If you have short hair and having a little bit of trouble blending, this is a trick for you. Take a piece of the extensions and put a little bit of jel on it and mix it with your natural hair. This helps the end of your hair blend with the extensions a little bit better so that it looks natural in the end.
STYLE clip in extensions to blend with your natural hair
Styling is the most important way on how to blend natural short hair with clip-in extensions. It is also recommend for all hair types and colors. You can style your hair and extensions together as a finishing touch that will make them flow seamlessly and style by yourself if you enjoy the process and are skilled. If you want semi-permanent hair extensions, tape in hair extensions and microlinks hair extensions are also avaliable.