Cornrow braid hairstyles are traditional protective braided hairstyles which featuring straight back cornrows made along the scalp in simple straight line or curvilinear designs. The history of cornrow style can be dated back to thousand years ago before century in Africa. Cornrow braid hairstyles are not only worn by black women but also black men and usually can be decorated with gold cuffs, gold string or gold beads.
Based on the hair length and volume, this braiding technique might take up to 5 hours which on the contrary determines its low maintenance. Cornrow braids allow for  natural hair growth on black hair and the natural hair texture restore all your hair well.
Cornrow hairstyles can last for weeks at a time with regular care and wash for removing natural oil amassed at scalp. Tight and long time wear cornrows would cause traction alopecia.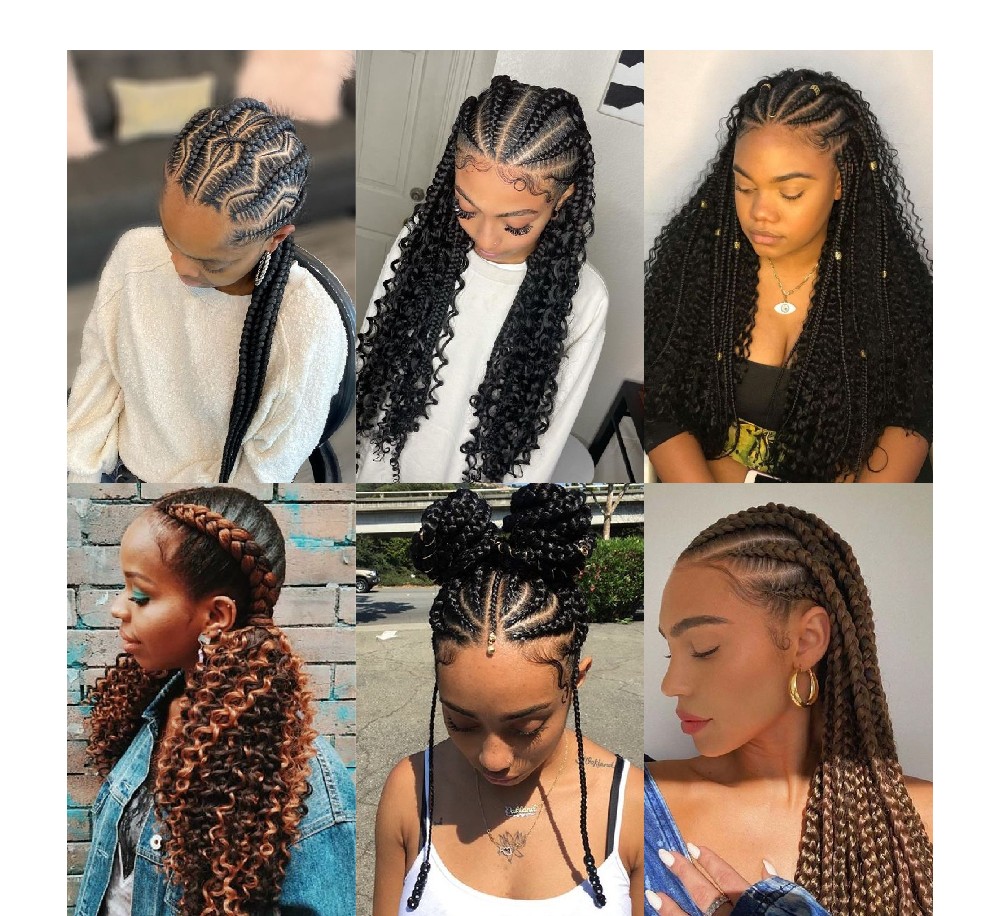 Scalp Braids And Corkscrew Waves/Half Cornrow Half Curls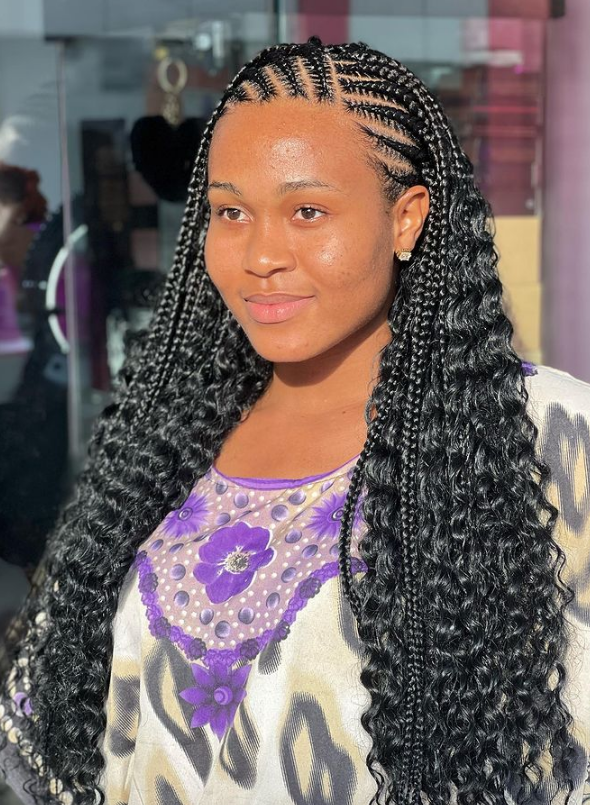 Half cornrows half weave hairstyle would worth trying as a cute look for a vacation. The long wavy curls play a good role in set off and decorating front cornrows. This gorgeous style is popular in Instagram as well.
Just part your natural hair from ear to ear as most of hairstyles.
Secure the front section with clips or hair ties in place and braids down back section only. Tuck the ends of your braids inside and install the hair extensions or wigs in the next step.
—Put on the wig cap and install the half wig into your natural hair.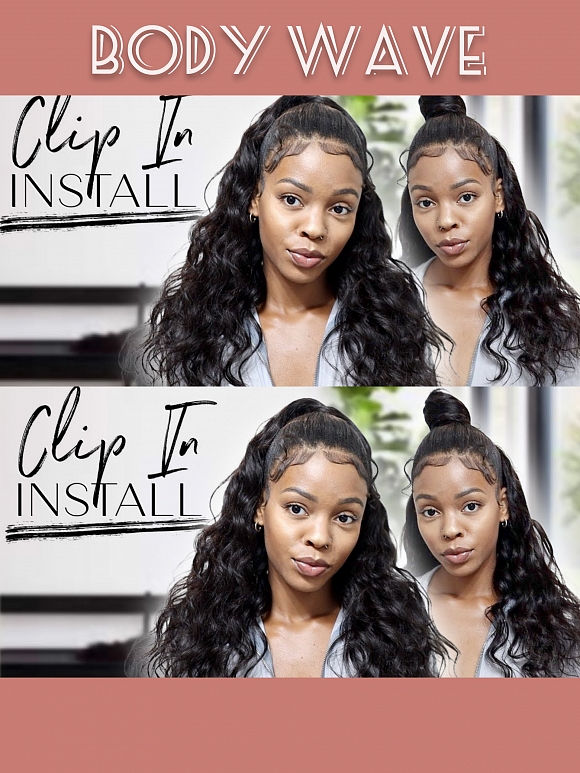 —Clip the hair extensions from the bottom to the upper line of your braids row by row in the back.
—Sew the weft bundles around the perimeter into braids in the back section.
Release the front section and leave out some hair to cover the tracks.

Section the front side hair in the directions you want and braid them strand by strand with braiding extensions pieces.

Apply some gel and edge control to make the flyaways sleek.

Warp your hair with scarf for some time.
Zigzag Straight Back Cornrows With Heart On The Side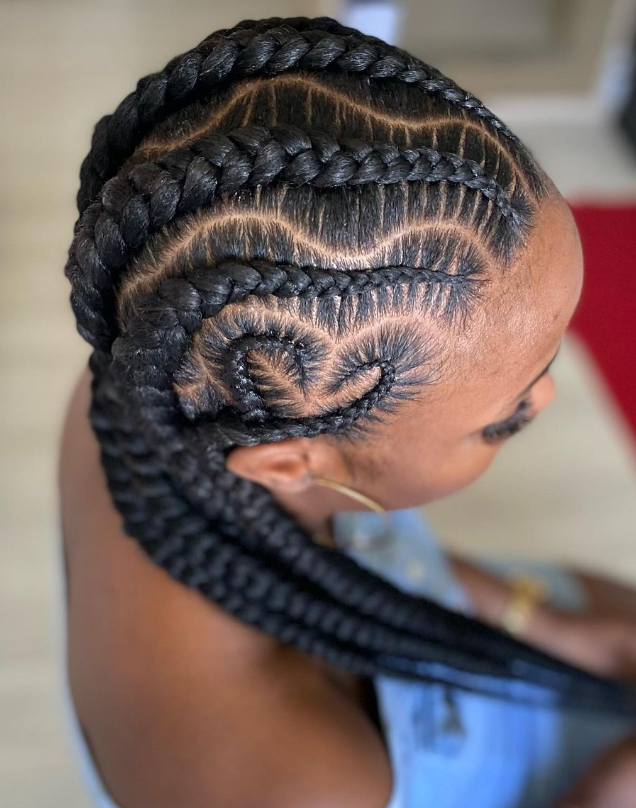 Straight Back Cornrow braids is a classic cornrow style which can go in straight parallel way or zigzag pattern. Leave a heart shape in the side would add more loveliness to the neat braids. This look add vigour to classic cornrow braids and present a perfect result.
Just split your natural hair in zigzag line and leave a heart shape on the side.

Braid each strand from the front to the back. If your natural hair is short, it is recommended to braids to part the hair in the back and braids the bottom hair with hair extensions at first.

Add some thin hair pieces in the heart side and braid out the shape of half heart.

Braid another half of heart then gather the hair pieces together to braid it down.

Then you can braid the main part of your hair from the top down to the end one by one. Dip the end into hot water to make it shaped.
Cornrow Braids In The Front High Curly Ponytail In The Back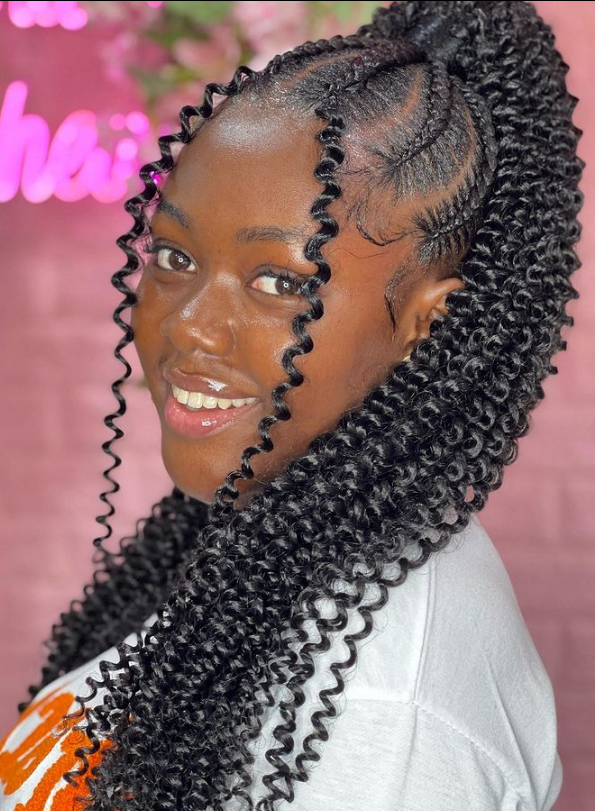 Ponytail is always obsessing since it goes well with any outfit style in any seasons. The high curly ponytail with hair extensions add soft elements to the front neat cornrows and the bouncy curls look pretty energetic.
Always clean and moisturize your natural hair before braiding your hair.

Separate your hair into two parts in the middle from ear to ear and fix the back side of your hair.

There is no doubt that you should braid the front side into cornrows from your hairline to the back with braiding hair. Stop braiding process when you reach the middle of your head and fix the left braiding hair together.

Release the back side of your natural hair and braid them from bottom to the middle  in the same way.

Gather the left hair extensions together and make them into a bun or ponytail.

Apply some hair mousse to your braids and wrap them with scarfs.

Wrap the high bun with curly drawstring ponytail and define the curls as you like.
Scalp Braids With High Puff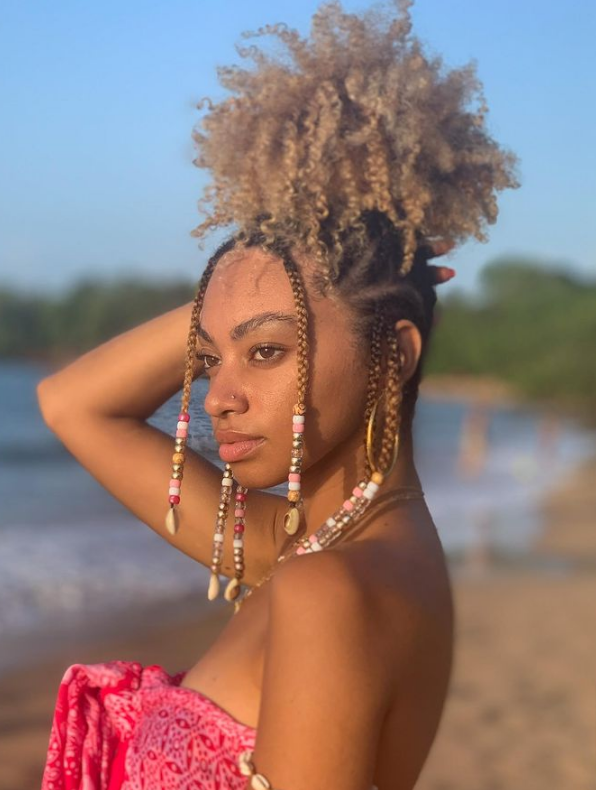 This is one of the perfect braided hairstyles for black women which work well with 4C hair. To adorn this wonderful Afro-textured hairstyle, you can light the cornrow braids up with beads and accessories. Add some colors on your natural hair or apply colored hair extensions would bring more vibrancy to this hairstyle. This cornrow braids hairstyle combine different factors, flaunting your cornrows fabulously. It is easy to achieve with human hair extensions as well.
Section your hair into front and back parts. Secure the back side into a high bun and divide the front hair into vertical rows.

Braid your hair row by row to the middle and secure left hair into your bun.

Put on Afro Kinky Coily textured drawstring ponytail and warp your bun with drawstring ponytail. As an alternative, you can apply coarse kinky clip in hair extensions to the roots of the bun as well.

Don't forget to wrap the bun with a piece of hair extensions to cover the tracks.
Creative Cornrow Braids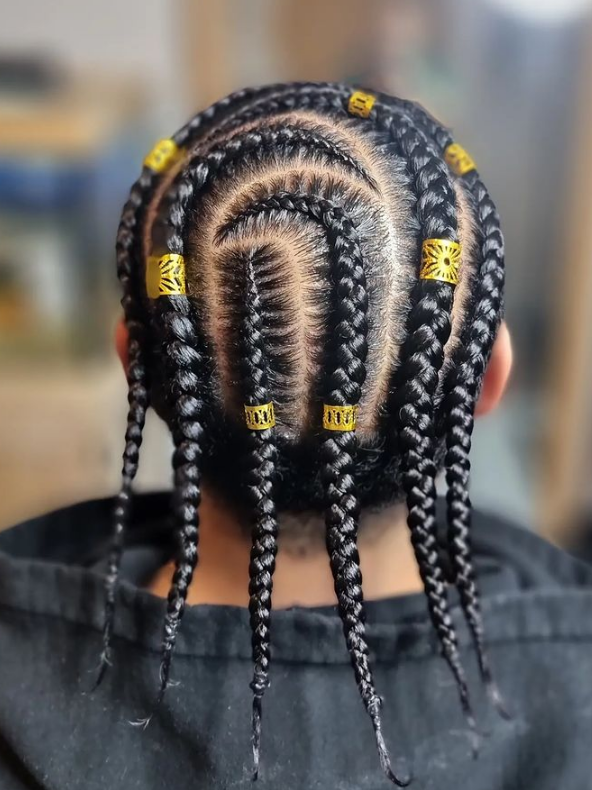 This style looks like simplified lemonade braids. But they are not totally the same. Just section your natural hair from the middle to the peripheral and make them into interlaced rows. Braid each section with hair extensions and add the gold cuffs in the process of braiding. There is no need for long hair pieces or any complementary technique. You will love the simple but wonderful style.
Cornrow Braids Into High Loose Bun With Beads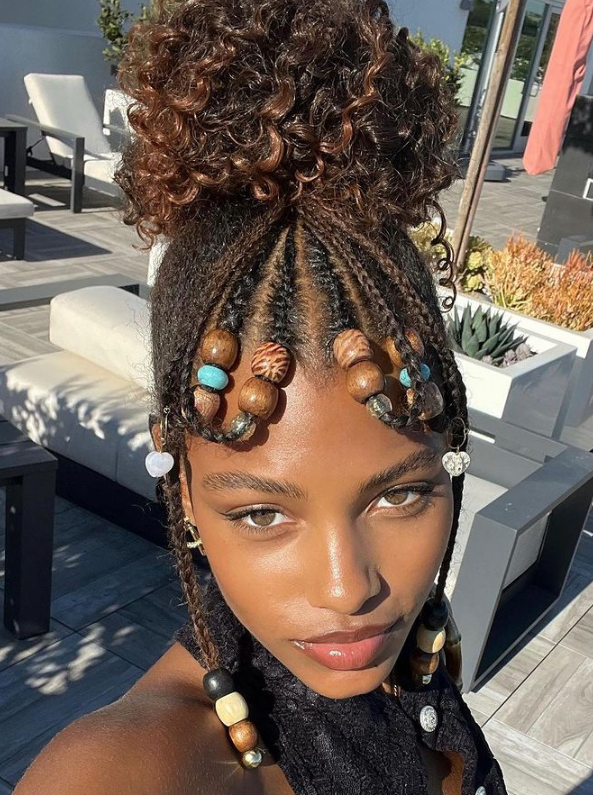 The combination of cornrow braids, high loose bun and beads create a stunning version of cornrow hairstyles. It is a perfect idea to style your Afro 4C hair in a lazy morning since the making process is not intricate as other cornrow braids and save you a lot of time.
Jumbo Cornrows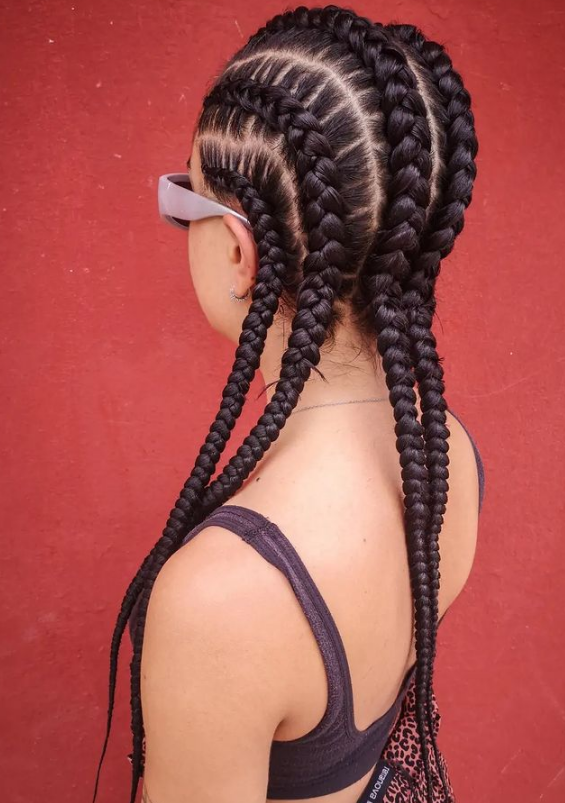 Jumbo cornrows seem like dutch braids but the result is more than two single braids on each side. The neat and big braids highlight your face shape. Braiding your hair into big braids will not only save the styling time but also save the maintaining time. They are easy to take care of in daily life and suit for a lot of occasions.
Asymmetrical Lob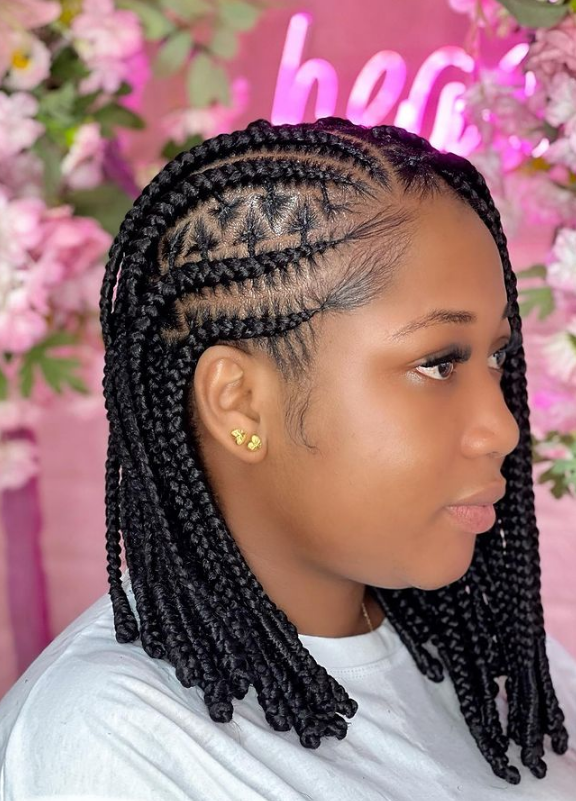 Chin length cornrows could rock the trending hairstyle as well. Keep things funky with different colors and hair accessories..
Half Cornrows Half Curls With Beads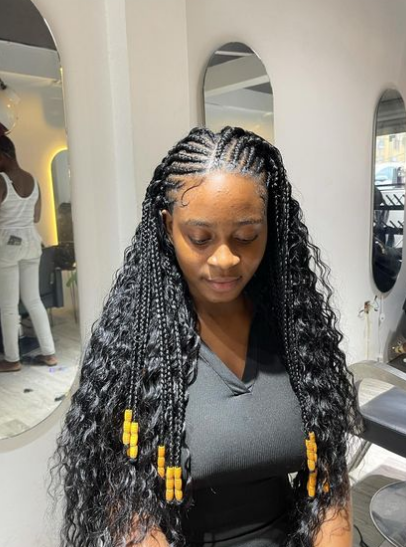 Half cornrows half curls with beads are always on the trend. Everyone will appreciate the mix of the intricate cornrow patterns, long, natural weaves and hair decorationsin the ends. To add the charm, the curls can be further styles into soft locs to create a more joy.
Half-Cornrows Half-Braids Updo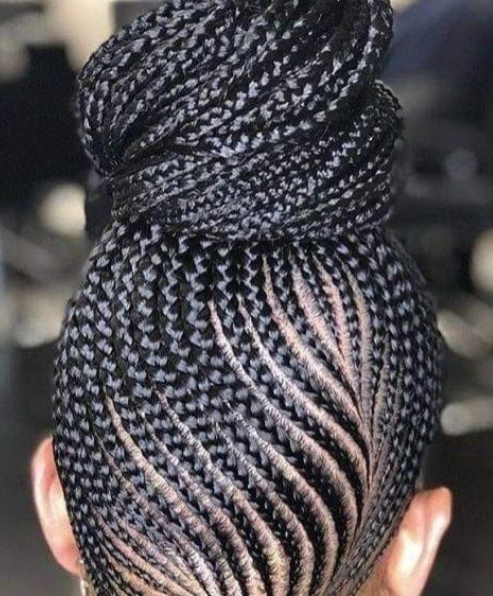 Half-Cornrows Half-Braids Updo provide a great impression of jumbo buns with intricate braids. If you are looking for a chic and glamorous cornrows braids hairstyle, have a try at this elegant and eye-catching style. This cornrow braids bun is also fit for special occasions if you expect more chances to slay outside.
Braid your front hair from forehead to the back and braid the back hair from the bottom to the middle. Gather the ends in the middle and make them into a small bun.

Apply some hair mousse or hair oil to your cornrows and wrap them with satin scarf.

Put on your hair extensions. The drawstring ponytail can be wear directly just cover the ends with some hair pieces and the clip in hair extensions should be installed weft by weft.

Section the hair extensions into small strands and braid them from your root down to the end.

Wrap the braids around your root and secure them with rubber band.
Scalp Cornrows With High Curly Ponytail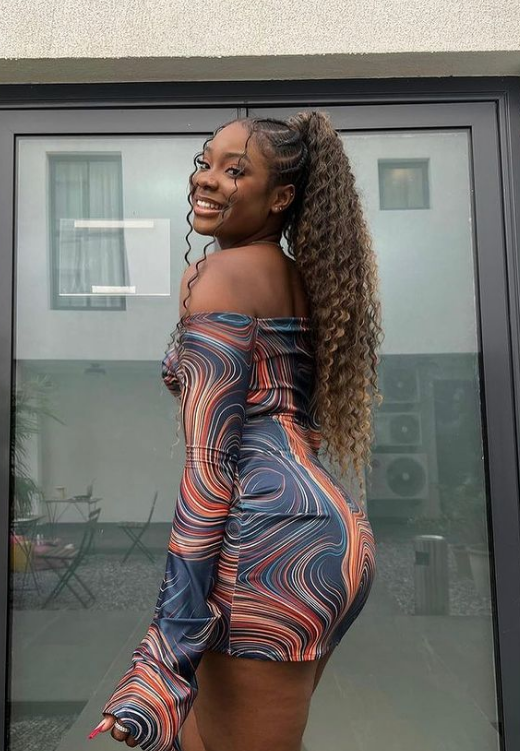 Hey, we always love high curly ponytail. See the combination of cornrow briads, high pony and two front side pieces. These cute cornrow braids into high ponytail are easy to achieve even by yourself. You can wear them with ponytail braided, making it a playful protective style or leave strands of hair on the side. It makes you youthful and pretty.
Low Ponytail For Stitch Cornrows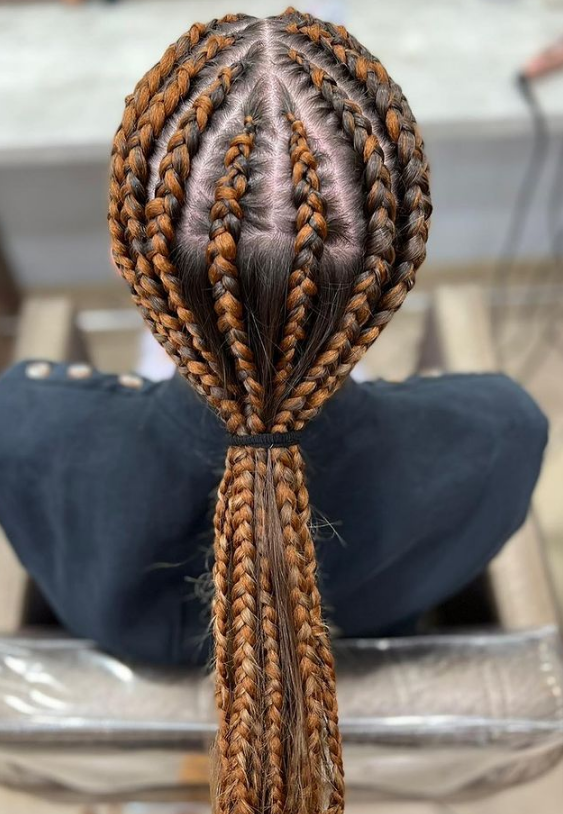 Low ponytail for stitch cornrows is also fantastic design. Gathering your cornrow braids is the easiest method to style your hair bundles. This easy and modest hairstyle can shift to low bun in short time.
Cornrow Braids Ponytail With Beads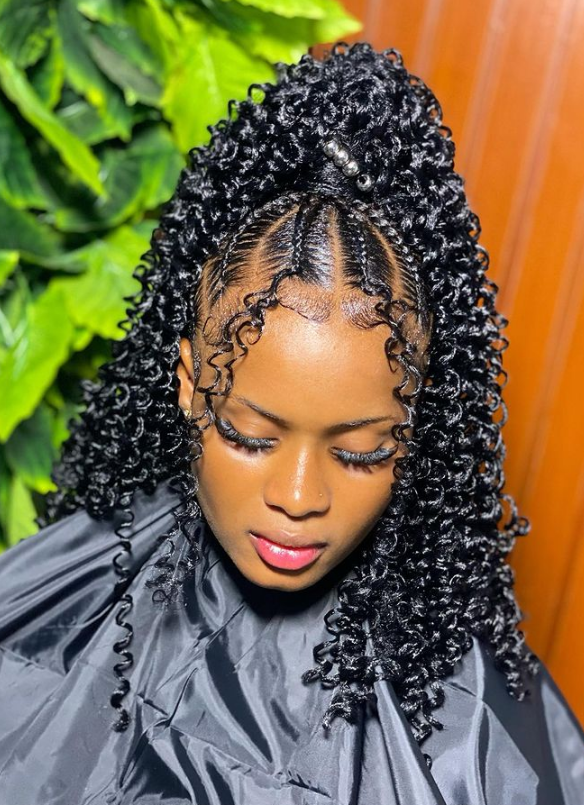 This bombshell ponytail with braids is a quick braiding method. The lovely curls is pretty stunning especially if you add ombre colored hair extensions. This style is not only shining and attractive in the street but also protective your natural hair all the time. The beads are excellent in highlighting the braids and curls.
Stitch Braided Cornrows/Feed In Braid Ponytail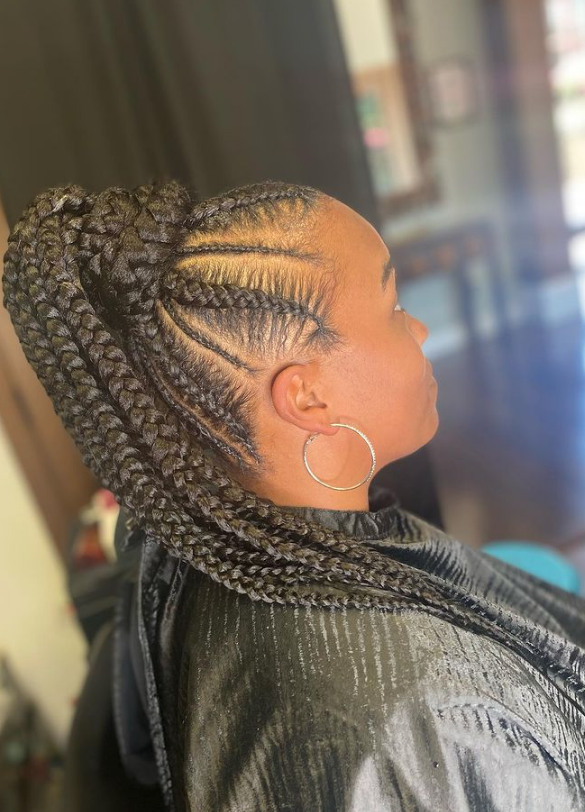 Stitch braided cornrows can also be styled into thick Ghana cornrows, which is also known as Banana braids. The ponytail plaits can be dressed with some hair accessories like hair cuffs or beads to boost this brilliant cornrow style.
Cornrows In Different Sizes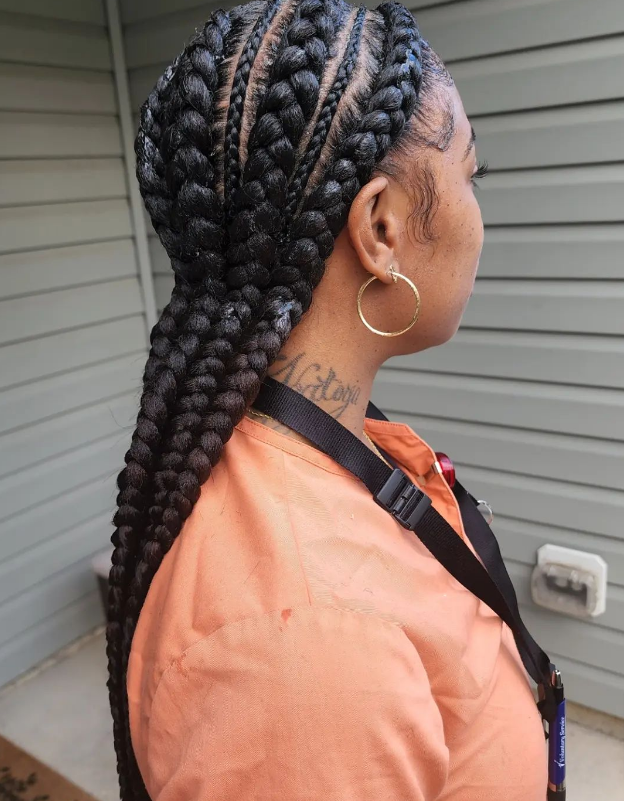 Cornrows in different sizes is a traditional braiding method of cornrows. When you are braiding your sections, part your hair in thin and normal sizes of braids alternatively and braid them from the front to the bottom.
Cornrows Braided Ponytail With Side Fringes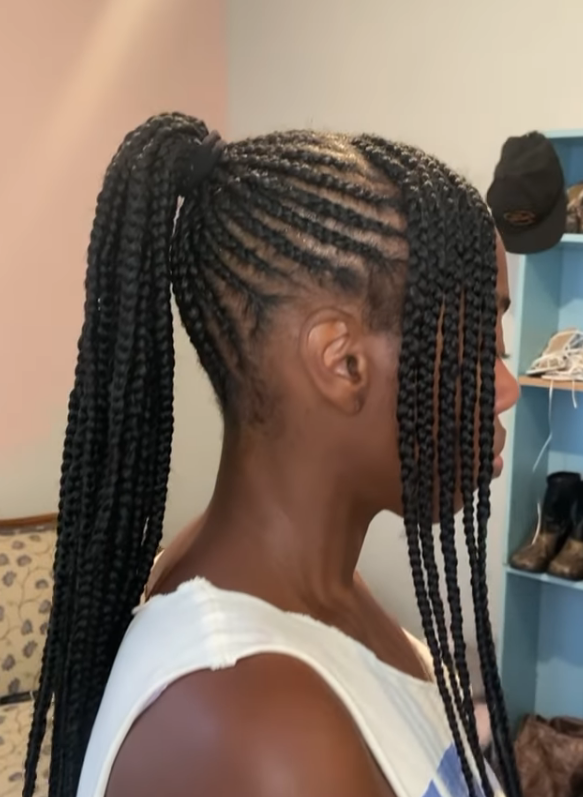 Cornrows braided ponytail with side fringes collect most of your braids into the ponytail and leave some braids in the side to create fringes which add hiar volume in the forehead and grab the attention. You can experiment more different sides and volume to create unique hair fringes.
Side Cornrows High Ponytail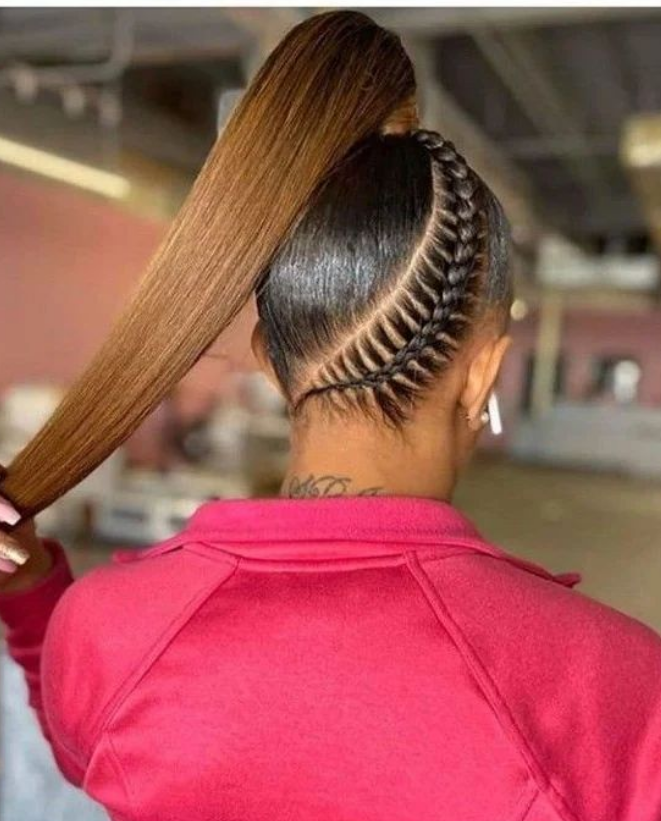 This side cornrows high ponytail is also creative and easy to style. It can show off your individual personality since only half of your hair braided and half of your hair is tied up straight on the top.
High Bun Cornrows With Side Fringes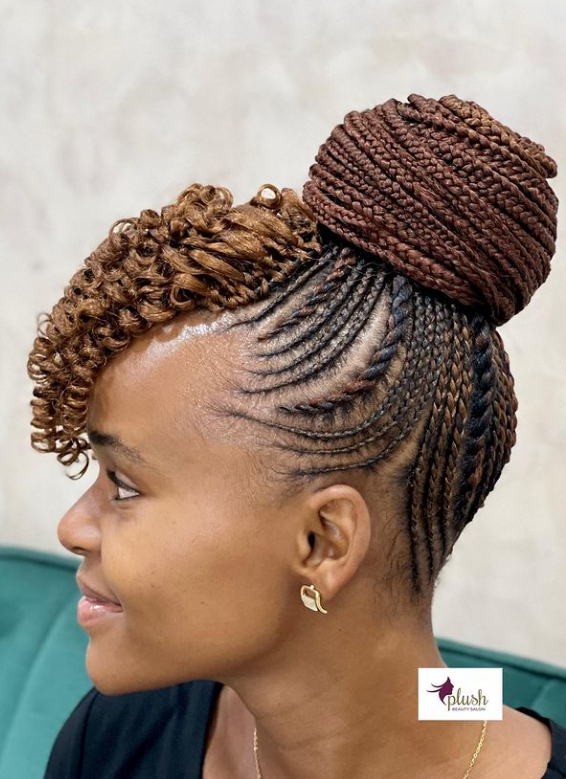 High bun cornrows with side fringes collect most of your cornrow braids together into a high bun and sub-fraction of your hair lay flat at your front side as fringes. The final result is pretty nice and cool. The high bun is easy to maintain and tuck all your natural hair well inside.
Four Cornrow Braids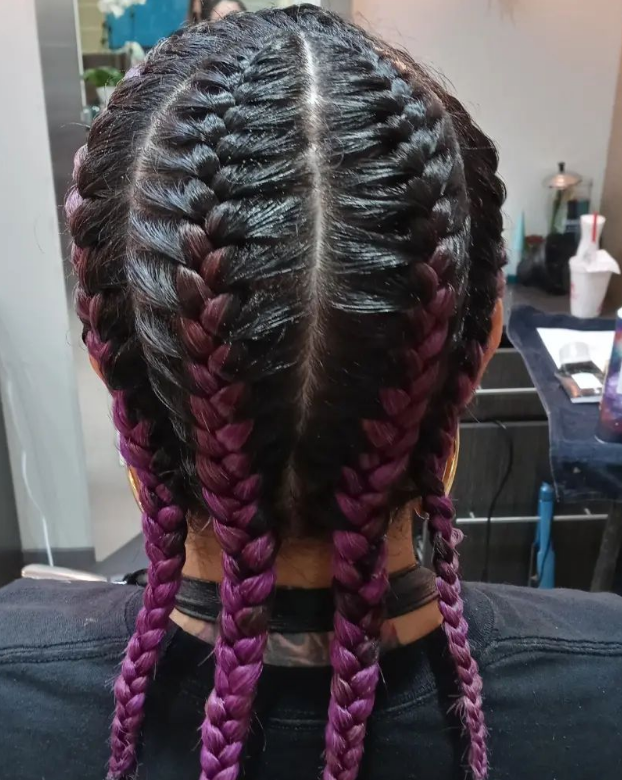 Four cornrow braids style is a classic African style of cornrow plaits. You can add some curly pieces into the braids and leave some hair out to show personality.
Half Up Half Down Cornrow Ponytail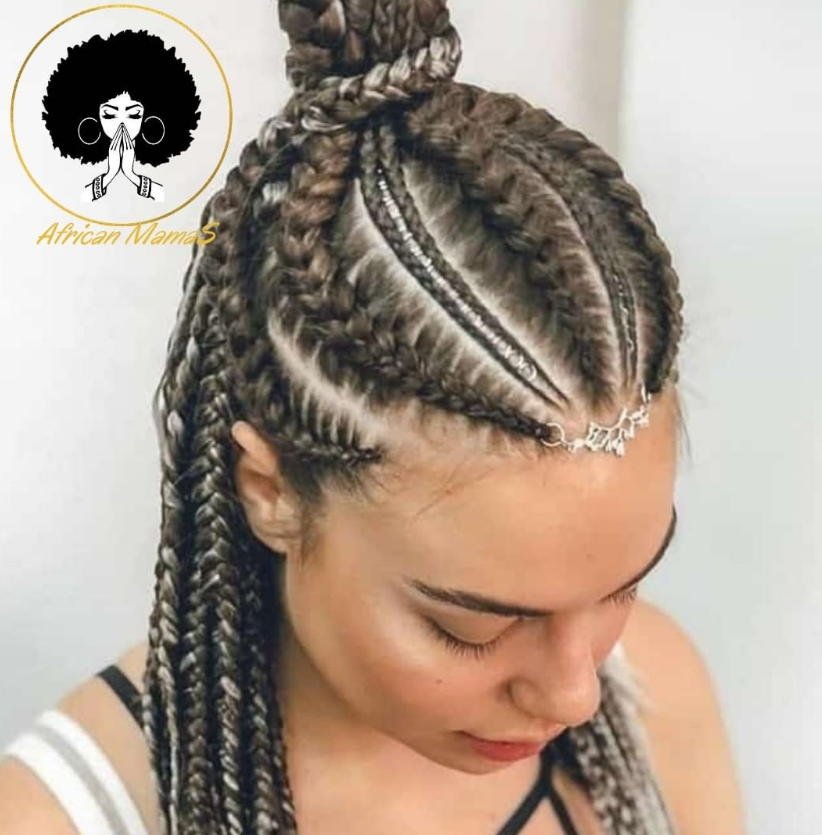 Cornrow braids can be transformed into half up half down style in million ways and this style connect high bun, stitch braids in different sizes and half down braids together which break your usual hairstyle.
Cornrow Braids With High Braided Ponytail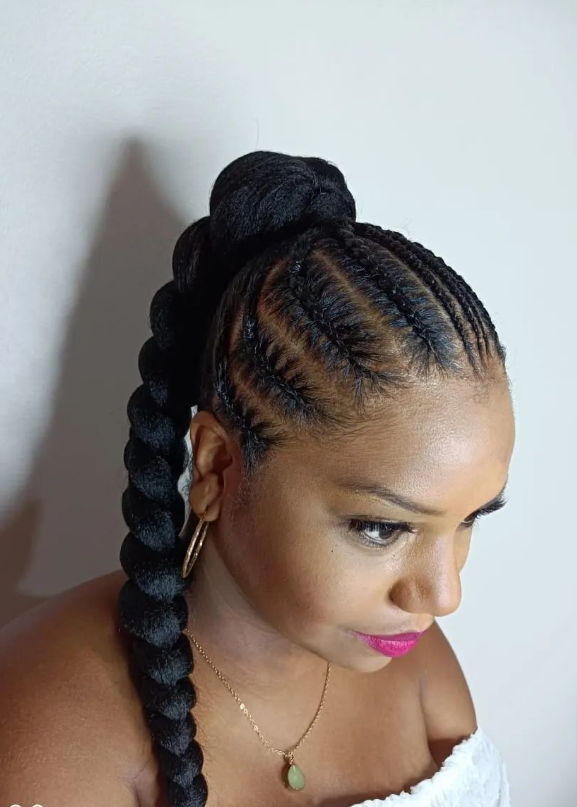 Cornrow braids with high braided ponytail express feminine power as an distinctive braided hairstyle. The tight cornrow braids start from thin hair strands and become thick with added hair extensions pieces. The mid-length braided ponytail is more easy to finish.